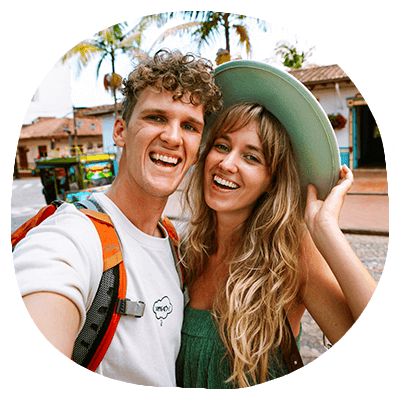 Hi, we're Nick & Hannah!
We hope you're enjoying our free travel guides & tips! If so, please consider supporting our work. 🤗
1. Unawatuna Beach
The main beach at Unawatuna is popular with both tourists and locals. The wide stretched beaches offer some good swimming and a part of the beach is occupied with sunbeds to rent. On the west end of the beach, there is a little walk to a pagoda statue overlooking the bay.
The beach is directly connected to the city center with loads of little restaurants and bars. There is a great beach vibe going on here even after sunset.
2. Wijaya Beach (Beach Swing)
The most Instagrammed place of Sri Lanka is without a doubt the beach swing at Wijaya Beach. It isn't really on Wijaya Beach but just around the corner. Search on Google Maps for Dream Cabana, Unawatuna. This is the exact spot. And please do us a favor, say Hi from us to the great guys over there.
3. Jungle Beach Unawatuna
Jungle Beach is on the opposite side of the main beach. It's a bit hidden so a lot quieter than the main beach.
No time to read now?
No worries! Save on Pinterest to read it later.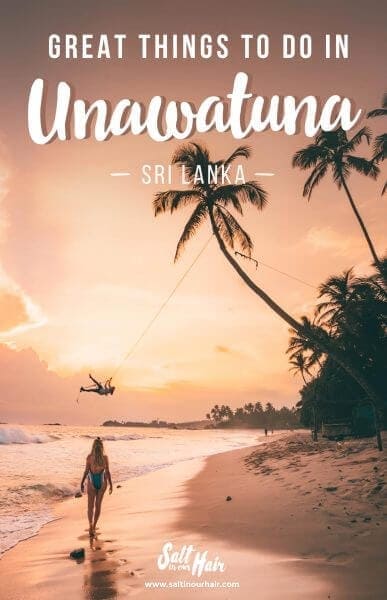 4. Visit Galle Fort
Galle Fort is something totally different in Sri Lanka. This great old fort is not filled with typical Sri Lankan architecture but has loads of influences of the Dutch, Portuguese and British. Galle Fort has loads of perfect souvenir shops and really great architecture. We love to wander around here for a full afternoon and watch the sunset on top of the fort wall.

5. Surfing or Standup Paddleboard
Ready to get in the water? In between Unawatuna and Galle is a good beach to learn to surf. Note that the best season for surfing is between November and May. At Ahikava Surfschool, you can rent a board and maybe have some lessons as well. Grab a paddleboard during sunset, relax and just enjoy the moment.
6. Fitness in Unawatuna
Love to have a good workout in the gym during your travels or holiday? A week entrance costs $10. We also found it a great way to connect with young local guys and girls who are also training and love a little chat where they tell you everything about the area. The name of the fitness on Google Maps is Unawatuna Fitness Center.
7. Swim in the Best Infinity pool with a sea view
Luna Terrace near Galle Fort has a bar and infinity pool with the best view over the sea. Get a drink here and have a great afternoon swim.
Don't visit: Turtle hatcheries
There are some small turtle hatcheries where they take care of damaged turtles. The turtles are saved from being stuck in fishing nets or plastic garbage. It's a good cause but unfortunately, it has become a market to collect and sell the eggs to the hatcheries and let tourists pay extra to hold the baby turtles which is no good. Skip this thing to do in Unawatuna.
Read more tips on how to reduce plastic while traveling.
9. Rent a motorbike in Unawatuna
Explore Unawatuna and its surroundings by motorbike. There's a lot around to see. Koggala Beach, Galle Fort, Wijaya Beach or Koggala Lake. For $6 a day you own a brand new motorbike. We rented our motorbike at Kumari Tours.
Best restaurants in Unawatuna
Unawatuna is a star for great little restaurants. There are plenty of options so you can try something else every lunch and/or dinner of your holiday.
Bedspace (quite expensive but so good)
Lemongrass Cafe (great place)
Happy Spice (cheap and local)
SkinnyTom's Deli (best breakfast)
Best time to visit Unawatuna
The best time to visit the southwest of Sri Lanka is from December until April and from July until the end of September.
Where to stay in Unawatuna
Hotels and guesthouses in Unawatuna are more expensive than the average price in Sri Lanka because of its popularity. But we got you a $15 discount at Booking.com when you book through this link.
Did you know that …
When you purchase something through our links we earn a small fee. However, you still pay the same. Win-win!
Salt in our Hair
13/12/2022
https://www.saltinourhair.com/sri-lanka/unawatuna/
Last updated:

December 13, 2022