You can only enter Galle Fort from the main gate side. From there, explore the shopping streets, churches, and the fort's history. It takes about two hours to walk around the whole fort.
To avoid busy streets, make sure to visit Galle Fort in the morning. Still, we like to recommend an afternoon walk so you aren't going to miss the sunset.
Beautiful Shops at Galle Fort
Fall in love with all those incredible handicraft shops. If you would like to bring back a little souvenir for your parents then wait until you arrive in Galle Fort. It owns some of the most beautiful shops in Sri Lanka filled with design attributes and handicraft that you won't find anywhere else.

The majority of the shops in Galle Fort is owned by foreigners so it is quite expensive compared to what you are used to in Sri Lanka. These are our favorite shops in Galle Fort.
Barefoot – Corner of Church and Pedlar Street. A southern outpost of the stylish Colombo homeware shop.
Orchid House -Near Dutch Hospital. Selling handicraft, sarongs, and gems.
Stick No Bills – Printed designs on postcards or wallpapers
Visit some Impressive Monuments
Even if you're not a cultural person, the buildings inside Galle Fort will be something refreshing. The fort is a big monument itself and there are museums and beautiful churches within the fort's walls.
No time to read now?
No worries! Save on Pinterest to read it later.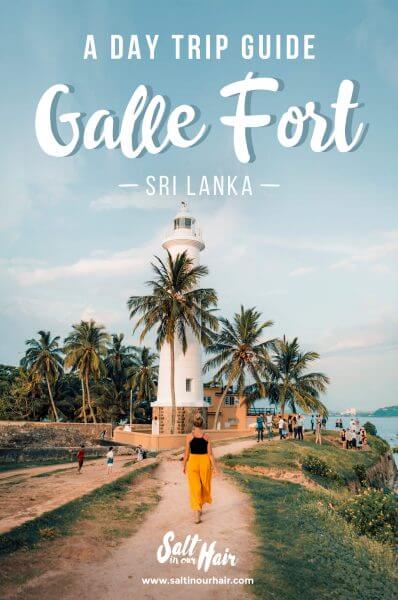 The clock tower and Dutch church were one of our favorites. During your walk inside the fort it's hard to miss these sights.
Take some time to visit the stunning beaches nearby Galle.
Wandering around in some of the narrow streets of Galle Fort makes you forget that you are in Sri Lanka. It looks like you are in a European city instead. Visit at least one of these sights.
De Groote Kerk (Church St)
Old Dutch Hospital (Hospital Road)
National Maritime Archaeology Museum (Queens St)
All Saints church (Church St)
Galle Fort from the Top
The Fort's wall is where locals and tourists come together and enjoy the beautiful view over the city and on the sea. Start at the white lighthouse on the southeastern part of the fort. The lighthouse is iconic to Galle Fort. From there, walk around along the seaside.
Walk to the northwest side of the Fort where you can see the Clock Tower. That side is the connection between Galle City and Galle Fort. It's probably a 2km walk around the fort.
Sunset on the fort's wall
Let's take a moment to relax after this walking day in Galle Fort. Sunset is the time that locals gather and see the sun disappearing in the sea. It's beautiful to see that so many different religions can have fun together in this country.
Restaurants in Galle Fort
And after this full day of walking, shopping and enjoying Galle Fort, it's now time for the most important time of the day (if you ask us). Dinner time! Plenty of choice in the Fort!
Best time to visit Galle Fort
The most rain in Galle falls between May and September. The absolute best month to be in Galle is in February.
Hotels
Galle Fort really owns some beautiful places to stay in for a few nights.
We got you a $15 discount at Booking.com when you book through this link.
Salt in our Hair
25/10/2021
https://www.saltinourhair.com/sri-lanka/galle-fort/
Last updated:

26 May 2018