1. Secret Beach, Mirissa
A small pristine secluded beach and somewhat harder to get to. Hence the name: Secret Beach. There are just one small bar and a local lady selling coconuts. Enjoy an incredible sunset from Secret Beach. Search on Google Maps for Secret Beach bar and ask a tuk-tuk driver to take you there. You will need to walk about 10 minutes down the road since this is too steep for the tuk-tuks.
2. Parrot Rock
In front of Mirissa Beach is a rock towering over the water, where you can climb up and see a bit of the Mirissa area. During high tide, you will be unable to reach the rock since even with low tide, it can already be a small challenge.
3. Coconut tree spot
A 15-minute from Mirissa Beach is a small coconut farm on a hilltop. The view or sunset view from here is simply amazing. It's quite easy to get here since the place is on Google Maps.
You can access it via one of the restaurants nearby or by a small walk through the water. Be careful with the coconuts, we can tell from our own experience that coconuts will fall from trees.
No time to read now?
No worries! Save on Pinterest to read it later.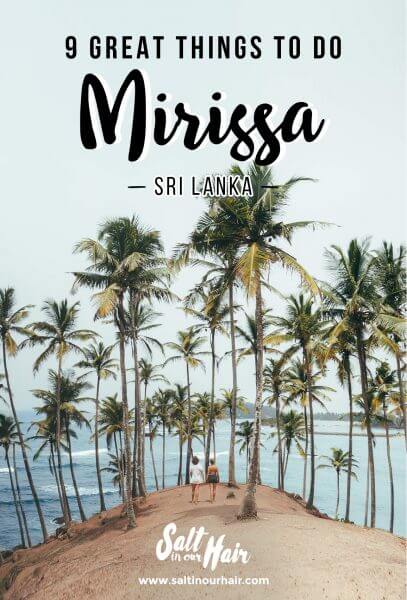 4. The Doctors House
Ready for a great afternoon party with surf vibes? The Doctors House is the place to visit! It is a 15-minute drive out of town and highly recommended to visit. The big garden has the perfect laid-back vibe, great food, drinks, and live music.
5. Weligama
Escaping tourism by heading out to Weligama for some beach time or surfing. Weligama is a quiet, surfers destination though some of the best resorts in Sri Lanka are situated here.
Getting there: Mirissa to Weligama is only a 15-minute drive. Simply rent a motorbike or pay for a tuk-tuk to drive you there.
6. Whale watching
Mirissa has a good marine life. For that reason, whale watching tours are offered at the beach. A guide will take you out on the Indian Ocean to spot whales, dolphins, and turtles. The best to spot whales is from the end of November until March.

7. Day trip to Unawatuna & Galle Fort
Unawatuna is a great little town to wander around and spend hours at the beach. Additionally, visit Galle Fort where you will step back in time.
Galle Fort is the place to go shopping and explore the old Dutch Fort, you can easily spend half a day inside the fort since it's quite picturesque!
8. Surfing
Mirissa Beach is a good spot to start surfing in Sri Lanka. The waves look great and since there's just little crowd, surfers really love being here. Surf from October to March for ideal surfing conditions.
9. Mirissa Beach
Mirissa Beach is crowded and still a very relaxing vibe. A handful of great restaurants are located on or near the beach who all offer different kinds of foods. Therefore, it is a fantastic spot to relax and spend the afternoon.
10. Restaurants in Mirissa
There are loads of delicious restaurants in and around Mirissa and options for any kind of appetite.
Little Tuna – Sushi
Shady Lane – Healthy
Ceylon Curry House – Sri Lankan
DelTano's – Pizza & Pasta
Dewmini roti shop – Sri Lankan
Wood Space – Healthy
RISE – Italian at Weligama
Nomad Cafe – Weligama
The Buddhist temple is located on an island surrounded by the Indian Ocean with a steel bridge connecting it to the mainland.
Matara is a short 30-minute drive from the center of Mirissa town.
Best time to visit Mirissa
November to March is the best time to visit Mirissa weather-wise. October and April both can have great weather and accommodations tend to be much better priced.
Salt in our Hair
25/10/2021
https://www.saltinourhair.com/sri-lanka/mirissa/
Last updated:

30 April 2018