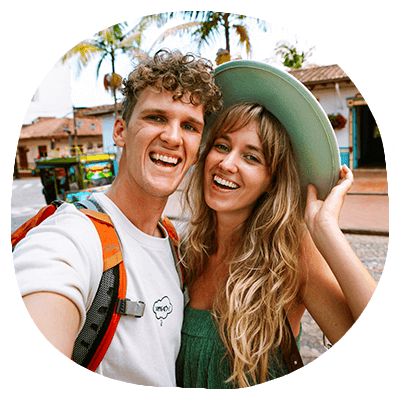 Hi, we're Nick & Hannah!
We hope you're enjoying our free travel guides & tips! If so, please consider supporting our work. 🤗
The large boulder, the highest point, has more than enough space for visitors to walk around and enjoy the scenery. Discover panoramic views across the valley and a unique perspective of Lion's Rock itself!
Pidurangala Rock or Sigiriya Rock?
But if there are two rocks, which one should I climb? Sigiriya Lion Rock has a lot of interesting history because it used to be King Kassapa's palace. Its beauty and history led it to be awarded UNESCO world heritage status because of its incredible murals, gardens, and ruins. There's even a swimming pool on top of the rock!
The downside is that the rock formation itself is the most impressive part, but because you're standing on top of it, it means you're unable to really see how beautiful it is. Additionally, the entrance fee is on the high side, priced at 30 USD. 
Pidurangala Rock
The alternative is Pidurangala Rock. This rock is less-visited because the path up has a strong incline and is a little harder to climb. At some points, there are rocks that visitors will need to climb over, so it's not recommended for those that have lower mobility. However, this is also what makes it an adventure, and it's one hundred percent worth it for the unforgettable view directly over Sigiriya Lion Rock. 
Another bonus of choosing Pidurangala is that the entrance fee is only 500 LKR (3 USD)! Due to its pricing, it is also the most popular with backpackers and budget travelers. Both rocks are a must-visit, but for adventure and view, Pidurangala is the absolute winner.
Like to visit both? Climb Pidu during sunrise and Sigiriya Lion Rock at sunset!
No time to read now?
No worries! Save on Pinterest to read it later.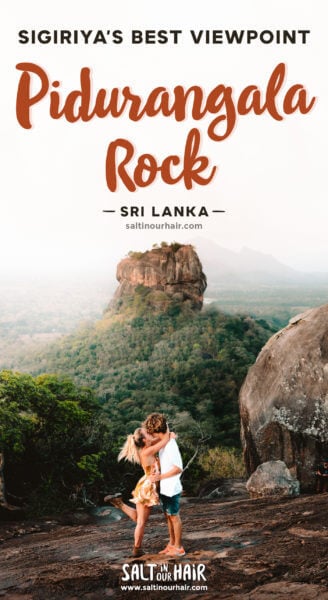 How Long Does it Take to Climb Pidurangala Rock?
The hike starts by passing through a charming white temple. Pay the entrance fee of 3 USD and collect a free scarf to cover your shoulders and legs if necessary. Once past the temple, you're allowed to take off the scarf.
How to Get to Pidurangala Rock
The entrance of Pidurangala is about 2 kilometers north of Lion Rock's entrance. If you stay in Sigiriya town, it is a very short drive to the foot of the rock. Alternatively, many visitors spend the night in Dambulla, which is a 30-minute tuk-tuk ride to Sigiriya.
Hiking at Sunrise or Sunset
Sunrise is the most beautiful time to visit the top of Pidurangala Rock. However, hiking up in the dark requires a flashlight. Otherwise, sunset is also a great option! The light will be different, but if you start your descent early, there won't be the risk of hiking down in the dark. 
Good to know: If you drive on a motorbike, always pay attention because wild elephants wander around here.
Entrance Fee and Opening Times
The Pidurangala Rock entrance fee is LKR 500 per person ($3 USD). This fee acts as a donation in order to pass through the temple. Tickets at the office are sold from 5 AM until 6 PM. The hours are not strict, but we do recommend making a donation. It's super cheap and well worth it!
Please note: There are no drones allowed in this area. Sigiriya Rock has bees that can get aggressive if they hear the drone.
Where to Stay in Sigiriya
Most of the accommodation in Sigiriya is a bit higher in price, but it does allow you to enjoy and make the most of the incredible scenery in this area. Some hotels even have direct views from the rooms of the rocks themselves!
Dambulla is located 30 minutes away but has more accommodations on offer in every price category.
Best Time to Visit 
Hiking up Pidurangala Rock when it's raining is dangerous, therefore, always keep an eye on the weather.
The best time to visit this area is from December to April when the days are dry, and the sunrises are clear. 
Did you know that …
When you purchase something through our links we earn a small fee. However, you still pay the same. Win-win!
Salt in our Hair
26/07/2023
https://www.saltinourhair.com/sri-lanka/pidurangala-rock-sigiriya/
Last updated:

July 26, 2023