1. Visit the Local Market
To start your Jaffna experience, blend yourself into the local life at the market. They will be positively surprised to see your faces, and from the moment you try to start talking with them, they will open up. Buy some fruit and start a conversation with these lovely people.


Sri Lanka on the go.

Never miss a spot!
From planning to exploring and everything in between – this is your pocket guide to Sri Lanka!
2. Relax at the Beach and a Natural Pool
Jaffna is one of the busier cities in Sri Lanka. Escape the city with a 25-minute drive towards Kankesanthurai Beach. See the very clear blue waters and play around with the locals who are also chilling on the beach.
No time to read now?
No worries! Save on Pinterest to read it later.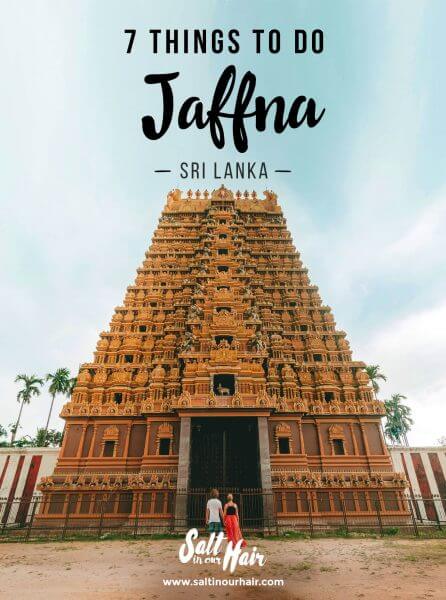 After the beach, head over to the Keerimalai Pond, which you can see as a natural swimming pool. A full tuk-tuk day trip will cost you between 750 and 1500 LKR. You can also rent a motorbike in town and explore the coastlines on your own.

4. Eat Indian-Influenced Food
Jaffna is close to India. You can experience a bit of India through the food in Jaffna. There are a few restaurants that you have to try while you're in Jaffna. Head over to Mangos to try their Thali. You will get about 10 small bowls with different flavors + rice.

Or when you are in for a fully local experience. Visit Malayan Cafe, near the market. This bakery-like Indian place serves all kinds of bread on a banana leaf. You will see 99% locals here, and it's busy throughout the whole day.
5. Visit One of the Local Islands
One very popular thing to do in Jaffna is to visit one of the local islands. There are two popular islands. Nainativu Island can be visited by a short boat trip from the Kurikadduwan Jetty. Visit the temple or do an island tour.

The second island is Delft Island, named after a city in The Netherlands. Here you will see wild horses, an old Portuguese Fort The boat trip from Jaffna takes about 1 hour, and there are no places to buy snacks or drinks on this island, so taking food and drinks is recommended.

7. See the Dutch Fort
Walking distance from the public library is the old Dutch Fort. Built in 1618 by the Portuguese. The star-shaped fort is great for doing a quick walkthrough or seeing the sunset from the seaside.
Where to Stay in Jaffna
Jaffna is relatively small for a city, but most guesthouses and hotels are situated a little outside of the center. Tuk Tuks can take you easily around Jaffna, meaning anywhere you stay, you'll be located close to the top things to do.
Because the northern city is less popular on the average Sri Lanka route, accommodation is also far cheaper than other destinations in the country!
Jetwing Hotels are one of the leading hotel branches in Sri Lanka. Their property in Jaffna is modern and offers fantastic facilities.
Jaffna to Trincomalee
By car: Jaffna to Trincomalee is a 4-hour straight car drive.
By bus: The cheapest option is to go by direct bus. Ask for the times since these can change quite often.
Colombo to Jaffna
Getting from Colombo to Jaffna is a long 8 hours + car drive. It is better to add one or two stops in between. The first stop can either be Dambulla or Sigiriya and the second stop Anuradhapura.
From Dambulla, it's a 5-hour drive, and from Anuradhapura for about 4 hours.
Best Time to Visit Jaffna
Jaffna has good weather year-round, but during the months December to March are the most comfortable weather-wise.
Did you know that …
When you purchase something through our links we earn a small fee. However, you still pay the same. Win-win!
Salt in our Hair
24/07/2023
https://www.saltinourhair.com/sri-lanka/jaffna-sri-lanka/
Last updated:

July 24, 2023