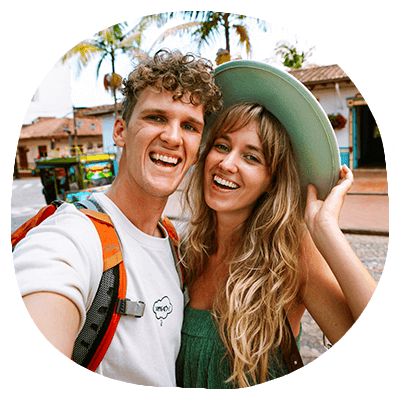 Hi, we're Nick & Hannah!
We hope you're enjoying our free travel guides & tips! If so, please consider supporting our work. 🤗
1. Sigiriya Lion Rock
Sigiriya's Lion Rock is one of the landmarks in Sri Lanka. It is an enormous 200-meter high rock with a fortress on top. You need about half a day to visit this UNESCO World Heritage site since the climb to the top is challenging! The Lion Rock is a 30-minute drive from Dambulla. Travelers often choose to spend the night in Dambulla because the accommodation is much more affordable.
2. Pidurangala Rock
For the absolute best view of Sigiriya Lion Rock, you have to climb its neighbor: Pidurangala Rock. From the top, you will get a breathtaking view of Lion Rock because they are located right opposite each other.
Pidurangala is a tougher climb since there is no proper staircase, therefore there are fewer tourists.
3. Dambulla cave temple & museum
Dambulla is especially popular for the cave temple. An iconic religious site with over 100 Buddha statues located inside an enormous cave complex. The caves are also decorated with very detailed colorful paintings and murals.
No time to read now?
No worries! Save on Pinterest to read it later.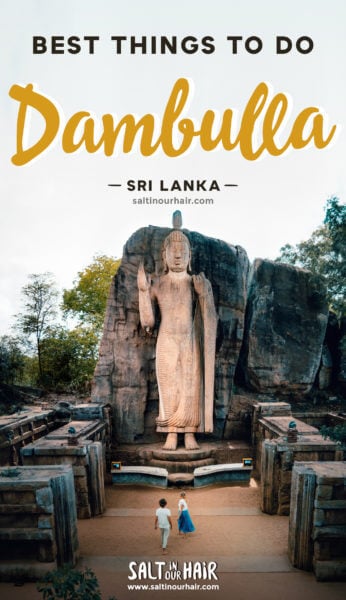 At the entrance of the caves is a huge golden statue of Buddha, which is the entrance to the Dambulla Museum. A wall art museum which is worth a visit.
Tip: Do not forget to wear long pants and cover your shoulders inside the temple.
4. Avukana Buddha Statue
Avukana Buddha is a standing statue of the Buddha about an hour from Dambulla. The statue was carved out of large granite rock and it over 12 meters high! The Avukana Buddha statue is mainly visited by local tourism and not by international tourists because it's very unknown. We highly recommend visiting it in combination with the Yapahuwa Rock Fortress.
Getting there: Avukana is located about an hour north-west from Dambulla. Rent a tuk-tuk driver or drive your own motorbike for the day.
5. Yapahuwa Rock Fortress
An alternative to Sigiriya Lion Rock with few to zero tourists; Yapahuwa Rock Fortress is a 100-meter high rock and known as one of the capitals of medieval Sri Lanka. Yapahuwa was a secured fortress with inner and outer sections. The Sacred Tooth Relic of the Buddha which is now at Kandy's Temple of the Tooth was first found at Yapahuwa!
Getting there: Yapahuwa is located 1.5-hour from Dambulla, combine your visit together with the Avukana Buddha Statue and make it a fantastic day trip!
6. Minneriya National Park
Sri Lanka has an incredible amount of wildlife in its national parks. Minneriya National Park is a great place to spot herds of elephants, monkies, colorful birds. Therefor a jeep safari is a great thing to do near Dambulla.
The safaris can be booked in Dambulla and at your hotel or guesthouse. Minneriya National Park is a 30-minute drive to the entrance of the park.
Getting to Dambulla
The best way to get to Dambulla is via train, bus, or car from Kandy. A 2-hour direct train brings you to the city center.
Where to stay in Dambulla?
Due to its strategic location, there are very good accommodation options. (See all the hotels here)
Best time to visit Dambulla
Dambulla has good weather year-round with 30 degrees from April to October. However, the months April and October to December have a bigger chance of rainfall. January to March is the best time to visit Dambulla.
Did you know that …
When you purchase something through our links we earn a small fee. However, you still pay the same. Win-win!
Salt in our Hair
09/12/2022
https://www.saltinourhair.com/sri-lanka/dambulla/
Last updated:

December 9, 2022