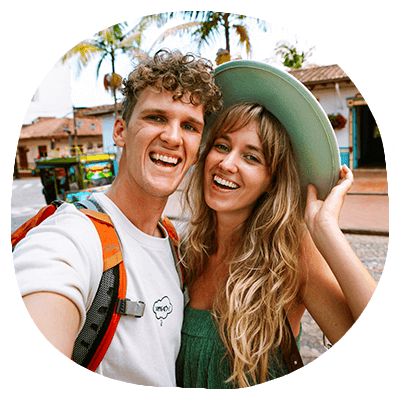 Hi, we're Nick & Hannah!
We hope you're enjoying our free travel guides & tips! If so, please consider supporting our work. 🤗
About Yala National Park
An enormous part of the Sri Lankan southeast corner is Yala National Park. The park is divided into five blocks. They stretch from the jungles inland to the beaches on the Indian Ocean. Only blocks one and five are open to the public, to preserve the natural habitat as much as possible.
The kind of animals in Yala National Park
Herds of elephants, crocodiles, deer, monkeys, buffaloes, birds, sloth bears, leopards, and many more. Sri Lanka has 20+ national parks but the large variety of animals is what draws many visitors to Yala National Park specifically.
Leopards in Yala National Park
Yala National Park is one of the best places in the world for spotting leopards. There are 40 to 50 leopards in Yala.
No time to read now?
No worries! Save on Pinterest to read it later.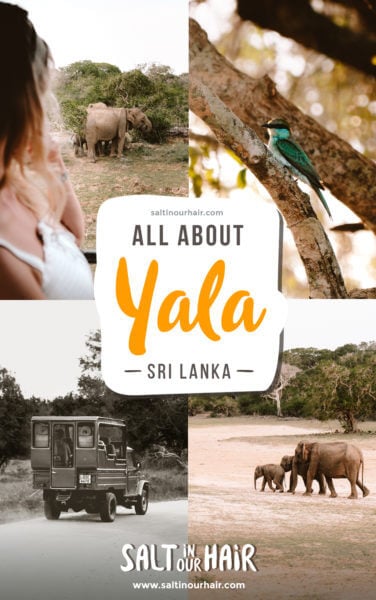 However, this does not completely ensure the sighting of leopards. First of all: they are shy. Add the size of the park to this, and you are left with a 50/50 chance of spotting leopards.
Where is Yala National Park situated?
Yala National Park is located in the southeast part of Sri Lanka, a good 5 hours drive from Colombo. Therefore, it is best to make the national park a part of your 3-week Sri Lanka Route.
How do I get to Yala National Park?
Tissamaharama city is the entrance, and only entrance, to the wildlife park. The easiest way to get to this city is by car or bus. Usually, tourists stay overnight in Tissamaharama, or inside Yala, in order to have enough time to see the park.
Jeeps are allowed to enter Yala National Park two times a day; at 6 AM in the morning and 2 PM in the afternoon. According to the rangers, there is no perfect timeframe to choose from. A Yala tour takes about 4 hours.
Please note: Yala National Park normally closes every September for maintenance.
Do I need a guide?
A park guide is not required; however, drivers generally speak little to no English. A guide is very useful to spot animals, pick the best route, and explain how the circle of life works within the park. This gives you a better understanding of the animal's behavior, and you can ask questions throughout the safari.
Is Yala worth visiting?
Yala with all its flora and fauna is a unique experience and one of the must-sees of Sri Lanka. The park is worth visiting at all times of the year, however, planning your visit during peak season (December to April) is recommended.
While in peak leopard season (Feb + Mar), you should keep in mind that you will not be the only jeep around and that seeing leopards cannot be guaranteed. On the other hand, large herds of elephants with babies are easy to spot in the park.
Best time to visit Yala
The best time to visit Yala National Park is from February to June during the dry season. With less water in the ponds, it's easier to spot animals coming out to drink. The peak season for leopards is February and March.
Luckily, you can visit the park year-round and prices will be much better outside of the high season. In September the park is closed for maintenance.
Where to stay in Yala National Park
There are plenty of options for accommodation near or inside the park. In Tissamaharama you will find the budget-friendly options with prices from 5 to 60 USD. Within the park, the options go from a Jungle Chalet to Glamping in Yala National Park. Prices can be as high as 700 USD per night depending on the type of luxury.
Cinnamon Wild Yala
Stay inside the national park at the eco-friendly Cinnamon Wild. Spend a night in their jungle chalet with the sounds of the jungle and powerful waves in the background.
Enjoy one of their unique experiences: dining under the stars. This takes place in a jeep parked next to a lake, which is generally occupied by crocodiles.
During your morning stroll to the fantastic buffet breakfast hall, you will most likely encounter wild pigs or lizards. Cinnamon Wild offers its own private jeep safari to give you an even more exclusive experience.
Did you know that …
When you purchase something through our links we earn a small fee. However, you still pay the same. Win-win!
Salt in our Hair
08/06/2023
https://www.saltinourhair.com/sri-lanka/yala-national-park/
Last updated:

June 8, 2023