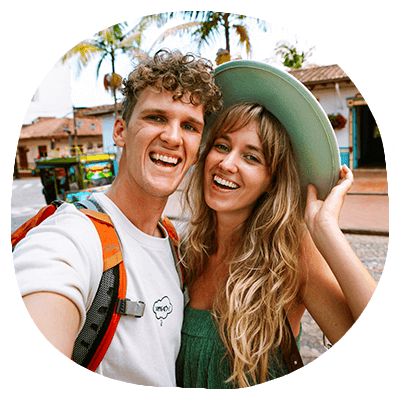 Hi, we're Nick & Hannah!
We hope you're enjoying our free travel guides & tips! If so, please consider supporting our work. 🤗
3. Secret Beach in Mirissa
Secret Beach is one of the most hidden Sri Lanka beaches and an absolute gem! Although it's not much of a secret anymore, it's a little harder to find. This makes it feel much quieter and more remote.
You'll find it tucked away to the side of the main beach, with a tiny bar and a local lady selling coconuts. It's a little adventure in itself to get there, as you'll need to follow a 2km steep trail over the headland (it takes about 30 minutes from Mirissa main beach).
Once you get there, you'll see the headland is split into three little beaches. Each one is a little bit different and it's an excellent place for snorkeling and sunsets. If you get here early enough in the morning, you'll likely get to enjoy this beautiful ocean paradise completely alone!
Season: November to April and August to October
Crowded: A bit crowded later on in the day, but arrive early, and you'll get to enjoy it for yourself.
Surfing: Not great, better for paddling in the rock pools and enjoying the snorkeling.

Despite its notoriety, the area still has that remote beachy feel, with wooden cabins lining the beach and palm tree forests. However, it also has fantastic restaurants, cafes, and bars close to the center, where you can find lots of international dishes and bohemian outdoor terraces.
Salt in our Hair
30/12/2022
https://www.saltinourhair.com/sri-lanka/sri-lanka-beaches/
Last updated:

December 30, 2022