2. Choose a destination
Now you've set your budget, the next thing to decide is to which awesome country you will be traveling. Make that decision by answering these quick questions:
3. Location research
Research is key when planning a trip, especially when you are plan to travel around a country. Use the following resources to do your research:
Plan a trip using Pinterest and Instagram
Pinterest and Instagram are an excellent way of finding blogs and photo inspiration for destinations. Search for your destination using the hashtags or the search bar. This is a great way to find hidden gems that you otherwise might not find out about.

Use travel blogs and guides to plan a trip
Read, read, read! Using travel blogs and travel guides on the internet is a great way to develop ideas of what you want to see in a certain country. 
No time to read now?
No worries! Save on Pinterest to read it later.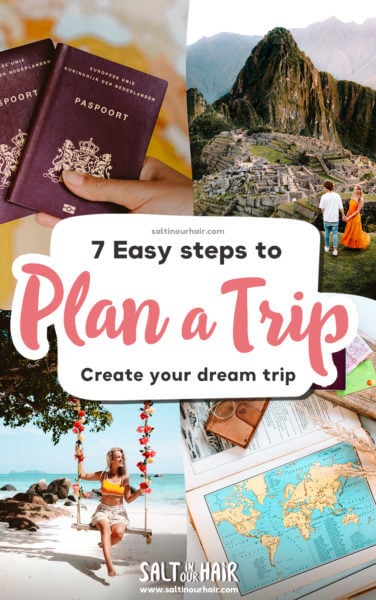 Other resources
TripAdvisor is a great way to find recommendations for what to do and see. As well as where you want to stay or places you want to eat.
Google Maps, similar to TripAdvisor, offers great recommendations for food and things to do.
Do you know someone who has visited your destination? Ask what they did while they were there or what route they took and consider when trip planning.
When you arrive at your destination, ask locals for tips on what to see.
Salt in our Hair
27/03/2021
https://www.saltinourhair.com/tips/how-to-plan-trip/
Last updated:

24 January 2021