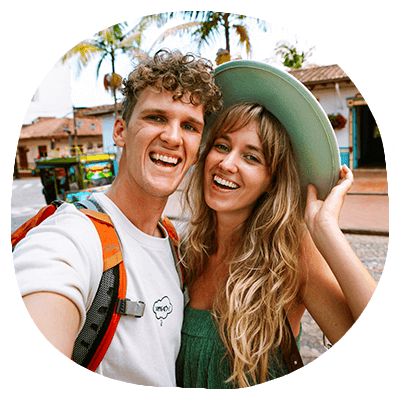 Hi, we're Nick & Hannah!
We hope you're enjoying our free travel guides & tips! If so, please consider supporting our work. 🤗
About Manadalay
It can get quite cold at night so don't forget your sweater. In Mandalay, you can notice the difference between poor and right. The outskirts of Mandalay are very poor and living between the garbage. That doesn't take away that they are friendliest people you will meet.
1. Visit Mandalay Hill
Mandalay Hill is a must-do, this 240-meter high hill gives you an incredible view of the whole area. Getting up there is easier than you would expect, they build an elevator and escalator on the foot of the temple. Note to cover yourself and take off your shoes. The entrance fee to Mandalay Hill is K1000. ($0.75)
Don't be surprised when Myanmese people ask you to take a photo with you. They just want to show this to their relatives.
2. Back in time at the Mingun Pagoda
One place we wished we would have had more time to see is Mingun Pagoda. This is located across the Irrawaddy river, which is about a 90-minute drive out of town.
No time to read now?
No worries! Save on Pinterest to read it later.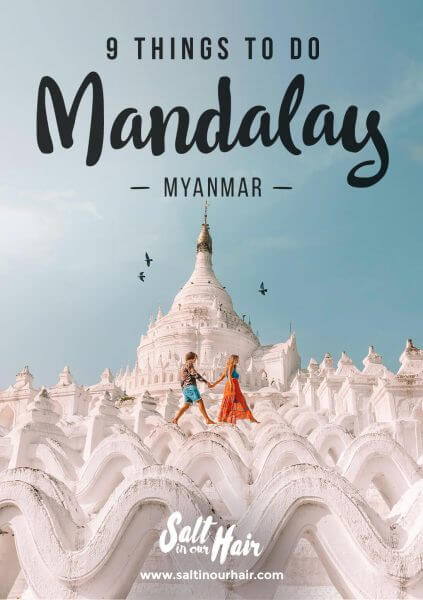 The almost square-shaped pagoda is one of a kind. It can be a bit crowded at the entrance but if you walk around it you will be the only one there. Book a Myanmar Temples tour
When you're here, have lunch at the relaxed, river located 'The Garden Cafe'.
3. In the clouds at Hsinbyume Pagoda
Near to the Mingun Pagoda is the beautiful white Hsinbyume Pagoda. You can walk up the stairs and explore every level of the pagoda. The Pagoda is not big shouldn't be missed while visiting Mandalay. This is one of the reasons why you must visit Myanmar.
4. U-Bein Bridge
One of the main attractions of Mandalay is the U-Bein Bridge. The 1200 meter long wooden footbridge is known as the longest in the world. When visiting in February there was almost no water under the bridge so doing a boat tour is definitely not recommended.
From Mandalay, it is a small 20-min drive to U-Bein Bridge. Arrive two hours before sunset, see how the locals are relaxing here.
Tip: Most of the year there's a big sunflower field next to the bridge where locals are taking photos.
5. World's largest book at Kuthodaw Pagoda
The size of this area is impressive. The Kuthodaw Pagoda holds the world's largest book and is surrounded by an insane amount of small white pagodas.
Take at least 1 hour to look around in this area. The Kuthodaw Pagoda is also included in a Myanmar Temples tour.
6. A morning stroll through Zay Cho Market
This huge, partly covered, market open from 6 AM until 5 PM and offers anything from fresh fruits, fresh spices to kitchen tools. Go here in the early morning, wander around and see how these locals spend their morning.
7. Mandalay Palace
Mandalay Palace is a huge fortress located near the Hill. It's a cool area to walk around for some time but there isn't really much to do or see.
8. Shwenandaw Monastery
The beautiful wooden details in the monastery are worth a visit. It small so you don't need a lot of time and it's a quick stop from Mandalay Palace.
9. Dinner @ Mingalarbar
Close your trip by having a Mandalay style food experience. A dinner at Mingalarbar is highly recommended to try some of their best dishes.
Best Hotels in Mandalay
Mandalay offers hotels for every kind of budget.
Did you know that …
When you purchase something through our links we earn a small fee. However, you still pay the same. Win-win!
Salt in our Hair
10/03/2023
https://www.saltinourhair.com/myanmar/things-to-do-mandalay/
Last updated:

March 10, 2023