Open Temples Bagan – 2019 update
Unfortunately, all pagodas are closed for climbing to the top. Due to receive its official UNESCO status, this is not allowed anymore.
Secret View Temple
The balloons take off from a different site every morning, depending on the wind conditions. We recommend you to start in the center of the Bagan area at 'Secret View Temple', we named it like this since it has no name on Google Maps. It is located in the middle of the area which gives you the best chance to see the balloons near to you. (See map below)
Note: Take your shoes and socks off before entering any temple.
How to get here?
Make sure to arrive there around 7 AM. Use Google Maps and drive to the 'Dhammayazaka' temple, near New Bagan. Go around it and follow the road for about 1100 meters. On your right side, you will see a medium-sized temple. Yes, you can still go on top, make sure to handle everything with care.
Mahazedi Pagoda
If the Secret View Temple is a little too adventures for you in the morning, go to the Mahazedi Temple. A relatively small and quiet temple in Old Bagan where you can enjoy a beautiful sunrise the view from the top.
Shwegu Gyi Phaya
The Shwegu Gyi Phaya temple is next to Mahazedi and officially still allowed to climb to the top.
Is our article helpful to you?
Help us keep making these articles for you by supporting us with a cup of coffee. ☕️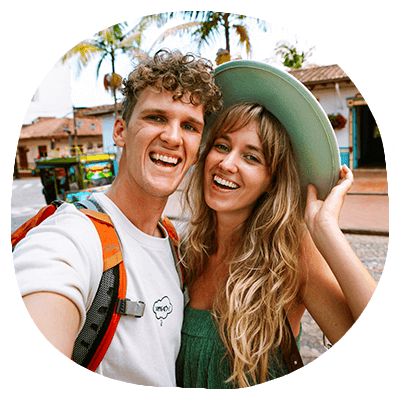 Although sunrises and sunsets are crowded, it doesn't take away the experience.
Ananda Pagoda
This is one of the first temples to be built in Bagan and very well preserved. It looks different from other temples and their architecture and paintings are quite impressive.
How to get here?
Use Google Maps and search for the 'Let Put Kan' temple. About 300 meters after passing the Sulamani Temple. Take a left and drive all the way following some small paths. Keep Google Maps by the hand, use the compass and follow a possible sand path. Don't worry, you won't get lost.
Shwesandaw Pagoda
This 5 stories high pagoda offers one of the best sunset views of the area. Although it can get quite crowded, it is nothing compared to the sunset you will experience from the top.
Heads up, the government is planning to add an entrance fee to the pagoda for its restorations and to limit the number of people on the pagoda. The fee was not there during our visit in February 2018.
Climbing the Bagan temples
Since receive it's UNESCO status, it is not allowed to climb up the temples anymore. There are now two viewpoint hills overlooking the most famous temples in the area.
Best hotels in Bagan
Cheap stays in Bagan
No time to read now?
No worries! Save on Pinterest to read it later.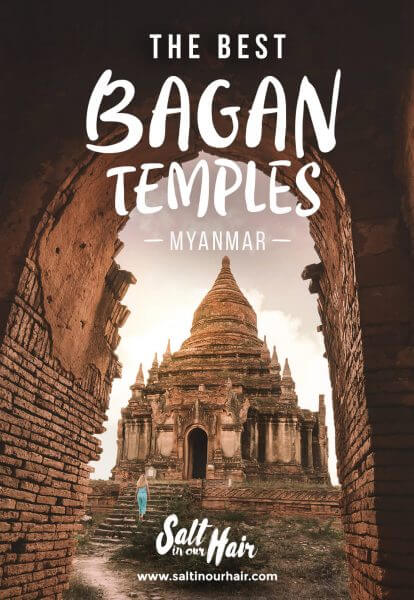 Salt in our Hair
18/03/2021
https://www.saltinourhair.com/myanmar/best-bagan-temples/
Last updated:

24 February 2018