6 Things to do in Bagan, Myanmar
We highly recommend you book at least 3 nights in Bagan. Getting to Bagan can be done by bus, train, taxi, or airplane, but they all take energy and time. With 3 nights, you can experience at least 2 sunrises and sunsets. Bagan is the most popular stop on a route through Myanmar. Discover all the best things to do in Bagan, Myanmar.
1. Balloon Flight at Sunrise
What's more magical than waking up, floating between the temples while you slowly feel the comfortable heat of the rising sun on your face? A balloon ride in the morning is something you don't want to miss in Bagan, Myanmar.
No time to read now?
No worries! Save on Pinterest to read it later.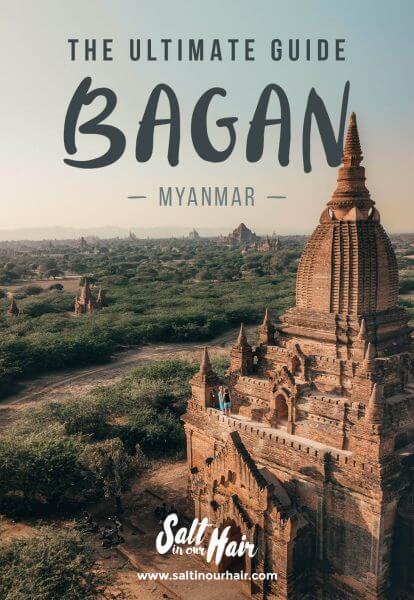 A 40-60 minute flight costs around 340 USD, depending on the season. Don't forget to take your sweater with you as mornings can be cold.


2. Visit the Temples in Bagan, Myanmar
Bagan has many beautiful temples, too many to see on just one trip. We've highlighted the best and most impressive temples in our Best Bagan Temples Guide. Explore the temple in an Africa-like landscape on your e-bike.

3. Enjoy an Incredible Sunset or Sunrise on Top of a Temple
Bagan is famous for its stunning sunrises and sunsets. Although it's not allowed anymore to climb most of the temples, getting up early for sunrise, being surrounded by nothing but temples and a sky full of hot air balloons, is an unforgettable experience.

4. Visit Minnanthu Village
A bit dislocated from the main villages like Old and New Bagan is the local village Minnanthu. Get a small tour around their village and see how they make their products, like cotton clothing, cigars, peanuts, etc. It's a great place to stop on a little round trip on your e-bike.

5. Relax Till Sunset!
Afternoons in Bagan can get quite hot. Because of this, spend your time in the mornings exploring the temples until 1 AM and relax in the afternoon. Take a dip or nap at your pool or go chill at one of the restaurants nearby. After 4 PM you can go out and explore the area again.
6. Rent an E-Bike in Bagan
The government introduced something very clever a few years ago: E-Bikes. Electric motorbikes that'll get you around the area in a very relaxed and, most importantly, very silent way.
You can rent an e-bike almost everywhere in town. A good price for an e-bike in Bagan is somewhere between 5000 – 7000 Kyat (5 USD) per day. The price goes up a little when you share one bike with two people. Make sure you check everything, like tires, lights, mirrors, and battery, before renting it.

Where to stay in Bagan?
There are 3 main villages in Bagan: Nyaung-U, Old Bagan, and New Bagan. They all surround the temple area and make a great place to stay for a few nights.
The best location to stay closest to most of the temples is Old Bagan, though it's also the most expensive area to stay in. New Bagan and Nyaung-U are just a 30-minute drive with your e-bike and have more mid-range and cheap stay options.
Nyaung-U is the village where most of the backpackers stay, but New Bagan is a rising area with good-looking hostels.
How to Get to Bagan?
Bagan can be easily combined with your Myanmar route. You can reach Bagan via bus or taxi from Yangon (9h), Mandalay (4h) or Inle Lake (8h). There is also an airport with daily flights to Yangon.
The flights take about 1.2 hours from Yangon and cost anywhere between $70 – $150, depending on the season.
Best Time to Visit Bagan, Myanmar
The best time to visit Bagan is between November and February. Bagan is hot most of the year, but in these months, it is the most pleasant at 30 degrees. Try to avoid the summer, which runs from March to May.
Did you know that …
When you purchase something through our links we earn a small fee. However, you still pay the same. Win-win!
Salt in our Hair
18/10/2023
https://www.saltinourhair.com/myanmar/bagan-guide/
Last updated:

October 18, 2023