What is Ngapali like?
Myanmar is world-famous for the temples in Bagan and balancing fishermen at Inle Lake. Getting here can be a little challenging, so what better way to close off your Myanmar itinerary than at one of Asia's most beautiful beaches?! Ngapali Beach, with its calm waters and beautiful views, is one of the best places to see in the country.
The whole beach area already offers many hotels, with most of them built in a way that blends together with the incredible nature. (Compared to some other beach destinations)
7 Things To Do in Ngapali
Ngapali is all about the beach and its surroundings. Take about 3 to 4 days to really experience and to get to know this area. It's not a destination where you can do many tourist activities like parasailing or jet skiing – Ngapali is as pure as possible. Here are the best things to do in Ngapali.

1. Explore Ngapali by bicycle
Ngapali is a quiet area with one long main road along the coastline. Rent a bike and head out early in the morning, sometime around 8:30 AM. The road is about 10 kilometers long, so you will be back before the heat of the afternoon.
No time to read now?
No worries! Save on Pinterest to read it later.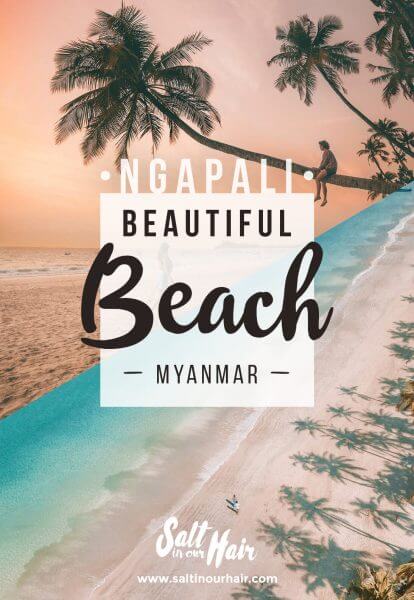 2. Meet the friendly locals
While driving your bike in the morning, keep an eye out for some small side paths that lead into the jungle. Get in there and drive around with your bike and interact with the friendly locals who always greet you with a smile. They will be fascinated by your appearance and will try to communicate in 'the best language': body language.

5. Get a super fresh meal
Fresh fish is the signature food at Ngapali, and many restaurants offer anything from fish curry and grilled calamari to huge shrimp and many more dishes. These were our favorite places to eat:
Mingalaba ♥️♥️♥️♥️
PVI ♥️♥️♥️
Jones Pizza ♥️♥️
Two Brothers ♥️♥️ (great food, bad service)

6. Relax a day (or two) on Ngapali Beach
Ngapali is all about the beach, with plenty of space for everyone. Bring your towel with you and find a good spot near the palm trees. :-)

There are a few ladies who walk on the beach selling fruits, and in the late afternoon, locals come out to play with their children in the sea.

If you're done with relaxing, there are a few small local stalls down the beach that rent water floaties and paddleboards – perfect for that sunset moment.
7. Get a snap with the famous palm tree
On social media, Ngapali is mainly known for its perfect hanging palm tree. You'll find it located right next to Art of Sand Resort.

How to Get to Ngapali
Getting to Ngapali is easiest by plane but definitely not the cheapest. A direct flight (45 minutes) from Yangon to Thandwe Airport (15 minutes from Ngapali) costs about 75 USD during the high season.
Find flights to Ngapali Beach ✈️
If you are planning to visit Ngapali from Bagan or Inle Lake, expect to spend about 90 USD for a direct flight (70 minutes).

On a budget?
The bus from Yangon to Ngapali takes 15 hours and costs around 14.000 kyats (9 USD) per person. From Bagan, there is no direct bus, and it takes roughly 24 hours to get to Ngapali. Because of this, you might want to budget for a flight.

Where to Stay
As it's such a beautiful location, hotels and guesthouses in Ngapali are not the cheapest in Myanmar. Guesthouses are anywhere from $15 to $30 per night, and luxury hotels range from $100 to $250 a night.
Did you know that …
When you purchase something through our links we earn a small fee. However, you still pay the same. Win-win!
Salt in our Hair
23/10/2023
https://www.saltinourhair.com/myanmar/ngapali-beach/
Last updated:

October 23, 2023