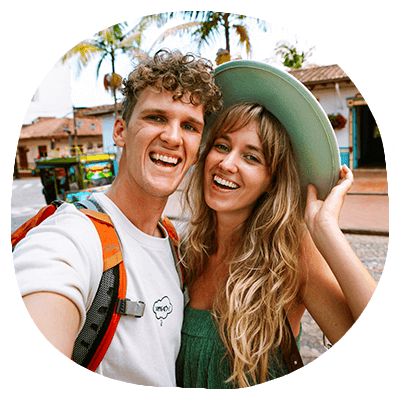 Hi, we're Nick & Hannah!
We hope you're enjoying our free travel guides & tips! If so, please consider supporting our work. 🤗
1. Locals
The locals in Myanmar are genuinely happy to see a tourist. They really want you to have a great time in their country. Tourists are unique and cool which is why they want to take a selfie with you to share this with their family. This was our number one surprise when visiting Myanmar.
Tip: Always ask for permission when taking a photo of a person.
2. Temples of Bagan, Myanmar
The temples area of Bagan contains over 2200 small and big temples (pagodas). You can explore the African-looking area by bike or e-bike! Since July 2019, Bagan got its UNESCO World Heritage status which means that all temples are closed climbing up to the top to watch the sunrise. Nevertheless, Bagan is a great reason to visit Myanmar!
3. Hsinbyume Pagoda
Just outside of Mandalay in Mingun is the beautiful all-white circular-shaped Hsinbyume Pagoda. Climb via the stairway to the top and have a great view of the river.
4. Ngapali Beach
Perfect palm trees lining all along the coast, turquoise water, and white soft sand. Ngapali Beach is a dream beach with not many tourists. Explore the 7-kilometer beach area by bike. Ngapali easy to reach with a domestic flight.
5. Few tourists
Tourism in Myanmar is on a rise but this is nothing compared to Thailand. About 10 times less tourists to be exact. In 2017, Thailand had over 35 million tourists whereas Myanmar had almost 3.5 million.
No time to read now?
No worries! Save on Pinterest to read it later.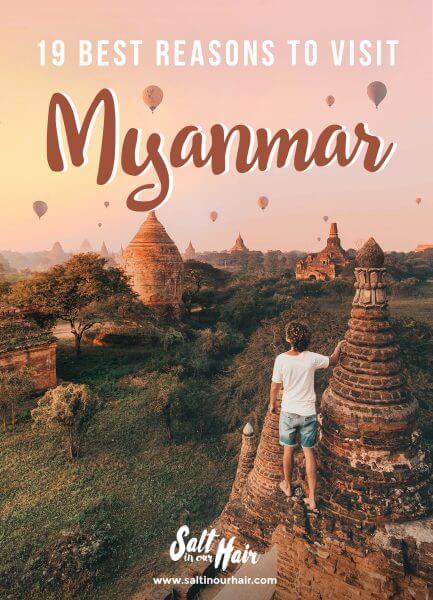 The countries are about the same size, so there is a lot to discover and you will only meet larger groups of tourists in Bagan.
6. Bagan Balloon flight
Floating in between 2200+ temples while you slowly feel the comfortable heat of the rising sun on your face. Experience Bagan in a unique way by a sunrise balloon flight. (book your flight here)
7. Explore Inle Lake by boat
Complete villages made of wood and/or bamboo stand on/above the waters of Inle Lake. See how the local people work in the floating gardens or on their fishing boats. Visit the long-necked women and clothing factories.
8. Hike Hpan Pu Mountain
To hike up the small Hpan Pu Mountain, you will need to catch a local canoe boat, pass the river and walk through a village where they grow vegetables. From to top of the mountain, you will have a beautiful view over the area. This area is pretty much disconnected from the normal road so expect a lot of surprised faces when they see you, a tourist.
9. Burmese Cuisine Myanmar
One of Asia's lesser-known cuisines, the Burmese Cuisine. Seafood and plant-based meals served with rice are basically in every meal. Like it's neighboring countries, spices are used to make the dish flavorful. These were our absolute favorite places to eat in Myanmar.
1. Paw Paw Restaurant ( Inle )
2. The Moon2 ( Bagan )
3. Mingalaba ( Ngapali )
10. Lush green rice fields in Hpa-An
Hpa-An is green rice fields area dislocated from the usual tourist route. In Hpa-An they grow rice multiple times a year so you will have a good chance to wander through the fields.
11. Mergui Archipelago
Imagine the Phuket region in Thailand without tourists. The Mergui Archipelago lies in the Andaman Sea off the coast in the deep southern tip of Myanmar. At the moment, this part can only be visited by guided boat tour.
12. Shwedagon Pagoda Yangon
In the former capital, Yangon is a 99-meter high gold pagoda. One of the countries most famous sights. It is also known as one of the old pagodas in the world. Make sure to experience this beautiful pagoda at sunrise.
13. Mingun Pagoda
Highly underestimated Mingun Pagoda on the Irrawaddy river, which is about 90 minutes from Mandalay, is a huge square-shaped pagoda. On a few sides, it has been damaged by a heavy earthquake, but we thought that made it even more special.
14. U-Bein Bridge
Near Mandalay is the longest wooden bridge in the world. A 1200-meter long wooden footbridge over shallow water. It draws many visitors both local and foreign.
16. Mount Zwekabin
If you're up for a real hike, then get out in the early morning and test your hiking skills on a 2.5-hour journey to the top of Mount Zwekabin in Hpa-An. You will get rewarded with an insane view.
17. World's largest book
One pagoda with 729 smaller white pagodas surrounding it all containing a marble stone book page. Together they form the world's largest book. The Kuthodaw Pagoda is located in Mandalay and a must-visit.
18. Shwe Inn Dein Pagodas
A forgotten field of 1600 pagodas, west of Inle Lake and only to reach by boat through a narrow creek. Be sure to visit in the right season, in summer the creek is dry and you aren't able to reach the pagodas.
19. Myanmar is safe
We often get the question: is Myanmar safe? The answer is YES! Myanmar is safe to travel. The horror stories you've read in the news are true but don't forget Myanmar is huge and the locals can't help what has been going on.
Try to spend your money with the locals so those people will stay positive and can live their normal daily lives. We haven't felt unsafe for a single second! We shouldn't forget that the locals and the government are not the same people.
Did you know that …
When you purchase something through our links we earn a small fee. However, you still pay the same. Win-win!
Salt in our Hair
08/04/2022
https://www.saltinourhair.com/myanmar/visit-myanmar/
Last updated:

26 August 2018