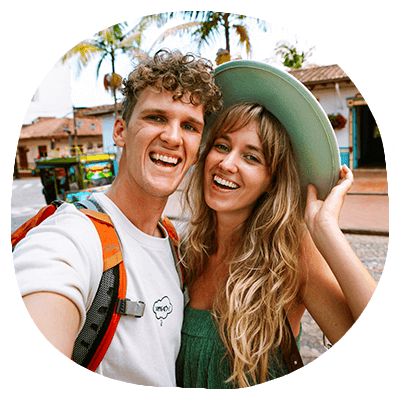 Hi, we're Nick & Hannah!
We hope you're enjoying our free travel guides & tips! If so, please consider supporting our work. 🤗
The hike to the top of Ijen is definitely challenging. It takes about 1.5-hours to reach the crater lake with some very steep steps. The good thing is, there is a well-marked path. You don't have to worry to get lost while walking in the dark.
Imagine these miners going up and down, with 40-70KG on their shoulders, doing that same walk for 3/4 times a day. Oh, and they earn 900 IDR (0.06 USD) per kilo.
Blue fire Kawah Ijen tour
The blue fire is a natural wonder that can only be seen at Ijen and in Iceland. It is only visible in the extreme darkness. If you are planning to witness the blue fire, you have to start walking from 2 AM. Once at the top you have to descent again into the crater, wearing a mask to find the blue fire.
No time to read now?
No worries! Save on Pinterest to read it later.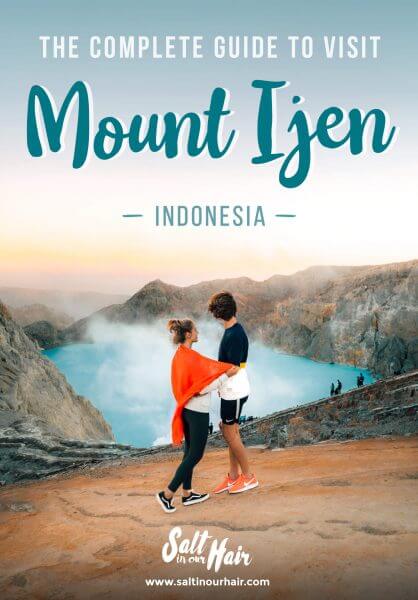 We didn't do this ourselves. During our 8-day Java Route, we talked to a handful of people who hadn't great reviews about this experience. We choose to spend more time at the best waterfall in Indonesia instead.
Tip: They rent gas masks at the bottom and top of the crater.
Sunrise at the Ijen Crater
Watching the sunrise on the aqua Ijen crater lake is beautiful. Just like Bromo, it is busy but you can walk around almost the whole crater lake to take a beautiful photo. The colors change from orange, pink, purple, aqua.
Would we recommend Ijen? It was a beautiful experience but wouldn't recommend it if you have limited time for your route through Java.
Temperature at Ijen
During our visit to Kawah Ijen it was 0-10 degrees and there was a strong wind. This made it cold and dangerous as some people were blown over.
What to wear during an Ijen tour?
Be prepared to wear long trousers, socks, closed shoes, a shirt, and a jacket or multiple sweaters. Do remember you will be hiking for at least one hour so your body will get warm.
Good to know: There are small push carts that will take you to the top for a fee. You are then pushed and pulled up the mountain by three men and you pay a minimum of 700,000 IDR (50 USD) for that. We don't support doing this as it almost looks like slavery going on on these insane climbs.
How to get to Kawah Ijen
Contact our great driver Azhar on Whatsapp (+6281336042045). Make sure to tell him you came via 'Salt in our Hair' so you'll get the best price.
You have a few options to get to Ijen. The easiest way is to find a guesthouse or homestay near Ijen. The best location would be in Banyuwangi.
Another option is to stay in a larger city called Bondowoso. The only down part is that you have to drive for another two hours to get to the starting point of Ijen.
Did you know that …
When you purchase something through our links we earn a small fee. However, you still pay the same. Win-win!
Salt in our Hair
16/12/2022
https://www.saltinourhair.com/indonesia/kawah-ijen-volcano/
Last updated:

December 16, 2022