Exploring Komodo Islands by Boat Tour – The Ultimate Guide
Exploring Komodo Islands by Boat Tour – The Ultimate Guide
One of the best-untouched treasures of Indonesia are the Komodo Islands. Komodo National Park is part of Flores, a group of 29 small and big quite white-sanded islands. It is home to the world-famous Komodo Dragon, countless manta rays, sea turtles, dolphins, small sharks, world-class snorkeling and diving sites with millions of fish, stunning hiking paths, and pink beaches.
Save this on Pinterest to read it later ↡
What's inside Komodo National Park
Exploring the Komodo Islands is done by a single or multi-day boat tour from Labuan Bajo. A small port town on the west-tip of Flores island. Depending on the weather conditions your route will be filled with the most stunning spots around the national park. You can expect these things to see around the Komodo Islands.

➳ Read: 21 x Things to do in Komodo, Flores
Viewpoints at Padar
One of the three larger volcanic islands in Komodo National Park is Padar. Padar island offers a 20-minute hike to the top viewpoint. From here, you have a jaw-dropping view over the full bay. It is host to the Komodo dragon and large population of deer.

Book this exact trip: with Wandernesia.official by messaging them on Instagram and using the discount code 'saltinourhair'.
The newly-build stair stops at multiple viewpoints so there is a difficulty for everyone. To enter Padar, an entrance fee of 150.000 IDR (10 USD) is required.
Meet the Komodo Islands inhabitants
See how the locals of Komodo Island live inside Komodo village. Most people make a living by fishing and others by creating and selling handicrafts to visitors of Komodo Island. The local guides give a well-spoken English guided tour and make it possible for you to interact with the inhabitants.
A million flying bats at the Komodo Islands
Directly after sunset, the sky at the Komodo Islands turns black, filled with a million bats leaving the mangrove forest located on Kalong Island. This is a must-see experience during your Komodo Islands boat tour. Truly magical, and for sure a highlight of your trip.

➳ Find hotels to stay
Swim with Manta Rays
Manta Rays are very common in Komodo National Park. They can be spotted year-round by snorkeling or diving. However, during the rainy season, the water is colder, and there is glowing plankton which is food for the Mantas. During this time hundreds of Manta Rays gather at Manta Point.
The rainy season runs from December to March and is the best time to spot Manta Rays around the Komodo Islands.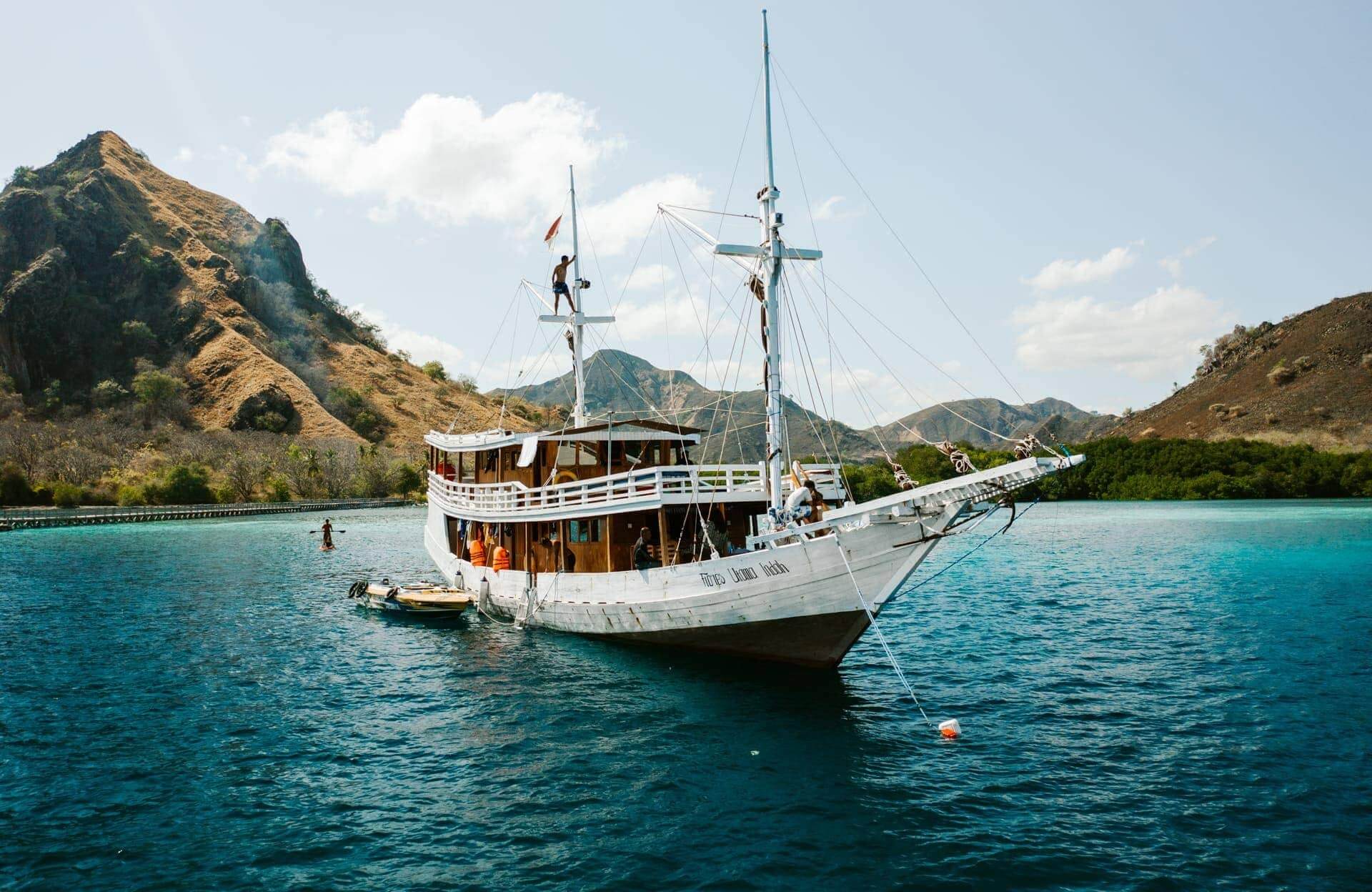 Dive in world-class reefs of the Komodo National Park
Divers and snorkelers can be very satisfied at Komodo National Park. With over a thousand kinds of fish and 230 species of coral, the reefs at the Komodo Islands are world-class for snorkeling and diving. Penga Kecil and Karang Makassar are the most visited reefs.
Expect to see small reef sharks, turtles, loads of fish and sea stars in all kinds of colors and sizes, dolphins, and even whales sharks.
The Pink Beaches of Komodo
There are many pink beaches around Komodo National Park. White sand mixed with tiny pieces of red coral makes the beach look pink. Expect other tourists during your visit due to its popularity.

➳ Read: 21 x Things to do in Komodo, Flores
Please: Never take sand or shells, keep nature as it is. It is also prohibited which can get you in trouble at the airport.
Komodo Dragons
Komodo National Park is the only place where the largest lizard on planet earth lives; the Komodo Dragon. Hiring a trained Ranger is required on Rinca Island to view the Komodo dragons. He keeps you at a safe distance and guides you through the park.
The hike through the park and to the viewpoint is available in a short (1h), medium(1.5h) or long walk (2.5h). The medium was very easy to walk although we don't recommend walking too in much middle of the day.
The Komodo dragon can grow up to 2.5 meters, weigh over 85 kilograms and a bite from it is actually very deadly. Always stay behind the ranger, it's his job to keep you safe.

➳ Find flights to Komodo
Boat Tours at the Komodo Islands
Labuan Bajo is the start of every Komodo Islands boat tour. A small harbor town located in the western tip of Flores. Discover Komodo by a day trip from Labuan Bajo or spend the night on the boat inside the national park.
What to expect of a Komodo Islands boat tour
During a 4-day boat trip, you are able to explore the national park, visit lesser-known locations, do loads of snorkeling, seek for shooting stars at night, have an incredible sunrise at a sandbank and so much more.
Prepare for an unforgettable experience waking up on top of the boat in our bed with an unbeatable view, a fantastic crew, and delicious Indonesian meals (also vegetarian meals).
Do remember that it is a back-to-basic experience where there are a cold-pump shower and bathroom that you have to share with 8 – 10 people. The staff keeps this very clean 24-hours long. Also, there is no cell-phone connection on the water so don't be afraid to talk.

➳ Find hotels to stay
Booking a Komodo Islands boat trip
There are boats available in every level of comfort and size. Booking a Komodo boat tour can be done online or while you are in Labuan Bajo.
Please keep in mind that all popular companies are fully booked 8 weeks in advance. Multi-day trips are recommended to book online where you can see the boat and read reviews.

Komodo Island boat company
Book this trip with Wandernesia.official – message them on Instagram and use the discount code 'saltinourhair'.
Price of a Komodo Islands boat tour
The price of a boat tour totally depends on what you like to see, the comfort you prefer and how many days you spend in the national park. An entrance fee to Komodo National Park costs 280.000 IDR (18 USD) and is valid for 3 days.
A day trip in the park costs you anywhere between 500.000 – 1.000.000 (~45 USD) per person for a shared boat tour.

Four days on a boat including meals would cost you anywhere between 3.000.000 to 6.000.000 IDR per person. (~300 USD)
Whatever your budget is, a visit to Komodo National Park is an experience you absolute must-do in Indonesia!
➳ Read: 21 x Things to do in Komodo, Flores
How to get to the Komodo Islands
Over the past few years, it has become much easier to visit the Komodo Islands. You can easily combine a 4-day Komodo Islands boat tour with your 3-week Bali Route.
Flights from Bali to Labuan Bajo's brand new airport take 60-70 minutes. The airport is a 5-minute ride from Labuan Bajo town.

➳ Find flights to Komodo
Labuan Bajo & where to stay
Labuan Bajo is a great upcoming little town. Fantastic pool bars and restaurants opened there doors since 2013. Our favorite restaurants were La Cucina (Italian) and Happy Banana (sushi).
Please note that religion is Christian and Muslim. The people as lovely so as a sign of respect visiting their region, don't walk in your bikini on the street.
Where to stay in Labuan Bajo
Labuan Bajo has a short on accommodation (2018/2019) which is why they are building a lot at the moment. This makes it recommended to book a guesthouse or hotel in advance. If Booking.com doesn't offer what you need, try Agoda.com as well.

➳ Find hotels to stay
Salt in our Hair
27/03/2020
https://www.saltinourhair.com/indonesia/komodo-islands/