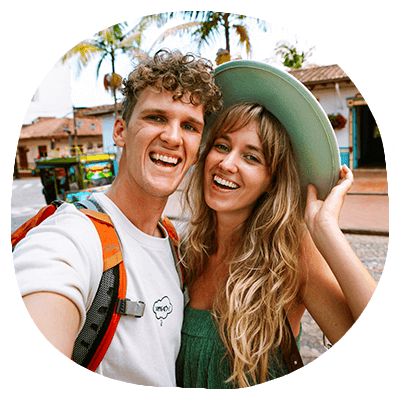 Hi, we're Nick & Hannah!
We hope you're enjoying our free travel guides & tips! If so, please consider supporting our work. 🤗
Central and East Java travel guide
Java is just a 1-hour flight from Bali and can easily be combined with a route through Bali. The Javanese locals are one of the friendliest in Indonesia. All super interested in where you are from and always wanting to score a selfie with you.
Java has one of the most beautiful waterfalls in Indonesia and the largest Hindu complex of Indonesia is located in Yogyakarta. Every chapter of this 8-day Central and East Java route includes a link with more information about that specific subject.
Day 1 – 3: Exploring Yogyakarta
The creative capital Yogyakarta in central Java is the start of your Java travel route. This relatively small city is popular amongst Indonesian and international students.
No time to read now?
No worries! Save on Pinterest to read it later.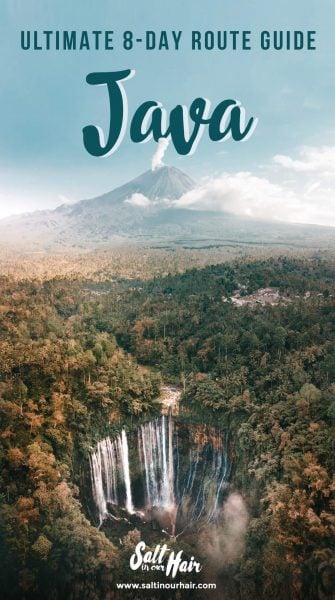 Prambanan and Borobudur are the highlights of Yogyakarta but there is so much more to do in this area. Yogyakarta has an international airport and is easy to reach from Singapore or Bali.
Day 4: Train Yogyakarta to Malang
In the morning, head to Tugu Station in Yogyakarta. Hop on the train at 7:45 AM towards Malang. The Malioboro Express train takes 8 hours and is definitely one of the more comfortable train rides in Asia. Take the rest of the day to rest or explore the rainbow village Jodipan.
Day 5 – 6: Malang, rainbow village and waterfalls
Malang is in the higher part of East-Java and has a much more comfortable climate than in Yogyakarta. Spend two days exploring Malang, the colorful villages of Java, and the most beautiful waterfall in Indonesia. Malang absolutely has to be in this Java travel guide.
On your last day, make your way to Bromo to experience the sunrise the next morning. Don't forget to stop at Coban Pelangi on the way to Bromo.
Day 7: Sunrise on Bromo
Every route around Java has to include watching the sunrise on Mount. Bromo. Get out early and drive with a jeep up to one of the many viewpoints, explore the sea of sand, and take a look inside the Bromo Crater. That same day travel to a town near the Ijen Crater. We recommend visiting Bromo and Ijen via a 2-day tour.
Day 8: Ijen Crater walk
The Ijen crater is a mine for Sulfur miners who are walking up and down (1.5-hours each way) the crater 3 times a day with 50 KG Sulfur on their shoulders. Watching the 'blue fire' and sunrise is a popular activity. To see the blue fire, you have to start hiking up at 2 AM. This is definitely the hardest hike of this Java travel guide.
After this experience, have breakfast at the base camp and catch the ferry to Bali. From Java to Bali with the ferry only takes 30 minutes. It runs every hour 24/7 and costs around 8000 IDR.
How to travel around Java?
The best way to get around is by train and private driver. Contact our great driver Azhar on Whatsapp (+6281336042045). Make sure to tell him you came via 'Salt in our Hair' so you'll get the best price.
Best time to visit Java
Java is best to visit between April and November. Don't get fooled by an average of 28 degrees. When visiting Bromo and Ijen it will be 0-10 degrees so you will need a few layers.

Keep in mind that in the dry season (May – September) the rice fields might be changed to tobacco and waterfalls will be less active.
Java route guide: Costs of traveling
Budget
Hotel: 35 – 100 / night
Food: 15 USD / day
Transport: 10 USD / day
Simcard: 2 USD / 6GB
Guesthouse: 15 USD / night
Sim card in Java
Telkomsel and XL Axiata are the providers with the best reach throughout the whole island. Some providers don't work outside the city you bought your sim card or don't work at Bromo or Ijen. XL worked everywhere for us, had a good connection and paid 30000 IDR (2 USD) for 6 GB of data.
Did you know that …
When you purchase something through our links we earn a small fee. However, you still pay the same. Win-win!
Salt in our Hair
16/12/2022
https://www.saltinourhair.com/indonesia/java-travel-guide/
Last updated:

December 16, 2022