Sunrise at Mount Bromo
In the middle of the night, hundreds of jeeps drive up towards King Kong Hill where you have the best sunrise view on Mount Bromo. The drive up starts at 3 AM and takes 1 hour.
Another option, instead of a jeep is to jump on the back of a motorbike.
At the drop-off at King Kong Hill, you will have to walk about 5 minutes to reach the small stalls with coffee, tea, fried banana, and a cozy fire. Book your tour here
Is our article helpful to you?
Help us keep making these articles for you by supporting us with a cup of coffee. ☕️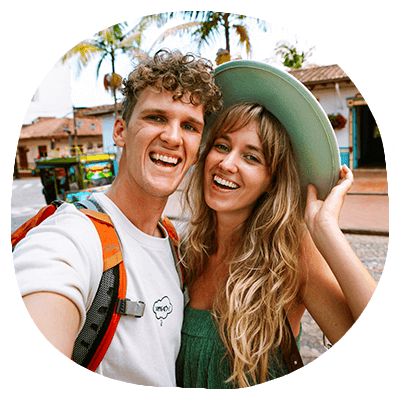 Temperature at Bromo
It is freezing cold in the morning at Bromo. The temperature will be between 0-10 degrees with a cold strong wind. The small fires at the food stalls are therefore super comfortable.
What to wear during a Bromo tour?
Be prepared to wear long trousers, socks, closed shoes, a shirt, and a jacket or multiple sweaters. A good thing is that you can rent a jacket at your hotel or at the top of King Kong Hill for ~ 30000 IDR.
Best viewpoints Bromo
The best viewpoints are on Gunung Penanjakan. The two popular viewpoints on the mountain are called King Kong Hill and Seruni. From both viewpoints, it will be busy but you will always have a higher and less crowded point.
Walk to one of the viewpoints and experience a magical sunrise over Bromo, Mount Batok, and Mount Semeru. It will rise around 5:30 AM.
Right after the sunrise, you can get rid of the jacket or sweater as the temperature rises quickly.
Good to know: There are toilets at both the bottom and top.
Secret Sunset viewpoint
When you are spending the night at Cemoro Lawang, try to visit this location and see the sun disappear behind Bromo.
Visiting the Bromo Crater
Head back to your jeep and get prepared for the drive down towards the Bromo crater. Due to the many jeeps, traffic jams are unfortunately very common so the drive down can take a little longer. Leave the sunrise point as early as possible if you want to skip this traffic jam.
The jeep drives you to the Luhur Poten Hindu Temple at the foot of Mount Bromo. From here, you have to walk about 10 minutes on a dusty road to reach the stairs. Please don't take a horse for this small walk. These animals are not treated well.
Tip: Take a scarf or dust mask for all the dust. You really need this!
On top of Bromo
Another 10-minute walk up the stairs and you are on top where you can admire the crater. Every few minutes white smoke spews out from the volcanic crater. Walk along the edge of the crater, to a little more quiet point. There is a concrete barrier to hold on to, don't worry!
How to get to Bromo?
Plan to spend one day at Bromo. The entrance fee is 215.000 IDR during the weekday and 315.000 IDR in the weekend. Contact our great driver Azhar on Whatsapp (+6281336042045). Make sure to tell him you came via 'Salt in our Hair' so you'll get the best price.

Visiting Bromo can be done from these three locations:
Probolingo
Cemoro Lawang (Bromo town)
It is useful to figure out which of the three towns you prefer to stay near Bromo and what your destination will be afterward. If you are planning to visit the Ijen Crater than stay at Probolingo or Cemoro Lawang is the best option. The last thing to decide is whether you are going on a tour to Bromo or not.
Bromo Tour 
The easiest and probably best way to visit Bromo is via a tour. A tour with a 4×4 jeep from Malang to Bromo and Ijen Crater is the popular way to go. On your way, visit the Coban Pelangi waterfall, drive through the vegetable mountain range (Ngadas Village).
Follow your way through the Savannah and Sea of Sand until you reach Cemoro Lawang, the village at Bromo. Don't forget to shoot some cool photos with your jeep! The next morning you will follow the sunrise Bromo tour as described before.
Note: You can do this trip from Probolingo too but without Savannah, Ngadas and Pelangi.
Price of a Bromo tour
Prices for a tour to Bromo ranges anywhere from 500.000 to 2.500.000 IDR (30 to 170 USD) depending on the number of days, private or not, and comfort you are looking for. The usual Bromo tour includes:
Coban Pelangi (waterfall)
Savannah
Sea of sands experience
Overnight at Cemoro Lawang
Sunrise Top of King Kong Hill
Visit the top of the Bromo Crater
Breakfast at the hotel
We had a 2-day Bromo and Ijen Crater tour ourselves and was 100% worth the money. 

Contact our great driver Azhar on Whatsapp (+6281336042045). Make sure to tell him you came via 'Salt in our Hair' so you'll get the best price.
Visit Bromo without a tour
Traveling on a tight budget? The Bromo National Park can be visited without an organized or private tour. Your best option is to take a local bus from Probolingo to Cemoro Lawang which takes around 90 minutes.
Keep in mind that there is another 10.000 IDR entrance fee at Cemoro Lawang.
Accommodation
Plan to spend the night at a guesthouse or hotel. The village is entirely focused on accommodating visitors so you always should be able to find a place. Just don't expect to have hot water at a homestay. In the morning, jump on the back of a motorbike that takes you up to the viewpoint.
Hotels near Bromo
No time to read now?
No worries! Save on Pinterest to read it later.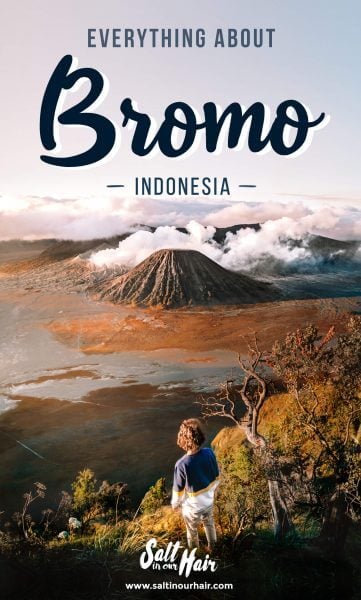 Salt in our Hair
16/11/2021
https://www.saltinourhair.com/indonesia/mount-bromo-tour/
Last updated:

21 September 2018