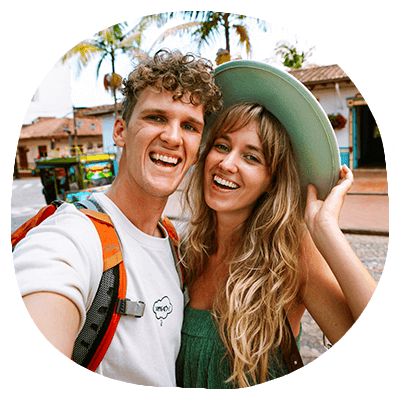 Hi, we're Nick & Hannah!
We hope you're enjoying our free travel guides & tips! If so, please consider supporting our work. 🤗
Who are Easy Riders Vietnam?
Originating in Dalat, 'Easy Riders' is a familiar concept in Vietnam. It's a team of licensed, local tour guides who aim to take travelers on an epic Motorbike tour through the Vietnamese countryside. This is the ideal way to see dreamy scenery without having to ride a motorbike yourself (although there is the option to also drive by yourself if desired). What's more, the drivers have the biggest hearts and the friendliest nature and will undoubtedly become your friend over the duration of the tour.
Choose from one of the many tours on offer via their website, or send them a message with your start and end destination. They'll then respond with the best options available. Get ready for the adventure of a lifetime, wild and free, and off the beaten track in Vietnam!
No time to read now?
No worries! Save on Pinterest to read it later.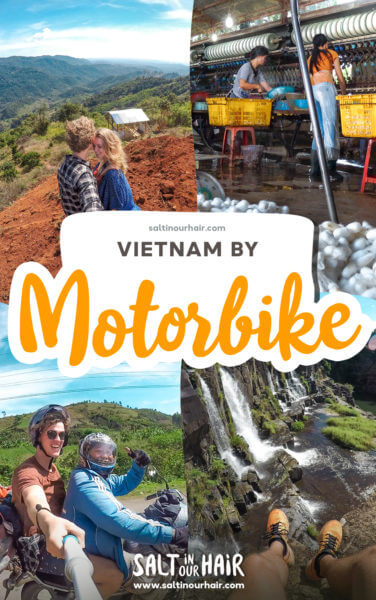 All of the tours incorporate great food and an interesting insight into Vietnamese culture and the way of life. For example, the tours will take you to many local restaurants to try traditional Vietnamese dishes.
The best thing, though, is simply whizzing through the most stunning landscapes, waving to local children, dodging herds of cows, and learning things about this magnificent country.
Travel Insurance
Don't forget a travel insurance for your Vietnam trip! Heymondo covers medical emergencies, theft, delays, cancellations, lost luggage, and more, with 24/7 worldwide assistance and medical chat. As a Salt in our Hair reader, we've got you 5% off! Check Heymondo here
We chose to do a 2-day Vietnam Easy Riders tour from Da Lat to Mui Ne. Our main preference was that we wanted to see breathtaking views throughout the tour, and we definitely got what we wished for!
During the two days, the highlights were:
The Elephant Waterfall– a massive waterfall southwest of Dalat; beautiful!
The Pongour Waterfall– a unique stepped waterfall in Lam Dong province.
Dutch Flower Farm– a huge flower farm in Dalat, founded by a man from the Netherlands, that grows a huge variety of flowers, including tulips!
Cotton Factory– see a cotton plantation and learn about the textile industry.
Learned How to Make Tofu– this is a slow but interesting process that starts with a lot of soybeans!
Beautiful Viewpoints– this is truly the most memorable part of the tour, riding from one breathtaking landscape to another.
Fruit Farms– a lovely way to see how the locals live off the land. In particular, it's interesting to see more unusual tropical fruits, such as dragon fruit, being grown.
A BBQ with Locals– this fantastic experience gives travelers the opportunity to chat, eat, and make friendships with beautiful Vietnamese people. Meeting the locals in any country is easily the best thing about traveling!
AND: Building a friendship with your driver!
Where to Book a Vietnam Easy Riders Tour?
These days, there are a lot of companies who are copying the Easy Riders concept. These companies aren't necessarily bad; however, some companies are definitely better than others. Because of this, it's best to check the reviews on the company's Viator page or Facebook.
The original Easy Riders can be identified by their blue coats. You can visit the store in Da Lat or contact them online through their website. Be sure to book your trip at least one or two days in advance.
Please note: On our route, we didn't meet any 'copycat' style companies. However, whichever company you choose, be sure they will pick the best highlights by asking them the exact route. Easy Riders have a fantastic reputation, and the quality of the tour is very high, so it's well worth spending a little extra money to do one of the original tours.
How to Get to Dalat?
Dalat is easy to reach by plane. Domestic flights in Vietnam are usually not that expensive. Make sure to first head over to Ho Chi Minh City or Hanoi and fly from there to Dalat.
Find the best flights to Da Lat ✈️
Price for a Vietnam Easy Riders Tour?
It depends on the company, but trustworthy companies are always more expensive. The original Easy Riders Vietnam will cost you $75-$100 USD a day, including an overnight stay. That's 100% worth the price for an unforgettable experience!
Travel Info
Best time to travel to Vietnam: Dec – Feb
Currency: Dong
Daily budget: $40
Visa: Single or Multiple entry visa required
Where to stay in Da Lat
Stay in a beautiful villa overlooking the city and the surrounding green scenery, or opt for a comfortable hostel with a smaller budget. There are plenty of accommodation options to find along the Easy Riders route.
Did you know that …
When you purchase something through our links we earn a small fee. However, you still pay the same. Win-win!
Salt in our Hair
03/09/2023
https://www.saltinourhair.com/vietnam/easy-riders-vietnam/
Last updated:

September 3, 2023