About Ha Long Bay & why is it famous?
Ha Long translates as 'descending dragon'. The legend tells of a dragon who was defending the Vietnamese from invasion, using fire, emeralds, and jade. The jewels landed in the ocean to form the limestone karsts and islands, which then prevented invaders ships from coming any further. The story of Ha Long bay adds even more magic to an already surreal landscape. One which has existed for 500 million years!
What to See & Do in Ha Long Bay
Ha Long Bay has some of the most beautiful scenery in the world! It can be experienced on land; however, a cruise on the calm, emerald waters is best! Cruises will typically come in packages with activities included. These are some of the activities you can expect to do while in Ha Long Bay:
Kayaking in Ha Long Bay
Most tour operators offer the option to kayak from the boat. There is nothing better than having the freedom to paddle where you please, going for a swim in the cool turquoise waters, and spotting colorful fish. This is a great way of getting up close and personal with the limestone cliffs towering above you. It also allows you to get a perspective on how huge they are. One of nature's beautiful miracles!
Island hopping
Go between one of the thousands of islands by boat, only stopping to relax on the small secluded beaches or see the many cheeky monkeys. The majority of the islands are uninhabited, which gives a real desert island feeling.
No time to read now?
No worries! Save on Pinterest to read it later.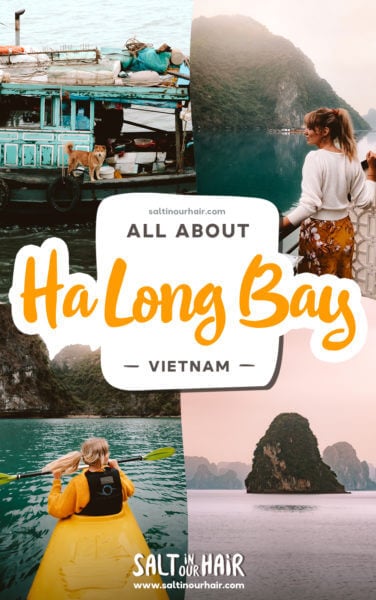 Cave Exploring
Within the limestone formations, there are many incredible caves to discover. Most of the caves are enormous and have stalagmites and stalactites. Additionally, some can only be accessed by water, so travelers will have the opportunity to kayak under limestone arches, into the hidden space beyond.
Hiking
Hiking is another awesome activity that can be done when you land on the small islands. Many of the trails allow you to get up high so that you can get beautiful panoramic views over the bay.
Floating Villages of Ha Long Bay
Visiting one of the many colorful floating villages in Ha Long Bay is a must-do on any travelers itinerary! The fishermen have lived in these charming floating villages for generations, in harmony with the water. See children playing and splashing, fisherman whistling tunes as they float along the calm waters, and colorful houses bobbing up and down to the beat of the ocean. There is even a floating school for the children!
Rock Climbing
The sheer limestone cliffs, create plenty of opportunities for tourists to enjoy some challenging rock climbing. It is also a paradise for free climbers, who reward themselves after the tough climb by jumping into the cool, deep blue waters below. An adrenaline-pumping experience!
Diving
Diving is a relatively new activity in Ha Long Bay but there are some companies that offer the experience to dive deep into the bay's underwater world. Submerge yourself in the stunning jade-colored water to see vibrant corals and beautiful marine life. An awesome way to see what lies beneath the limestone towers.
Cycling
Cycling has become incredibly popular, as a way to explore the islands. For example, on Cat Ba Island there are several bike trails to choose from. These paths go through dense forest, lush green rice paddies, and beautiful wide-open coastal paths. An excellent way to explore the area on the land.
On-Board Activities
Depending on the cruise, they may have these activities/services on-board:
Yoga/ Tai Chi – Start the day on the top deck of the cruise, watching the sunrise over this magical landscape, as you learn the spiritual techniques of Tai Chi or yoga.
Cooking Class – Learn to cook some Vietnamese classics with the on-board chef, allowing you to taste local ingredients and learn techniques. Vietnamese food is some of the best in Asia, so this is an excellent way to learn skills that you can take home with you.
Spa & massage – the more high-end cruises offer spa and wellness at the end of an active day of kayaking and exploring.
Star-gazing – watching the stars from the deck, sparkling across the shimmering waters of the bay is an unforgettable experience. 
Sunbathing – Sunbathe on the open decks. Depending on which islands the cruise is visiting, there will also be the option to relax and swim on sandy beaches.
Lan Ha Bay
Ha Long Bay is popular worldwide for its beauty, UNESCO status, and also its title as one of the new 'seven natural wonders' of the world. Because of this popularity, it can be very busy. Lan Ha Bay is a great alternative for peace and tranquility and is equally as beautiful as Ha Long Bay.
Lan Ha Bay is an extension of Ha Long Bay but is further away from the mainland, meaning fewer people (and boats) journey here. Another positive feature of Lan Ha Bay is that you are more likely to find white sandy stretches of beach here than in Ha Long Bay.
Overnight Tours in Ha Long Bay
To really experience the unique beauty and adventure of Ha Long Bay, book one of the many amazing overnight cruises. There are endless cruises to choose from, from budget to luxury, and 1 night to 5 nights. Because of this, it is best to search for recommendations from other travelers using TripAdvisor and other forums.
Tip: Make sure to check the cruise itinerary and what is included to ensure you are able to do the activities that you want.
Where to book a tour
We booked through Incredible Asia Journeys to sail on 'Perla Dawn Sails' for a 3 day/2 night cruise. This stunning boat takes you through the breathtaking landscape of Lan Ha Bay and offers activities, such as bamboo rowing boats, cave tours, cycling, and cooking lessons. The luxury rooms all come with private balconies that have spectacular views over the water and the limestone towers. Book your tour on their website or find more options online.
Best Time to Visit
To see the scenery at its most spectacular, it is advised to visit when it is warm and sunny. March to May, and September to November, are both good periods to visit. During this time it will be dry and sunny but will be a little cooler than in the peak summer months. Avoid visiting during December to March, as winters in the north of Vietnam can be surprisingly cold and overcast.
How to Get to Ha Long Bay
Bus
Ha Long Bay is located 2.5-3 hours to the east of Hanoi. Although, it is good to keep in mind that if traveling by bus, you should add an extra hour to the travel time. Most cruises will include a transfer from Hanoi, however, if they don't it's easy to book your own bus.
Train
It is also possible to take a 7-hour train from Hanoi. However, there is only one train a day that leaves at 4.55 AM.
Salt in our Hair
22/08/2020
https://www.saltinourhair.com/vietnam/ha-long-bay/
Last updated:

2 June 2020