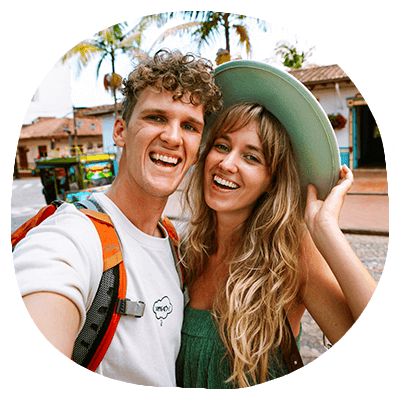 Hi, we're Nick & Hannah!
We hope you're enjoying our free travel guides & tips! If so, please consider supporting our work. 🤗
During the wars, the island was a strategic lookout point. During the bombing, local residents hide among the island's many caves. The cave hospital is one of the impressive leftovers.
Cheap Halong Bay tour from Cat Ba Island
We've booked a day tour at Cat Ba Ventures ($25, lunch + water), which was a good company. They will visit less touristy areas that are maybe even more beautiful than the famous part of Halong Bay.
Around 8 AM, you'll take the boat from Cat Ba town through the floating villages, cruise through Lan Ha Bay, and enjoy the hundreds of limestone islands.
What to do on Cat Ba Island
Besides from the Halong Bay tours, Cat Ba Island has some more things to offer:
Visit a pearl farm
Rent a scooter and explore the island.
Visit the Canon fort (the old defense base)
Go get the cheapest food at a market in town
Chill at the few beaches
Visit the cave hospital
Have a great night out
How to get to Cat Ba Island
Visit Cat Ba Island to stay low on a budget to see Halong Bay. Make sure to get to Hanoi first!
After Cat Ba, take the bus + boat + bus to the beautiful Tam Coc, Ninh Binh.
Find cheap flight tickets to Hanoi
From Hanoi, you will have to take the bus to Haiphong, which takes around 2.5 hours. From there, take the ferry to Cat Ba and the bus to Cat Ba town (1 hour). The ferry costs you 70K Dong (~ $3) for a one-way ticket. The boat timetable will change so now and then.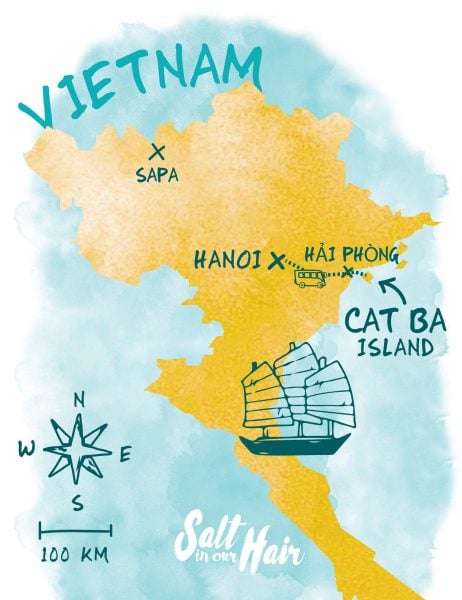 Where to stay on Cat Ba island
Make sure to stay near the pier in Cat Ba Town; this is where the food and drinks are in Cat Ba. We've picked our two favorite places. 
Did you know that …
When you purchase something through our links we earn a small fee. However, you still pay the same. Win-win!
Salt in our Hair
20/02/2023
https://www.saltinourhair.com/vietnam/halong-bay-budget/
Last updated:

February 20, 2023