Beaches of Koh Tao
Several beach bars and restaurants are located on this 1.85 km long beach, which makes it the longest on Koh Tao. Probably also the busiest beach. Still not too busy for the Thailand standards. We had some great sunsets and parties at this beach.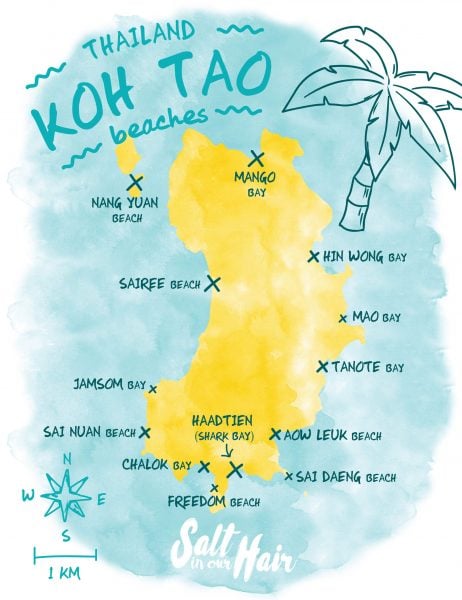 Tip: At some bars, you can order a cocktail, and you'll get a bed for free! #protip :)

Jansom Bay is great for snorkeling. Walkthrough Charm Churee Villa and pay 200 baht to enter this beautiful beach.
Getting to Koh Tao
You can't fly to Koh Tao, but it's best to reach by airplane via Bangkok or Koh Samui.
Find flights to Koh Tao ✈️
Sai Nuan Beach
This beach is only reachable by foot or water taxi. It has a swing and plenty of shade under beautiful coconut palms. There are a couple of bars to grab a drink or snack.
Chalok Baan Kao
This is the third-largest Koh Tao beach, and it's located in the South. In this tiny town, you'll find a 7-Eleven, some dive centers, and restaurants. There is also a turtle conservation program, but we weren't able to find it.
Freedom Beach
One of the Koh Tao beaches that were a little hard to reach. Located at the southern tip of the island. You have to pass Chalok and Taa Toh Resort until the end of the road. Then walk your way down. There are a lot of trees near the beach, which gives it a unique beach view, and it provides shade when you need it. There's also a concrete path you can follow that goes around back to Chalok Baan Beach.


Haadtien Beach (shark bay)
In the southeastern part of Koh Tao, there's a beach called Haad Thien, where the coconut palms are lined perfectly. This is a lovely beach to relax. It's not that quiet due to the resort that is located on the beach, but that didn't bother us at the time.
The name of the bay is not just a name since you can snorkel with Blacktip Reef sharks and a few huge turtles in there. To see them, you need to swim about 250 meters out of the beach to where it drops down deeper to 3 meters. You also should be able to see them near Sai Daeng Beach.
This is the beach on Koh Tao that is the closest to Shark Island. To visit the beach, you must pass through one of the two resorts, but luckily it's free of charge. 
With a kayak (and calm weather), you can reach Shark Island within 10 minutes. Underwater you'll be able to see Blacktip Reef Sharks or Sea Turtles. It's best to do this around sunset. Please be careful and do not touch the animals. 
Tanote Bay has a beautiful white sand beach with good snorkeling and diving possibilities. The road down to this beach on Koh Tao is crazy steep. There is this enormous rock in the water where you can jump off into the ocean.
Mao Bay and Laem Tien Bay
A very small, rocky beach where you should come to snorkel. There is a popular spot for rock jumping for 3 to 12 meters. This is also an interesting place for scuba divers since you can swim through underwater tunnels.
You can only reach Laem Thian on foot, the trail to Aow Mao is known as one of the best hikes on Koh tao. From Tanote, you can kayak to Laem Thian within 30 minutes.
Hin Wong Bay
You can spend an entire day exploring Hin Wong Bay. Rent a kayak to get around because it's difficult to walk on the rocks around the bay. The entrance fee for the beach is 50 baht or just buy a drink. This vibe in this area was really laid back.
This is one of the busier Koh Tao beaches. Mango Bay (Aow Muang) is a large bay with a small beach and a reef. This is the reason for the neighbors of Koh Samui and Kop Phangan to take a day trip to this bay.  Pay as little as a 100 bath to enjoy the amazing scenery at Mango Bay.
Koh Nang Yuan
This is the first island you'll see when you Google Koh Tao Beaches. Multiple times named to be one of the most beautiful islands in the world. You only can reach it by a 10-minute longtail boat ride. This boat leaves from the Mea Haad or Sairee beach.
A 100 baht fee will be charged when you enter the island. It's not allowed to take plastic bottles to the island, which is a good thing. :) Go there early because the island is very popular! The viewpoint from the peak is something you should miss as well.
Now you know all the beaches on Koh Tao. Check the best time to visit and the weather on Koh Tao.
Did you know that …
When you purchase something through our links we earn a small fee. However, you still pay the same. Win-win!
Salt in our Hair
22/06/2023
https://www.saltinourhair.com/thailand/koh-tao-beaches/
Last updated:

June 22, 2023