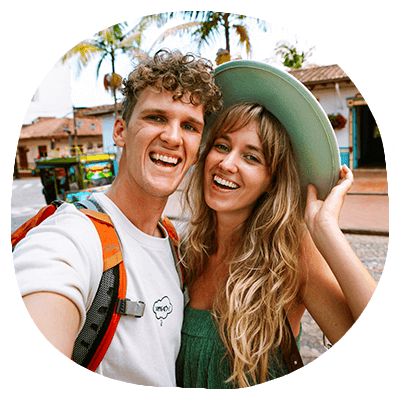 Hi, we're Nick & Hannah!
We hope you're enjoying our free travel guides & tips! If so, please consider supporting our work. 🤗
6 Things to do in Khao Sok National Park
If you have 1 or 2 nights, number 4 + 5 are our top recommendations. Combine these and you will have an unforgettable stay.
Khao Sok National Park
Subscribe to our YouTube channel and never miss a video!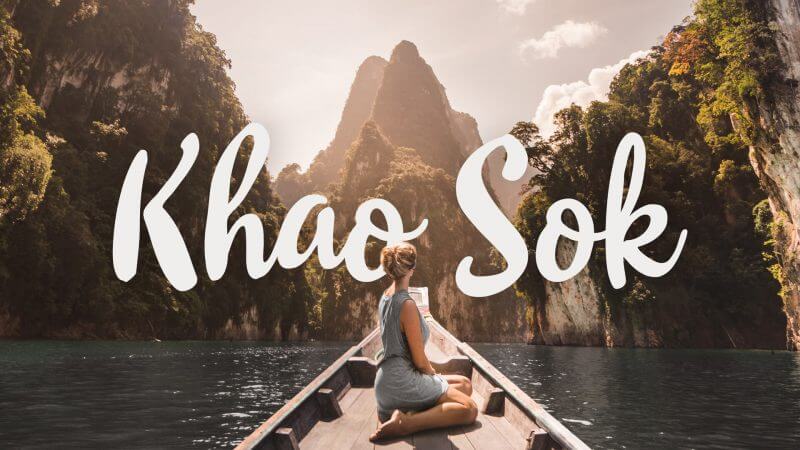 1. Enjoy a Kayak Tour on the River
See local people wash in the river, spot wild monkeys playing in the trees, and look into the river sometimes to see all the colorful fish swimming around your boat. The river is quiet, this is a relaxing kayak tour, a guide will paddle for you so sit back, relax and keep your camera ready.
2. Experience a jungle cooking class
A cooking class in Thailand at a jungle location. Arrange a cooking class with a Thai local family and learn how to cook the most delicious and authentic dishes.
No time to read now?
No worries! Save on Pinterest to read it later.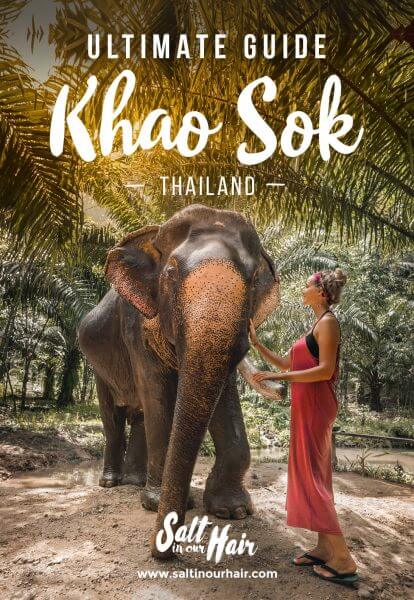 You will be amazed by the decoration skills of the lovely lady. After the cooking class, it's time to taste what you've made. Enjoy!
3. Up and close with the elephant in Khao Sok National Park
This Elephant Experience is all about taking care of 'one' really old, friendly elephant. He was from a working camp and now lives with a family that takes care of him. Cook a great meal for him and feed him his lunch afterward. After his lunch and mud bath, follow him to his nature pool and give him a good scrub.w
Tip for all elephant camps: Please never sit on them even though the Mahoot says you can. Keep it with giving them a scrub.
4. Wake up in the middle of the jungle
Khao Sok National Park is famous in two areas, the riverside (town/jungle) and Cheow Lan Lake (deep jungle). These areas are about 1 hour removed from each other.
Waking up in the middle of the Jungle on a floating raft house is a unique and incredible experience you don't want to miss. Wake up with sunrise coming behind the limestone formations and the sound of the Gibbon and other monkies around your raft house.
5. Do a Khao Sok National Park Tour
Ready to have a great boat tour on a man-made lake? Spot some real wildlife like elephants? Go on a day tour to explore Cheow Lan Lake. Have dinner at a small local floating village and learn how the people live on the lake.
6. Stay at the Khao Sok River
Think the jungle is a bit too much for you? Stay at Khao Sok Riverside and do a day tour of Cheow Lan Lake. Find the hotel we stayed at here.
Staying near the river away from the town, where you can stay in a jungle bungalow but with a few more modern comforts.
How to get to Khao Sok National Park from Bangkok?
From Bangkok to Khao Sok is the easiest by airplane. Take a 1-hour flight to Surat Thani and arrange a transfer in advance or at the airport to the Khao Sok National Park pier. This ride takes about 2 hours.
Find the best flights to Khao Sok ✈️
Our trip was made possible by khao-sok-riverside-cottages.com, coco-khao-sok-hostel.com, and khaosoklake.com
Did you know that …
When you purchase something through our links we earn a small fee. However, you still pay the same. Win-win!
Salt in our Hair
13/07/2023
https://www.saltinourhair.com/thailand/khao-sok-national-park-guide/
Last updated:

July 13, 2023