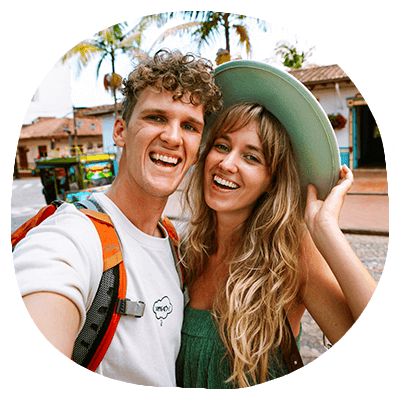 Hi, we're Nick & Hannah!
We hope you're enjoying our free travel guides & tips! If so, please consider supporting our work. 🤗
Koh Lanta Beaches
It's time to get some Salt in our Hair! The western part of Koh Lanta is full of beaches. Koh Lanta has a lot of beaches and we wrote down our 7 favorites.
Don't expect Koh Phi Phi style beaches or snorkeling but they are definitely worth it and a lot quieter than the average beach in Thailand.
1. Kawkwang Beach
It's a small but very relaxed beach and located a little bit remote which makes it an ideal place for people who like a not too crowded beach. Kawkwang Beach is next to Khlong Dao Beach where you will find many restaurants and beach bars. Kwakwang is also a nice place to watch the sunset.
2. Klong Dao Beach
White sand, clear water and rock free. The 3-kilometer long Klong Dao Beach is a walking distance from the main road. It's the most developed bay on Koh Lanta and can get busy in high season. Like most of the Koh Lanta beaches, there's a great selection of places to stay for all kinds of budgets.
3. Long Beach, Koh Lanta
With its 4 kilometers, it's the longest Koh Lanta beach. Never to crowded and you can always find a complete lonely spot in there. We didn't find really good places to snorkel but the beach is a great one to do an evening walk while the sun sets in. There are plenty of hostels and hotels near this beach where you can stay.
4. Klong Khong Beach
A 3-kilometer sand strip in the middle of Koh Lanta. Klong Khong Beach is a great place, especially at night as many bars have their own fire shows and parties.
5. Klong Nin Beach
Klong Nin Beach had a lot more rocks in the water, which made it hard to swim. Although they really some really great bars. We spend two of our nights in here watching the sunset! Klong Nin is a bit out of the busy part of Koh Lanta which made it more affordable to stay. The beach places are from 5-star hotels to backpacker style bungalows.
6. Bamboo Beach
On your way to Koh Lanta's National Park, you'll see Bamboo beach. Make sure to at least stop to enjoy this view.
7. Mu Koh Lanta National Park
Koh Lanta's national park is located at the southern tip. The 200 bath entrance fee is worth the double. Enjoy the national park, go see the lighthouse and take a refreshing dip at the beach. You do have to watch your stuff because the monkies aren't that shy!
How to get to Koh Lanta
Flying To Koh Lanta
Take a flight from Bangkok to Krabi Airport. There are two airports in Bangkok, so make sure you're taking your flight from the right one. From Krabi, you can take the minivan or boat to Koh Lanta.
First get to Bangkok or directly change your destination to Krabi.
Boat to Koh Lanta
If you are arriving in Bangkok on an international flight before changing planes to fly from Bangkok to Krabi, make sure you know at which airport you will arrive. Transfering between airports can take up to 3 hours due to Bangkok's bad traffic and so is not recommended.
Minivan to Koh Lanta
Hop in the minivan that starts in Krabi. You can't take the public bus to Koh Lanta since there is no bridge to the mainland. The ferry will take you and the minivan to the pier of Krabi.
Did you know that …
When you purchase something through our links we earn a small fee. However, you still pay the same. Win-win!
Salt in our Hair
30/12/2022
https://www.saltinourhair.com/thailand/koh-lanta-beaches-hotels/
Last updated:

December 30, 2022