Things To Do In Krabi
Krabi is a region of Thailand. The main towns to spend your time are Ao Nang and Krabi Town, though Ao Nang is the most popular.
1. Wat Kaew Korawaram
One of the biggest temples in Krabi, Wat Kaew Korawaram sits within the center of Krabi Town and is a must-see attraction. The white temple features a beautiful staircase that leads in, with ornate carvings and gold dragons. Because of the decoration, during the sunset hours, the temple turns golden, making it look even better.
Tip: Combine visiting the temple with the nearby located Krabi Night Market.
2. Tour: Hong islands
There are numerous daily island tours and one of the best things to do in Krabi is the Hong Islands Tour. Take a traditional long-tail boat to this beautiful group of islands and visit its stunning lagoons, limestone cliffs, and glorious beaches.
A bonus is that the Hong Islands are far lesser known than Koh Phi Phi. As a result, there are far fewer people.
No time to read now?
No worries! Save on Pinterest to read it later.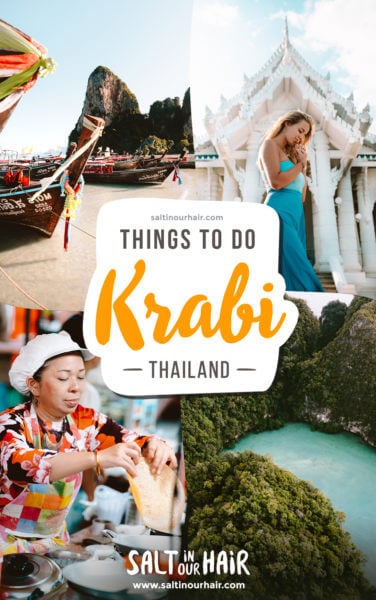 A great way to visit outside the peak hours is by arranging a private tour via Thalassa Tours. See the tour details here.
3. Tiger cave temple (Wat Tham Sua)
Challenge yourself to climb the 1237 steps that take you up the limestone rock, where you can visit the imposing golden Buddha that sits at the peak. The challenging climb of the Tiger Cave Temple will be rewarded with an incredible 360-degrees view over the valley of Krabi.
Legend has it that within the limestone caves that are located at the bottom of the rock formation, lived a tiger, which gave the temple its name. Now there are no tigers, but there are plenty of cheeky monkeys, so make sure to keep your belongings close to you at all times. A great time to visit is at sunrise or sunset, to experience the magic colors of the sky set against the gold of the buddha.

Tip: Make sure that if you're visiting at sunset you bring a light with you so that you can make your way down safely as it gets dark.
4. Railay Beach
Railay is a secluded peninsula, which has some of the most stunning strips of coastline in Thailand. It is famed for its incredible limestone karsts that rise out of the emerald green water. As a result, it is one of the most popular areas to visit and can only be visited by boat, giving it an exclusive feel.
As Railay is so small, crossing by foot from one side to the other just takes 10 minutes. The best parts are Railay Beach and Phra Nang Beach.
Due to its continual popularity, it is best to visit first thing in the morning, outside of the peak hours. Because Phra Nang Beach is small, it will begin to feel crowded quickly.
Tip: Buy a drink inside one of the cafes so you don't have to use a plastic cup.
5. Krabi Night Market
The night market in Krabi Town is one of the best in the country! Every Friday, Saturday and Sunday at 5 PM, the market opens its doors, featuring stalls selling traditional Thai street foods and goods. Get a delicious dinner at one, or multiple, stalls and enjoy it in the center court with live music.
The local songtaew buses drive between Krabi and Ao Nang the entire day. A one-way ticket costs 50 Bath and takes about 40 minutes.
6. Koh Lanta
Of all the Thai Islands, Koh Lanta is less visited and so is generally far more peaceful. Its main draw is its animal-loving nature, with stunning snorkeling spots and the well-known animal welfare center. The center is open from 9 AM-5 PM every day and is home to many stray cats and dogs, who are now being looked after by volunteers.
By visiting and donating, you are helping to support the rehoming and care of these beautiful animals. Koh Lanta is just a 2-hour ferry ride from Krabi.
7. Rock climbing
Rock climbing is a popular thing to do in Krabi, due to the endless supply of cliff faces and caves. A great place to start is at Railay Bay, as the natural rock formations and caves make it a perfect playground for both novice and experienced climbers. Spend your morning climbing and cool off in the ocean waters.
8. Koh Lipe
Koh Lipe might be Thailand's best-kept secret. The small, but perfectly formed, white-sand beached island is a 7-hour journey from Krabi, so it is recommended to visit for a few days. Spend your days walking along the beaches stretching over the length of the island and enjoying island vibes. Koh Lipe is well worth the trip.
How to get to Krabi, Thailand
Krabi is very well connected by bus, boat or airplane to the major spots in Thailand. It is recommended to book tickets for your travels a bit in advance due to Krabi's popularity.
Bangkok to Krabi
Get a direct 1.5-hour flight from Bangkok to Krabi. Alternatively, you can take the train from Bangkok to Surat Thani, followed by a 2-hour van ride.

Koh Lanta to Krabi
Either hop on a 2-hour ferry from Koh Lanta to Krabi Town or a 2-hour van ride.
Koh Lipe to Krabi
From Krabi, take a minivan (5 hours) to Pak Bara Pier and a ferry (2 hours) to Koh Lipe. Alternatively, you can take a direct ferry (7 hours) from Krabi Town.
Krabi Hotels
Krabi has three main areas to stay: Ao Nang, Krabi Town, and Railay. Ao Nang is a developed town heavily focused on tourism, with the best beaches. As such, it is where the majority of good restaurants and hotels are situated.
Krabi Town has more of a backpacker feel to it, with cheaper accommodation and a lot of great street food on the weekend.
The last one is Railay, where there are no roads and pavements, stunning beaches but where the prices are at its highest.
Best restaurants in Krabi
Krabi has great places to eat, at any price, category, and cuisine. These are our favorites:
Jungle Kitchen (Thai)
TAN Cafe (International)
KoDam Kitchen (Thai)
Ton Ma Yom (Thai)
Crazy Gringo's (Mexican)
Krabi Town Night Market (Thai)
The Tavern (Italian)
Best time to visit Krabi
The best time to visit Krabi, weather-wise, is between November and March. Expect an average temperature of 28 degrees, no rain, and a comfortable climate. However, if you don't mind encountering one or two short showers, April to June is perfect in avoiding the tourism peak.
Salt in our Hair
14/05/2020
https://www.saltinourhair.com/thailand/krabi/
Last updated:

22 March 2020