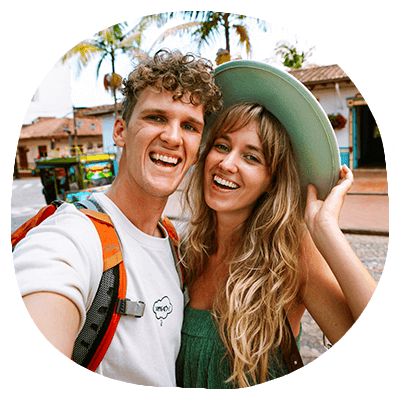 Hi, we're Nick & Hannah!
We hope you're enjoying our free travel guides & tips! If so, please consider supporting our work. 🤗
Entrance fee Kinderdijk
Kinderdijk itself is free to visit. Additionally, you can buy a ticket to have a look inside and learn about its history. (10 AM – 4 PM) Purchase an additional ticket for the riverboat tour.
How to get to Kinderdijk
The most fun way to visit Kinderdijk is by using the waterbus. Take a rented bike too, so you can bike around at Kinderdijk. Another option would be taking the metro and switching for bus 489 at station Kralingse Zoom.
Waterbus tickets can be bought inside the bus. Check out the timetable here.
12. Delfshaven – Favorite Thing To Do in Rotterdam
Delfshaven in Rotterdam is a picturesque and historic area that has been pretty much untouched by the II World War bombs. If you've visited Amsterdam, you can probably recognize this building style in Delfshaven and get an idea of what all of Rotterdam used to look like.
Wander along the harbor surrounded by historical and crooked buildings which takes about 20 – 30 minutes.
The best part about this thing to do in Rotterdam is that it's fairly unknown. Arrive before 11 AM and you will barely see any other visitors.
Is Rotterdam expensive?
Salt in our Hair
20/09/2022
https://www.saltinourhair.com/netherlands/rotterdam-things-to-do/
Last updated:

September 20, 2022