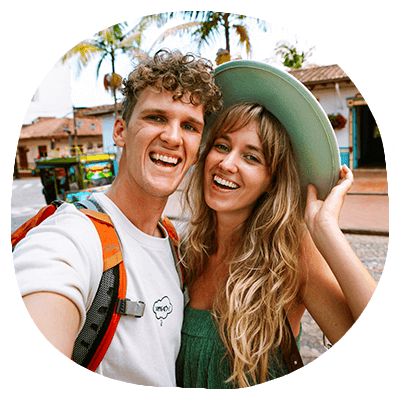 Hi, we're Nick & Hannah!
We hope you're enjoying our free travel guides & tips! If so, please consider supporting our work. 🤗
Things to do at Zaanse Schans
Zaanse Schans is a peaceful village on the water but it wasn't always there. Over time, ancient buildings from the Zaan region have been brought together at Zaanse Schans in order to preserve history and its buildings. Plan to spend half a day in this area.
Windmills at Zaanse Schans
Windmills are a symbol of Dutch cultural heritage. The stunning windmills at Zaanse Schans are still inhabited and used for many different tasks. Wood sawing, grinding spices, mixing paint and so much more! Built around the windmills are traditional Dutch houses and small farms.
It is possible to visit the windmills on the inside and climb up different levels. All the windmills have separate admission tickets but that's well worth the experience! 
Museums
The open-air museum has many presentations that display how the windmills operate, and how cheese is made. It also has displays that explain the area's history.
A wooden shoe workshop, cheese-making farm, a bakery, and so many more museums, large and small, are located at Zaanse Schans.
No time to read now?
No worries! Save on Pinterest to read it later.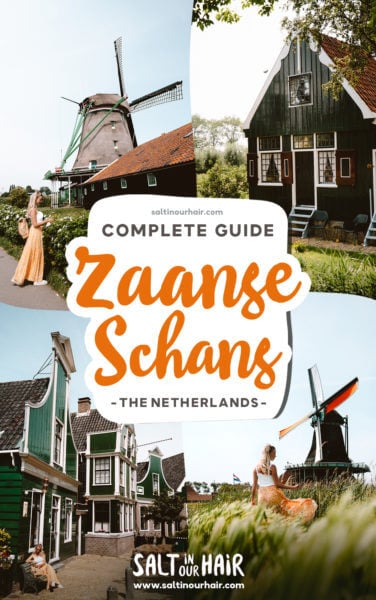 Zaans Museum
In the Zaans museum, you will find information about the history of the Zaan region. Additionally, inside is the Verkade Experience, a brand that became famous for its delicious biscuits and chocolates.
The first Albert Heijn (grocery store)
Albert Heijn is the largest and most famous grocery store in the Netherlands. The first original Albert Heijn store was reconstructed here in 1967. The small museum grocery store explains the story of how Albert Heijn began. (location)

There is no entrance fee and it is open Tuesday – Sunday from 10:00 AM – 4 PM.
How to get to Zaanse Schans from Amsterdam?
Zaanse Schans is located close to Amsterdam and you have a few transport options. If you have or rent a car, a large parking area is available. The best way to visit it depends on your personal preferences but the bus is the easiest way to get there. 
Bus to Zaanse Schans
Take bus 391 (50 minutes) or bus 891 (30 minutes) at Amsterdam Central Station. Both busses depart from platform G – L and stop outside the Zaans Museum. It's 8 EUR for a return trip.
If you plan to use the bus more that day, consider buying a bus day pass. It's 11,50 EUR and allows unlimited bus travel in a certain region. In this case, the ticket is named Zaanstreek. (Zaan region)
Train
The train from Amsterdam Centraal Station takes just 17 minutes and is very convenient. However, it is a 15-minute walk from the train station to the windmills so you might prefer taking the bus.
A return ticket costs 6.80 EUR when bought online. Ordering train tickets online at NS is generally cheaper than a ticket at the vending machine.
Tour
Your last option is to join a Zaanse Schans tour. It is a half-day activity that includes transport in the form of a large bus, a guide and it visits the windmills, a cheese factory, a clog wooden shoe workshop, and sometimes includes a cruise.
Zaanse Schans Tickets
Visiting the Zaanse Schans is free the area is always open to access. Tickets need to be purchased when entering a windmill (4 EUR) or the Zaans Museum (10 EUR).
Do you need to book in advance to visit Zaanse Schans?
The windmills and wooden houses are a popular attraction in the Netherlands. There is no need to book your trip in advance if you are not joining a tour.
Zaanse Schans opening hours
Zaanse Schans is open every day from 9 AM to 5 PM and is the perfect half-day trip from Amsterdam. Some windmills and museums are closed during low season but you will still be able to walk past the windmills and through the village.
Hotels at Zaanse Schans
Wake up with a view of windmills by the water. The accommodations in the area are wonderful with the stacked cottage hotel Inntel as the highlight!
Did you know that …
When you purchase something through our links we earn a small fee. However, you still pay the same. Win-win!
Salt in our Hair
10/03/2023
https://www.saltinourhair.com/netherlands/zaanse-schans/
Last updated:

March 10, 2023