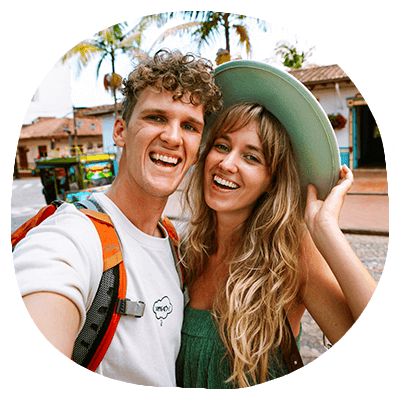 Hi, we're Nick & Hannah!
We hope you're enjoying our free travel guides & tips! If so, please consider supporting our work. 🤗
What travel camera suits you best?
There isn't a one-size-fits-all travel camera; therefore, it's wise to note down what kind of content you will mainly be shooting. From here, you can choose the best travel camera based on your requirements.
For example, if you're going on a safari or snapping portraits, you would need a long zoom lens. If you prefer to shoot landscapes, a wide lens comes in handy. Alternatively, if you're shooting the Milkyway, you'll need manual mode and a lens with a low aperture number.
No time to read now?
No worries! Save on Pinterest to read it later.

Other factors to take into account are:
Price
The price of cameras vary hugely; therefore, it's important to determine your budget beforehand. Generally, the higher the price, the more features and better quality you'll get from a camera body. However, this does not always apply to camera lenses!
Not only will you have more features with a more expensive travel camera, but you are also more likely to be a target for theft. Allow for this potential risk by purchasing travel insurance that covers your equipment.
Finally, when traveling with a camera you will also need to purchase other things that can increase the total price. For example, items like memory cards, spare batteries, and lenses.
Good to know: The higher quality images your camera captures, the more or better memory cards you will need. What's more, the faster your camera processes images, the better memory cards you will need to purchase.
Size and Weight
Size and weight are important factors when traveling with a camera. The important questions to ask yourself are: how much weight am I willing to carry around, and how much space in my bag I have left?
Luckily in recent years, with the rise of mirrorless cameras, the sizes and weight of a travel camera have drastically improved. Because of this, bigger doesn't always mean better.
Instead, to travel light and unnoticed, choose a small and compact camera with a fixed lens. However, if you feel that quality and performance are more important than weight, you need to look at mirrorless or DSLR cameras. It's worth noting, though, that this comes with the hassle of carrying around at least one, if not multiple, lenses.
Here's a list of the best travel cameras of this year.
Features for your best travel camera
There is an endless list of features that a camera can have. Keep in mind the features you would like your travel camera to have. For example, are you visiting the desert? If so, it is advisable to make sure it's dust resistant or weatherproof. Alternatively, if you're looking for the ease of snapping a quick photo, editing it on your phone, and posting it right away, make sure the photos are transferable from your camera to your phone.
The most important camera features to look for are:
WiFi and/or Bluetooth: Transfer photos instantly to your phone or laptop without the need for a cable via WiFi or Bluetooth.
Dust and Weatherproof: Your camera will be protected from dust and moisture. Believe us when we say this can easily occur while traveling.
Autofocus speed: Shooting animals? Keep an eye on the speed of the autofocus of the camera. The more focus points, the better!
Lens aperture: Another factor in speed is the lens's aperture. A number indicated as f + a number, for example, f/2.8, f/4, etc. In general, the lower the number, the faster it will perform, the more bokeh, and the better it will be in low-light.
Video quality: Planning to record video? Most cameras record 1080p or 4K, but some of the best travel cameras already record up to 6K. Also, keep an eye on the frames per second. The more FPS, the better slow-motion will look in your final video. Choose wisely!
Manual option: Even if you're just starting with photography, having a manual setting on your camera for later is recommended! For example, once you're comfortable with your camera, other photography tips will push you to try out manual mode.
Battery usage: How long does it last? You don't want to use 8 batteries every day and recharge them one by one at night!
Image types: If you're looking to edit your photography, we recommend a camera that allows for the shooting of RAW images instead of JPEG only.
Best Travel Cameras in 2021
Now you've figured out the budget, size, and features, it's time to give you our best travel camera recommendations per category! Don't worry though, there's something here for any budget, from the best cameras for beginners to professional photographers.
Best budget camera for traveling
So, you're saving for your first backpack trip or around the world experience. Camera quality is important to you, but you don't want to break the bank and be broke before even going on your trip. These are the best budget cameras for traveling!
Best camera for travel photography
If you're after the highest quality possible, this list is for you! These are our top 3 of the best cameras for travel photography.
Best travel cameras below 1500 USD
If you're looking for the highest camera quality possible, but want to stay below a certain budget, then these are your options. We recommend this category as the sweet spot where you will get fantastic quality for a reasonable price.
Tip: Look out for combo deals where you buy the camera body and lenses all in one. You can save the money for your next trip instead!
Best compact camera for travel
Are you looking for a camera that is small, light, and discreet, and you'd like to avoid the hassle of having several lenses? These are our top 3 best compact travel cameras with the highest photography and video quality.
Tip: Are these options over your budget? Have a look at previous models of each of the above-mentioned travel cameras!
Extra: Best travel vlog camera
GoPro Hero 9 (with vlog kit)
Best Camera Lenses for Travel
Next to a travel camera, you might be looking into purchasing one or multiple lenses. But how do you choose the best lenses for travel photography? It really depends on the photography style you're after and the budget you have available.
The best lens combination
A wide-angle zoom (16-35mm), a standard zoom (24-70mm), and a telephoto zoom (70-200mm) is the lens combination that works best for photographers and allows them the most flexibility. With these three lens lengths, you will cover anywhere from 16mm to 200mm. It is also known as the "Holy Trinity" of lenses.
Sony: Wide, Standard, Telephone
Canon: Wide, Standard, Telephone
Panasonic: Wide, Standard, Telephone
What if I want just one travel camera lens?
Taking just one lens on your travels is possible too. We actually recommend this when you're just starting with travel photography. Choose one zoom lens that covers all lengths. For example, 24-240 mm so you can have wide shots that extend to super zoom. This will save you a lot of weight in your bag and even more on your expenses!
Sony: Best all-around lens
Canon: Best all-around lens
Panasonic: Best all-around lens
Lens aperture
The f + number (aperture) is also something to keep in mind when purchasing a travel camera lens. The lower the number, the faster it will perform, the more bokeh you will be able to get, and the better it will perform in low-light. Especially with all-round lenses, the aperture is variable. Personally, I'd say that F2.8 is the sweet spot, with F4 being the highest number.
Did you know that …
When you purchase something through our links we earn a small fee. However, you still pay the same. Win-win!
Salt in our Hair
02/12/2022
https://www.saltinourhair.com/tips/best-cameras-for-travel/
Last updated:

December 2, 2022