3-day Khao Sok National Park Tour
Ready to be disconnected from the world for a few days? Ready to wake up in the morning mist of the jungle while the gibbons are shouting to each other? Pure Magic!
Khao Sok National Park
Subscribe to our YouTube channel and never miss a video!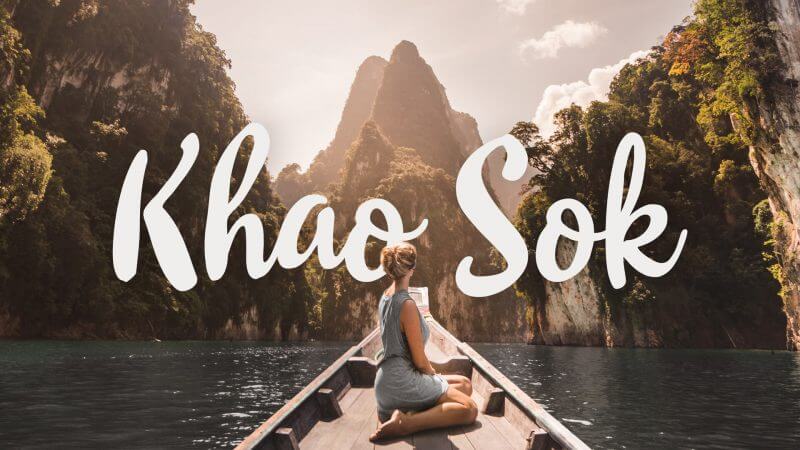 Khao Sok National Park is huge, about 739 square kilometers. It's good the know that the village is not the same as Cheow Lan Lake. These are actually about a 1-hour drive removed from each other. Make sure to book a raft on the lake.
The Lake is created just 30 years ago after the flooding hundreds of limestone islands were created which gives this lake its unique look.
Price of staying in Khao Sok 
The price of a bungalow changes by the kind of comfort you choose. A Bamboo bungalow will cost you anywhere between $75 – $178 per night where luxury bungalows range from $250 – $400 per person. These stays include breakfast, lunch and dinner, guided tours and trekkings.
Is our article helpful to you?
Help us keep making these articles for you by supporting us with a cup of coffee. ☕️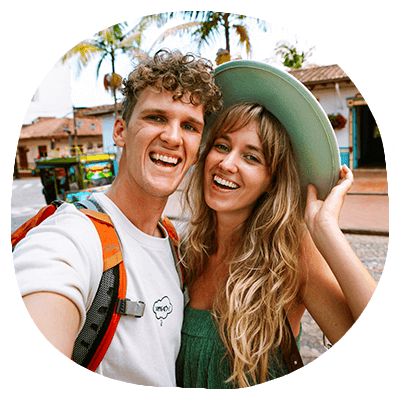 Their own raft-restaurant offers incredible Thai cuisine. Literally the best we have had in Thailand. We will promise you this area is worth every single dollar!
In the morning you can explore on your own with a kayak during the morning mist and see the monkeys jumping around in the jungle.
If you're lucky you can have lunch at one of the few super small fishing villages, also located on the water.
Every corner you will pass with the boat on a Khao Sok National Park tour becomes more and more impressive.
At night, the sky shows countless stars. Maybe the best part, almost no mosquitoes on the water where you are staying.
Of course, it can be done cheaper but this is just a once in a lifetime experience you shouldn't save those few dollars on.
Tip: Don't forget it's so green for a reason. It can rain quite often in the jungle.
Where to stay in Khao Sok National Park
Staying on the lake is doable for every kind of budget. You will have the choice to sleep on the floor in a dorm raft house or you can have a private raft house including a bed- and bathroom. On the day of writing this, you can't find any raft houses on Booking or Agoda.
We booked our stay at Praiwan Raft House and Khao Sok National Park tour via khaosoklake.com. Praiwan Raft house is a lovely family who gives you that 'home away from home' feeling. The raft house is located at the end of the lake, a unique location. Which means you won't see many boats passing by.
Booking a Khao Sok National Park tour
Get a great stay and unforgettable tour in one package via the guys of khaosoklake.com.
How to get to Khao Sok National Park
It takes 1.5 to a 2-hour drive to the entrance pier of Khao Sok national park from both Krabi and Surat Thani airport. The entrance to the park is 300 Bath. From here your guide and the driver will pick you up for a 30-minute boat ride to your raft house.
No time to read now?
No worries! Save on Pinterest to read it later.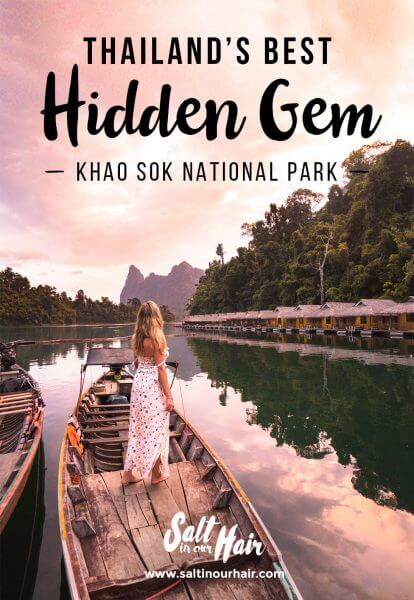 Salt in our Hair
27/10/2021
https://www.saltinourhair.com/thailand/khao-sok-national-park-tour/
Last updated:

15 January 2018