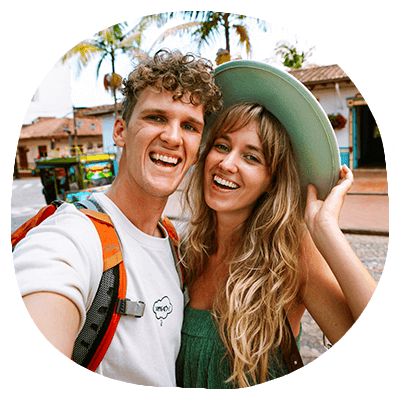 Hi, we're Nick & Hannah!
We hope you're enjoying our free travel guides & tips! If so, please consider supporting our work. 🤗
Our Whale Shark experience
Sorry for starting this article a bit skeptical. Swimming with Whale Sharks sounds like an amazing experience, and it is. But after seeing how this works at Oslob, we felt bad. We didn't read any bad things about swimming with Whale Sharks in Oslob, so what we expected was: A lot of people on a big boat, sail away from the coast, into the sea. From there we would jump into the water and see the Whale Sharks. But the situation was a bit less attractive.
The people who run the company feed the Whale Sharks every morning, and not in the middle of the sea but just 50 meters away from the beach where we stayed. That's a weird spot the swim with Whale Sharks, don't you think?
Now that we've made clear the real situation, we still like to provide you with information and tips about this activity.
Swimming with Whale Sharks in Oslob, The Philippines
It's best to stay in or near Oslob. Don't book a tour to the Whale Shark diving spot. Arrange a tricycle, jeepney or taxi and get to Tan-Awan village, 10 km to the south from Oslob.
Good to know before swimming with whale sharks:
Get up early, be there around 5:45 and you'll be on the first boat.
Do not put sunscreen on! This isn't good for the health of the Whale Shark.
When you're in the water, try to keep a certain distance (6+ meters) from it, never touch this protected species and watch out for his tail.
Whale shark swimming is safe as long as you stick to the rules.
How to get to Oslob?
Ride a bus to Oslob at Cebu South Bus Terminal. The terminal is beside Elizabeth Mall. Don't worry about getting on the wrong bus because there will be boards displayed clearly to guide you on which bus goes where. If you want to be sure, the guards and staffs are friendly and will be more than happy to offer assistance.
This will cost you around 150PHP.
Whale Sharks in Donsol
Probably a better place to watch Whale Sharks is in Donsol. As far as we know, they don't feed the whale sharks. So you have to be luckier to spot them. They are very clear about the rules and really freak out if people don't stick to those rules. The rules at Donsol are a lot better. Simple rules as scuba diving and photo flash are prohibited. Check out Bicol Dive Center.
Where to stay in Donsol
Where to stay in Oslob
Did you know that …
When you purchase something through our links we earn a small fee. However, you still pay the same. Win-win!
Salt in our Hair
27/12/2021
https://www.saltinourhair.com/philippines/whale-sharks/
Last updated:

22 October 2016