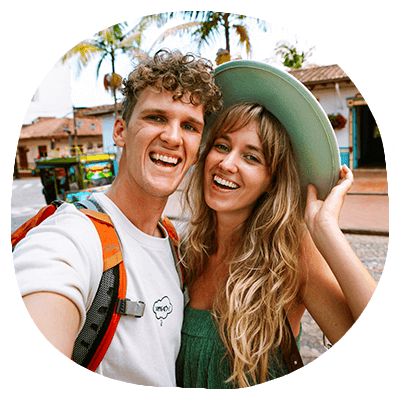 Hi, we're Nick & Hannah!
We hope you're enjoying our free travel guides & tips! If so, please consider supporting our work. 🤗
The price to go Coron Island hopping is quite high. Expect to pay 1600 PHP (30 USD) for a shared boat and 3000 PHP (60 USD) for a private boat. On top of that, every location that you visit charges an entrance fee, which varies from 200 – 400 PHP. Read more: Ultimate Philippines Travel Guide
Picture yourself gliding over crystal clear waters between Coron and El Nido (or vice versa) along some of the untouched beauty of the Philippines.
Embark on a 4-day expedition with Big Dream Boatman to explore crystal-clear waters, hidden lagoons, and abundant marine life. As you traverse the archipelago, you'll find opportunities for adventure, moments of quiet reflection, and glimpses into the vibrant local culture. With Big Dream Boatman, you're not just a tourist but a curious explorer. Be sure to book this journey in advance, as it's a popular way to travel to El Nido.
You can also take a short 40-minute flight from El Nido to Busuanga Airport on Coron. In high season, these flights cost 100 USD per person.
Getting to Coron by Boat
The other option is to take the overnight ferry from Manila. This journey takes 11 hours and only leaves on Thursdays and Sundays.
Salt in our Hair
20/09/2023
https://www.saltinourhair.com/philippines/coron/
Last updated:

September 20, 2023