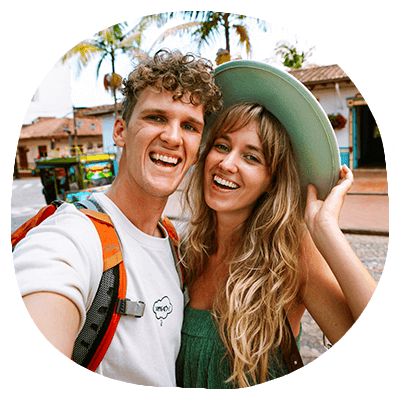 Hi, we're Nick & Hannah!
We hope you're enjoying our free travel guides & tips! If so, please consider supporting our work. 🤗
The Story of Ubud Monkey Forest
Ubud Monkey Forest is founded, and preserved, based on ancient Hindu principles. These principles aim for people to live in harmony with their environment and the nature around them. For approximately 700 monkeys this is an essential sanctuary but it also has important spiritual significance for the local people.
Book a local driver or tour
Contact our friend Yande with his Bali Friend Tour team. We've done countless incredible trips with him in the last 6 years!
Additionally, important conservation and research programs are done for the animals, forests, and rare plants that live within the sanctuary.
No time to read now?
No worries! Save on Pinterest to read it later.

The Monkey Forest Experience
The Monkeys
Hundreds of Balinese long-tailed monkeys live in the Ubud Monkey Forest, split into different groups that live together. And the chance of seeing baby monkeys is very high! Because there are no restrictions, barriers, or fences, the monkeys happily live here by choice.
The Ubud Monkey Forest is a beautiful natural paradise for both animals and people and a once-in-a-lifetime experience!
Monkey Feeding
The monkeys are fed three times a day by the sanctuary staff, who feed them delicious foods like sweet potato, banana, coconut, and papaya leaf. Tourists used to be able to feed the monkeys bananas. However, this has now been stopped. This was done to protect the monkey's health and to prevent monkeys from jumping on tourists for food.
The Forest
The Ubud Monkey Forest is huge, covering an area of about 30.8 acres! Therefore, it takes about 1.5-2 hours to wander around the Monkey Forest, enjoying nature and observing the monkeys. The forest canopy also provides cool temperatures and shade from the hot Balinese sun.
Over 100 species of tree grow within Ubud Monkey Forest, many of which are considered holy. Because of this, local people often give prayers and offerings to the spirits of the trees. It is key to remember that it is not just the ancient temples which are sacred but the entire forest that surrounds it!
Our Bali tips in your Google Maps?
We made it easier for you! All our tips: favourite to do's, restaurants, hikes, secret spots & more in Google Maps!
Temples
There are also three temples inside the forest. This creates a 'Jungle Book' style setting, as all the monkeys jump around the ancient temples, surrounded by hanging trees and roots.
Good to know: You cannot enter the temples as they are sacred and for the prayer community only.
Entrance Fee & Opening Times
The Ubud Monkey Forest is open every day from 8.30 AM – 6 PM. Do note that visitors can only buy tickets up until 5.30 PM.
Tickets: The ticket price for adults is IDR 80,000. (~ 5.5 USD) A child's ticket is IDR 60,000.
Best time to visit
The best time to visit is in the morning when it is extremely peaceful and quiet. However, the light that shimmers through the forest around 5 PM is best for photography. Read here about the best time to visit Bali, Indonesia.
Bali
How to Get to Ubud Monkey Forest
The Monkey Forest is situated on the edge of Ubud village. (Location) Enter through the main gate at the end of Monkey forest road. Ubud Monkey Forest is a 1.5-hour drive from the International airport in the south of Bali. There are a few different ways you can reach Monkey Forest:
Shuttle bus – Drives back and forth from Ubud center every 15 mins, for free!
Walk! The forest is a short 15-minute walk from the center of Ubud.
Motorbike. Park in the parking area of the sanctuary for a small fee.
Taxi. For example 'Grab' taxi, which is similar to Uber. Alternatively, it is possible to hire a taxi driver for the day if arriving from further away on the island.
Book a local driver or tour
Contact our friend Yande with his Bali Friend Tour team. We've done countless incredible trips with him in the last 6 years!
Is Ubud Monkey Forest Safe?
The monkeys are cheeky and friendly; however, it's good to keep in mind that they are unpredictable. They often associate tourists with food, so they may come very close or jump on you to find out if you carry food with you. If this happens, don't panic. Stay calm, stand up, and slowly walk away.
Don't be scared of being bitten. Monkeys are kind by nature and will only bite if they sense danger or threat. The rule of thumb is not to look them in the eye or show your teeth, as monkeys can see this as a form of aggression. (Also read: 17 Tips to Travel Safe)
Safety Guidelines
Ubud Monkey Forest asks tourists to respect the following guidelines when visiting the monkeys in the forest. You can find these guidelines at the entrance:
Do not panic or run – if a monkey jumps on you, stay calm; otherwise, you might scare the monkey.
Do not look the monkeys in the eye – as it can make the monkeys feel threatened.
Don't take any food or feed the monkeys – the monkeys smell all the food you have, and they will try to take it from you. And feeding them leads to aggressive behavior, where monkeys attack tourists for food. It is also terrible for their health to eat things outside of their usual diet. ➳ Read: 10 easy sustainable travel tips
Do not bring any plastic/paper bags – The monkeys may want to play with the bags if they see them. Additionally, the Ubud Monkey Forest does not allow any plastic brought into the sanctuary, to prevent litter and damage to nature. ➳ Learn about how to travel plastic-free
Take care of your personal belongings – make sure to remove things like jewelry and sunglasses, as the monkeys might try to play with these. Check that your bag is zipped correctly or strapped across your body.
Do not touch or disturb the monkeys – this can frighten them and cause aggression. Be particularly careful around mothers, as they will understandably be very protective of their babies.
Take care of your children – if you have children, make sure to explain the rules of the Ubud Monkey Forest and help them to understand how to be respectful of the monkeys.
Rabies
Vets at the Ubud Monkey Forest are continually monitoring the monkey's health, and so far, there have been no cases of rabies. In the unlikely event that you get bitten, seek help at the on-site first aid center, where a qualified nurse will help you.
Travel Insurance
Don't forget a travel insurance for your Bali trip! Heymondo covers medical emergencies, theft, delays, cancellations, lost luggage, and more, with 24/7 worldwide assistance and medical chat. As a Salt in our Hair reader, we've got you 5% off! Check Heymondo here
Did you know that …
When you purchase something through our links we earn a small fee. However, you still pay the same. Win-win!
Salt in our Hair
11/05/2023
https://www.saltinourhair.com/bali/ubud-monkey-forest/
Last updated:

May 11, 2023