Things to do in Munduk
1. Bath in the waterfalls of Munduk
North Bali is the king of waterfalls, with at least ten incredible waterfalls to visit that we know of. The Banyumala Twin Waterfall, Munduk Waterfall, and a couple more lesser-known all about a 30-min drive apart from each other. Or go even more extreme on a half-day tour to the majestic Sekumpul Waterfall.


2. Bali's famous Munduk water temple
Ulun Danu Bratan is a temple built in Tamblingan Lake and is arguably the most stunning temple in Bali. The water level around the temple rises and falls due to the region's rainy climate giving the temple its characteristic look.
No time to read now?
No worries! Save on Pinterest to read it later.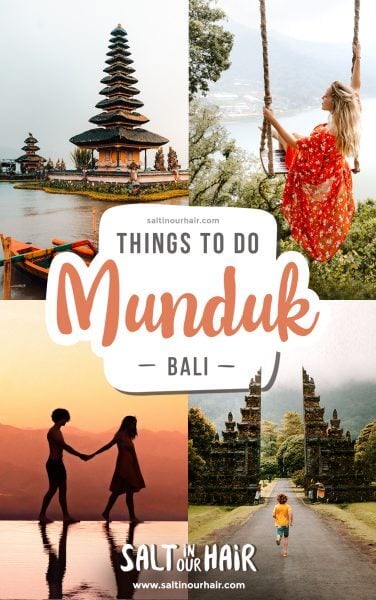 The temple is incredibly picturesque and one of the main things to do in Bali, therefore it is recommended to plan a visit in the early morning. Entrance fee is 50,000 IDR (~ 3.5 USD)

3. Take a swing at the Munduk Swing Viewpoints
A mountain range which is the start of the Munduk region offers quite an impressive view of two connecting lakes named the Twin Lake. Many viewpoints like bridges, swings, and cafes offer their panoramic view for a small fee. The swing showcased in the photos is named Wanagiri Swing.

4. Take a photo at the Handara Gate Bali
The main road that takes you up to Munduk passes an impressive-looking gate. Believe it or not, this Bali gate is the entrance to a golf course. A picture with the gate and the impressive mountain backdrop is worth the stop, but timing this stop can save you a lot of time.

Over the last few years, it has become extremely popular. There is a small entrance fee of 30,000 IDR (~ 2 USD). Time your visit in the early morning and you will have it pretty much to yourself but it's recommended to wear a sweater as the region can be cold.
Our Bali tips in your Google Maps?
We made it easier for you! All our tips: favourite to do's, restaurants, hikes, secret spots & more in Google Maps!
5. The best infinity pool in Munduk
Munduk Moding Plantation is a hotel in the heart of a working coffee plantation offering a panoramic infinity pool view over the rolling hills of Bali. Besides this priceless view, the accommodation tucked away in the garden of fruits, vegetables, and herbs is fantastic to experience.

On a budget? There are affordable options in Munduk village, and close to some great restaurants like Warung Dong Paloh and Warung Made.
Ready for some adventure?! Rise and shine early to hike up to 1700 meters and watch the sunrise from the active Batur Volcano. With a normal level of fitness, you will reach the top of the volcano within a relatively easy two-hour walk.


7. Try the Bali coffee
The cool climate and rich volcanic soil of the mountain area in Bali are perfect conditions for growing a large number of vegetables and fruits. Bali coffee is famous for its rich taste and delicious aroma. Plantations in Munduk cover a large amount of the area's ground. Message our friend Yande below to arrange any tour.
Book a local driver or tour
Contact our friend Yande with his Bali Friend Tour team. We've done countless incredible trips with him in the last 6 years!
Important note: During your travels in Bali, many signs say 'Luwak Coffee'. Do not support this as it is an abusive animal activity held in small cages, fed with coffee beans, pooped out, and sold to customers as a specialty coffee. And the funny thing is 80% of the beans aren't even real Luwak Coffee.
How to get to Munduk, Bali
Munduk is located in the north of Bali, but relatively easy to get to by car or motorbike. From both Ubud or Canggu, it is about a 2-3 hour drive up into the mountains. Contact our friend Yande below to arrange your transport.
Book a local driver or tour
Contact our friend Yande with his Bali Friend Tour team. We've done countless incredible trips with him in the last 6 years!

Where to stay in Munduk
Munduk offers a good selection of guesthouses and hotels for every kind of price category. Plan to spend one or two nights in this area if you want to do all the things to do in Munduk.
Weather Munduk
The climate in the Munduk area is much cooler compared to near the coastline. Expect temperatures to be between 20 – 25 degrees and clouds with fog or light rain to cover the Munduk area from 1 PM. It is a super comfortable escape from the heat of some days at the beach.
Did you know that …
When you purchase something through our links we earn a small fee. However, you still pay the same. Win-win!
Salt in our Hair
11/05/2023
https://www.saltinourhair.com/bali/munduk-bali/
Last updated:

May 11, 2023