Where to see wild elephants in Sri Lanka
This article will inform you about the best places to see wild elephants in Sri Lanka and why to avoid Pinnawala Elephant Orphanage. Because why should you visit an elephant 'orphanage' while wildlife is just around the corner?
What's in this guide:

4 x Best National Parks to See Elephants in Sri Lanka
In Sri Lanka, there are many national parks where you can see wild elephants. And even better, you don't have to go into a national park. They simply pass the main road during early morning or late afternoon.
Sri Lanka has incredible wildlife walking around, and these are the best ones to see Elephants in Sri Lanka based on personal experience.

Sri Lanka on the go.

Never miss a spot!
From planning to exploring and everything in between – this is your pocket guide to Sri Lanka!
Kaudulla is the unknown little brother of Minneriya, it hosts over 250 wild elephants, and the chance of seeing more than 5 elephants is really high. It is located near Sigiriya and can be easily combined with a 3-week route through Sri Lanka. Find out everything you need to know about visiting Kaudulla, Best National Park in Sri Lanka.


3. Minneriya National Park
Near Kaudulla is Minneriya. A more popular national park and also a huge range of wild animals like elephants.

4. Udawalawe National Park
A beautiful park with many parrots, deer, buffalos, monkeys, and of course, elephants. Udawalawe is a good next destination from or to Ella.

Why Elephants in Sri Lanka Should Not be visited in Pinnawala Elephant Orphanage
Pinnawala Elephants Orphanage is beautiful in the photos posted on social media, promoted by influencers, but the reality is far from beautiful.
No time to read now?
No worries! Save on Pinterest to read it later.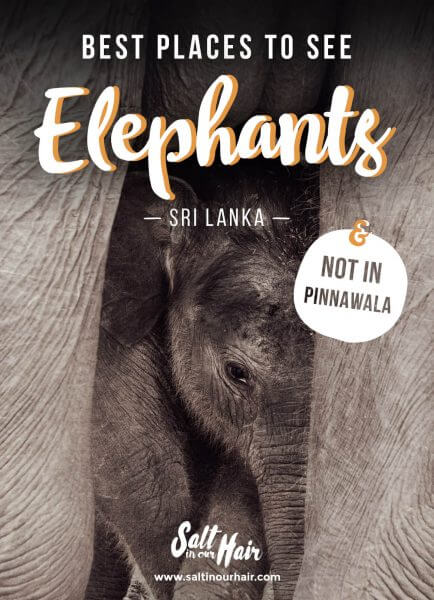 The same locals were washing the elephants just for the show to the visitors. The elephants are scared, and that's not so strange since they're being hit with sticks and getting a full human's weight hanging on their ears to get them to kneel in the water.

Pinnawala Elephant Orphanage is not a sanctuary; they have a completely unnecessary breeding program for elephants that should be released in the wild but are actually kept to serve as a tourist attraction. Do you really want to support this?
Then they came in a whole different way than we had expected. Local people walked the elephants out of town, chained, into the river. Attaching them to rings on the rocks in the river. Hidden under the water's surface, so it won't really get on photos. But we had a low tide that day.
Please, please, please, people. DO NOT support this. More evidence of the situation can be easily found on Instagram; just look closely.
Did you know that …
When you purchase something through our links we earn a small fee. However, you still pay the same. Win-win!
Salt in our Hair
19/07/2023
https://www.saltinourhair.com/sri-lanka/elephants-sri-lanka/
Last updated:

July 19, 2023