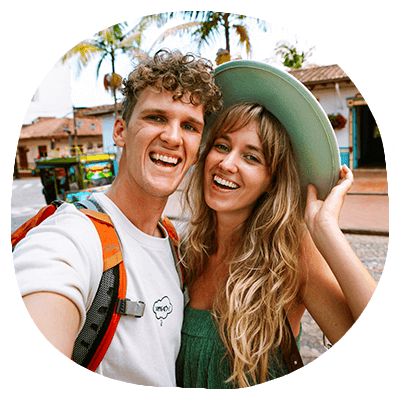 Hi, we're Nick & Hannah!
We hope you're enjoying our free travel guides & tips! If so, please consider supporting our work. 🤗
Turkey Travel Guide
Transportation and destination information are provided with extra options like going by bus instead of flying from A to B. The roads we used were superb so self-driving through Turkey is highly recommended by us!
Day 1: Flying to Antalya, driving to Kas
Start your trip from Antalya. Rent a car at the airport and drive directly to Kas (about 3 hours).
If you like to have a break to have lunch or dinner, we recommend that you pick a restaurant at The harbor of Kemer.
Day 2 – 4: Kas town and its surroundings
Kas is a beautiful and small town. It offers beautiful beaches, great food, shopping, and quite some sightseeing. Don't forget to visit the picturesque Kaputas Beach.
Day 5 – 7: Saklikent and Fethiye
Leave in the morning from Kas and drive to Kalkan for lunch. The drive is about 1,5 hour with some small stops to enjoy the view and cliff drops.
After a great Turkish lunch, head to Saklikent Gorge, which is a 300 meter-high and 18 kilometer-long canyon, one of the deepest in the world. This is about a 45-min drive from Kalkan.
Continue your trip to the final destination, Fethiye. This is a city where you can easily wander around for two days. Paragliding is very popular and highly recommended in this area. The view from up there is unreal.
Tip: If you have more time you can also add in Pamukkale. These salt baths are a well-known spot so make sure to arrive in the early morning. It can be done in a day trip but it isn't recommended.
Day 8: Turkey Travel Guide: To the Cappadocia area
Cappadocia is quite a distance from the country and can be reached in a few ways. The first option: Drive back to Antalya, return the car and either fly out the same day or take a hotel for the night and fly out the next morning very early. Driving back from Fethiye to Antalya takes about 3 hours.
Fly from Antalya to Kayseri. Kayseri is the best airport available to reach Cappadocia because it's just a 30 minutes drive with a taxi to Goreme (a town in the Cappadocia area).
Day 9 – 13: The Fairytale area called Cappadocia
Take at least two nights in Cappadocia. Even when you take four, it won't be enough. There is so much to do in this area and every new sunrise will be one to remember. The sky will be filled with Hot Air Balloons and maybe you can even fly with one.
Other than the balloons, you can do a sunset ride on a horseback, stay in one of the many cave hotels, visit Pasabag or the Open Air Museum, and many more things.
Day 14: Back to Antalya
On your last day (or the evening before) fly back to Antalya and make sure to stay in Antalya old town called Kaleici. It is surprisingly quiet and laid-back in the part of a huge city. Our hotel in Kaleici was located perfectly near all the sights in old town.
Visa for Turkey
To enter Turkey, you will need to have a visa. An e-visa is easily arranged online within a day and the price starts at 51 USD per standard tourist visa. Please note that the price may go up depending on your citizenship.
Costs of traveling through Turkey
Prices are a rough estimate of what we spend per person.
Budget
Food: 12 – 20 EUR / day
Entrance Fee: 10 EUR / day
Car Rental: 300 EUR / 7 days
Paragliding: 75 EUR
Did you know that …
When you purchase something through our links we earn a small fee. However, you still pay the same. Win-win!
Salt in our Hair
23/12/2022
https://www.saltinourhair.com/turkey/turkey-travel-guide/
Last updated:

December 23, 2022