8 Steps to becoming a vegetarian
1. Start Slowly
You don't have to become vegetarian from one day to another. Ease yourself in gently by doing meat-free Mondays or simply giving up one kind of meat first (for example, red meat). Another great way to incentivize yourself to become vegetarian is setting yourself a goal or doing a 'become a vegetarian' competition with friends. 
2. What kind of vegetarian diet suits you?
Vegetarianism can be taken as far as you prefer. For example, when following a vegan diet, you don't eat any meat, dairy, eggs or use any other animal products, like shampoo or honey. Read more on the types of vegetarian diets.
3. Look for Tasty Substitutes
An entirely new world of food goodness opens to you when becoming vegetarian. Eating loads of fruit and veggies is the ultimate health goal. However, look out for tasty meat substitutes. The plant-based section at the supermarkets is growing rapidly worldwide.
Other great things to incorporate into your diet instead of meat are veggie alternatives like tofu and tempeh. Once you dive into the world of substitutes, you'll find endless delicious options to try!
No time to read now?
No worries! Save on Pinterest to read it later.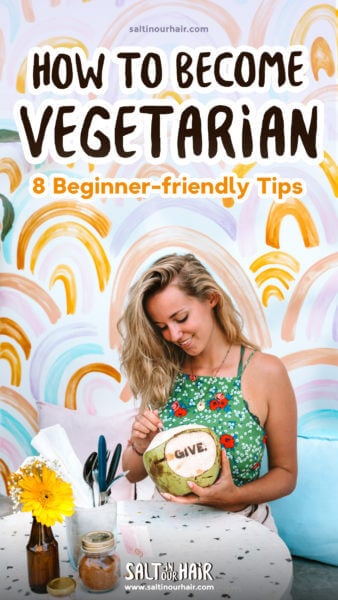 Reward yourself when becoming vegetarian
And to satisfy any cravings you might have, and to reward yourself for being a vegetarian, look out for plant-based burgers like Beyond Meat Burger, "Chicken" Burger, Vegan Kabab, and so on who all have the flavor and texture of the original product.
Did you know: that 70% of the world's vegetarians are from India? This makes Indian cuisine an excellent option!
4. Take Care of Your Health 
Becoming a vegetarian has a few small challenges to overcome. Our bodies are all different, and it needs time to adjust to a new diet. When eliminating meat from your diet, it's important to make sure you are getting the protein and vitamins your body needs.
When becoming vegetarian take extra:
Proteins – Solved by eating plain greek yogurt, eggs, cooked beans or lentils, whole grain pasta, quinoa, nuts.
B12 – Solved by eating eggs, cottage cheese, soy substitutes, oats.
Omega 3 – Solved by eating walnuts, flaxseed oil, rapeseed oil, chia seeds.
5. Get Creative in the Kitchen!
Now you've made the exciting jump to vegetarianism; it's time to get creative in the kitchen! There is a common misconception about vegetarian food that it's boring, flavorless, and salad-based. But this couldn't be further from the truth! Use Pinterest to create 'food mood boards', with tasty ingredients. This is also a helpful way to plan out your week's food shopping.
Tip: Be aware that certain cheese isn't vegetarian. For example, parmesan cheese has animal rennet in it.
Vegetarian/Vegan Recipes
To make the veggie kitchen transition a little less overwhelming besides your busy life, start with recipes that are easy to cook and try one or two 'advanced' recipes a week.
Inspiring Vegetarian/Vegan Cooks
One of the best ways to get inspired into becoming vegetarian is by discovering some fantastic cooks. Look for great vegan/vegetarian accounts on Instagram, watch cooking shows, or treat yourself to some beautiful veggie cookbooks. You'll be surprised at how inventive, tasty, and colorful vegetarian food can be!
Some great Cookbooks & Instagram accounts are:
6. Watch Educational Documentaries
If you're finding the initial weeks of being vegetarian hard, don't worry! A great way of keeping on track is to watch educational documentaries that will encourage you to eat to better sustain the future of our planet. Some excellent documentaries are:
7. Find Restaurants
You might even be surprised at the number of vegetarian options on the menu of your favorite restaurant. No doubt, being vegetarian has become easier than ever, with creative restaurants popping up in cities all over the world. This means that wherever you are, you should be able to find a delicious meat-free dining alternative! 
Replacements: If the restaurants don't offer any vegetarian options, ask if it's possible to switch out meat for another product.
8. Tell friends & family
Friends or family may find your transition to a vegetarian diet hard to understand at the beginning. Sit down with the people closest to you and explain why becoming vegetarian is important to you. You could even surprise them by making a tasty veggie alternative to their favorite meal! However, don't try to force someone to try vegetarianism.
Tip: When you're invited to other people's houses for dinner, consider offering to bring a vegetarian alternative to make the process easier for those around you.
Benefits of being vegetarian
Help the enviroment
These days, meat consumption is so high that more land is required to house and feed the animals we eat. To make room for livestock, important ecosystems like rainforests are destroyed. By 2050, we are consuming the planet's natural resources faster than the Earth can replenish them.
What's more, a huge amount of grain and water is required to produce meat. In fact, 1600(!) liters of water are used to make one quarter-pound beef burger compared to only 148 liters for a pound of vegetables! 
Other Benefits:
Better health: Go vegetarian, lower your blood pressure, reduce the risk of diabetes and heart disease, and boost your mood!
It's cheaper: Buying meat can be expensive. Moving to a plant-based diet is a lot cheaper, especially if you buy your veggies from a local greengrocer.
It's easier for traveling: When you're traveling, it can be hard to know the source of your meat, and it can be a strain on your travel budget. Fruits and veggies also have a longer shelf-life, which is great if you're camping or on a road trip.
Creativity in the kitchen: Moving away from meat can encourage you to develop your recipes and skills when cooking.
An inspiring movement
Yes, the meat industry is a huge contributor to greenhouse gas emissions and climate change. However, the good news is that 26% of millennials are already vegetarian, and 2 out of 3 Americans reduce their consumption of meat. By following these simple steps to going vegetarian, you can also be a positive change to help the planet.
Types of a vegetarian diet
There's no good or bad within a vegetarian diet. Becoming vegetarian is for one of your personal reasons, so choose one of the following diets that suit you.
Vegetarian
Being a vegetarian means, you don't eat meat, fish, and poultry. Within this category, you can also choose not to eat dairy, eggs, or both.
Vegan
Following a vegan diet is slightly more challenging than vegetarianism. Same as being vegetarian, you don't eat meat, poultry, or fish. On top of that, you also avoid dairy products, eggs, or other animal products, shampoo, honey, toothpaste. (Don't worry, you have great substitutes!)
Partial vegetarian
A partial vegetarian doesn't eat meat but does eat some animal foods. For example, Pescatarians eat fish but avoid all other meat. Or Pollo-vegetarians eat poultry but avoid other meat and fish.
Pescatariansim
We personally found that pescatarian suited us best while traveling to get all of our nutrients. Eating fish does provide some excellent nutrients, such as Omega 3 and Vitamin B12. We eat fish once every two weeks.
Note: Check the origin of your fish. Overfishing is a problem, so because of that do your best to find a good sustainable/freshly caught fish.
Flexitarian
And finally, Flexitarian, where you follow a plant-based diet but occasionally include small amounts of meat, dairy, eggs, poultry, or fish.
Is a vegetarian diet safe?
The risks around becoming a vegetarian are minimal. It's important that you take certain foods that have vitamins and minerals, like vitamin B-12, and omega-3 fatty acids.
If you're still worried speak to a dietist who might be able to help you with your personal questions about vegetarianism.
You can do this!
Your vegetarian journey has officially begun! Enjoy the process as much as possible by experimenting with new ingredients and flavors. If you have some slips along the way or make a gradual transition, that's totally ok! We are all human, with different bodies and needs, so do what is right for you when becoming vegetarian.
Salt in our Hair
23/02/2021
https://www.saltinourhair.com/tips/how-to-become-vegetarian/
Last updated:

20 February 2021