Why Should you buy a Backpack Travel Insurance?
Backpacker insurance isn't just your ordinary travel insurance. It's got more coverage and flexibility, which works much better for backpackers going on long trips. It also can cover multiple destinations for those who are planning to travel to more than one country. Additionally, backpacker insurance often includes extreme sports like bungee jumping or skydiving. 
It also takes into account that many backpackers are on a budget by offering packages for a cheaper deal. All in all, a backpacker travel insurance is much more flexible and is absolutely recommended for you to travel the world safely, and have fun!
Tip: Remember if you're enjoying your trip so much that you end up extending, you'll need to extend your backpacker insurance policy too.
How to Compare Backpack Insurances
Backpacking is a huge industry, which means there are loads of great insurance options! However, it can be difficult to know how to compare cheap backpacker insurances. Remember, the cheapest option isn't always the best option, and you want to check that the coverage extends up to a certain financial limit, ideally with little-to-no excess.
Things to watch out for when comparing cheap backpacker insurances
The financial limits and excess – For example, are you going to pay a lot upfront if you visit the doctors?
Age limits – Some backpacker insurance will only cover those below 30.
Working or volunteering – Check your insurance covers you for voluntary work and/or contracted work.
Pre-existing conditions – This might affect coverage and price. Always be honest about pre-existing conditions, as if your insurance provider finds out you lied your claim might fail.
Coverage of expensive possessions – For example, some backpacker insurance won't cover laptops or cameras.
Do you have to pay extra for sports? – 'Extreme' sports might not be as extreme as you think. Some companies even consider horse-riding as 'extreme', so read your insurance policy carefully.
Ability to extend – Helpful if you need flexibility while on your trip.
24-hour hotline – Accidents can happen day or night, so it's important to have help 24-hours a day.
Is our article helpful to you?
Help us keep making these articles for you by supporting us with a cup of coffee. ☕️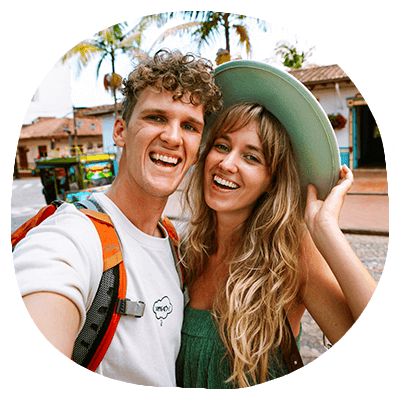 What Should Backpack Travel Insurance Cover?
There are certain basics your insurance should have. For example:
Medical coverage – Find an option that sets the limit as high as possible, ideally $1 million.
Personal liability – This covers you if you accidentally hurt someone or cause damage to their property. For example, a car accident. Look for policies that will cover you up to $1 million.
Possessions lost/stolen
Trip or flight cancellation/delay – The same goes for if you need to cancel a trip suddenly due to a family emergency.
All the countries you wish to visit – Some countries require you to buy additional coverage, for example, the USA and Mexico.
Evacuation and repatriation – due to natural disasters or global pandemic for example.
Remember: you can have the greatest coverage in the world but your backpacker insurance won't cover you if you're acting unlawfully or are under the influence of drugs or alcohol.
What's the Best Travel Insurance for Backpackers? 
Choosing the best travel insurance for backpackers is entirely dependant on the type of trip you are going on. If you are traveling far away from home for a long period, it's well worth choosing flexible insurance that has high coverage for trip interruptions and cancellations. What's more, it's a good idea to research medical costs in your destination, as this could have an effect on the policy coverage you choose. 
Good to know: All insurances mentioned below cover medical assistance and expenses even in the event of COVID-19 infection.
Heymondo – Best Backpack Travel Insurance
Heymondo is one of the best backpacker insurances for those who are traveling long-term. They are super easy to contact on their 24-hour hotline, and even have an app with an online doctor chat. What's more, they have no out-of-pocket fees! This means that if you need help in an emergency, they'll pay the costs in advance. You can buy their long-stay policy with flexible renewal from $341 USD for 90 days.
Other things Heymondo include:
Up to $3.5 million USD for medical costs
Repatriation and medical transportation
Loss or damage to baggage
Travel delay or missed connection
Optional coverage for electronic equipment
Sports such as jet skiing (option to select the 'adventure sports' add-on. This includes bungee jumping and other extreme sports).
Personal liability up to $1 million USD.
SafetyWing – Cheap Backpacker Travel Insurance
Unlike other travel insurance, SafetyWing offers a monthly subscription, which means you can stop, extend, and pause as you wish. It also means it is one of the cheapest backpacker insurance policies on the market (starting as low as $40 per 4 weeks)! The policy will continue unless you say otherwise and after one year they will contact you to see if you want to renew. The flexibility of this option makes it one of the best travel insurance for backpackers and digital nomads.
Other things SafetyWing include:
Covers you for visits back to your home country
Up to $250,000 for medical costs
Trip interruption
Lost checked luggage
Political evacuation
Emergency medical evacuation
Covers many sports, including bungee jumping (check their website for exclusions)
Personal liability up to $25,000
SafetyWing does NOT cover laptops, cameras, and other electrical equipment. If you choose to go with SafetyWing you may need to consider taking out further coverage on your electronics with another provider.
Other Ways Backpackers can Stay Safe While Traveling
Having backpacker insurance is essential while you travel. Besides, you can also do the following things to keep yourself safe. They might be obvious, but we wanted to mention them anyway.
Make sure you have the correct visa.
Get all the necessary vaccinations.
Check your government advice page for countries/regions that might not be safe to visit. You can also sign up for alerts from your embassy, so that if anything changes you know straight away.
Drink responsibly.
Follow rules, regulations, and customs in your destination. This way you can stay safe, stay legal, and respect local life.
No time to read now?
No worries! Save on Pinterest to read it later.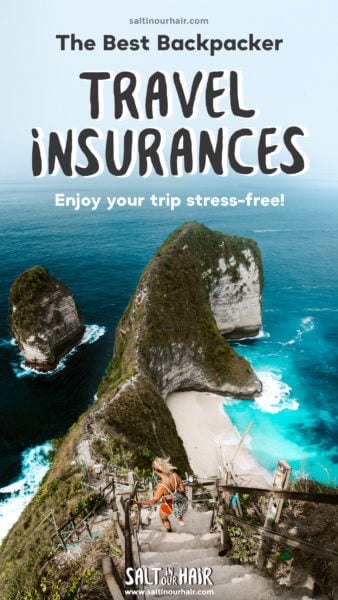 Salt in our Hair
18/10/2021
https://www.saltinourhair.com/tips/backpack-travel-insurance/
Last updated:

14 April 2021