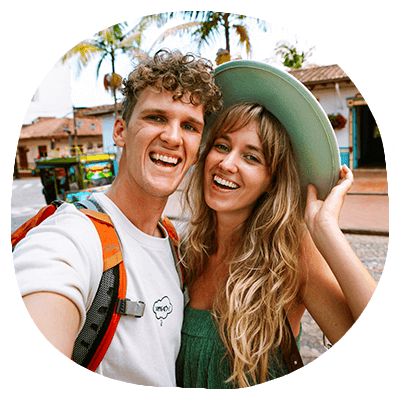 Hi, we're Nick & Hannah!
We hope you're enjoying our free travel guides & tips! If so, please consider supporting our work. 🤗
Which visa for Sri Lanka is for you?
The good news is that getting a tourist visa for Sri Lanka is relatively simple and can be booked ahead online as an electronic visa (ETA). This can either be done by yourself or a third party. It is easiest to use an online booking service for speed and efficiency.
Choosing the correct visa
Before you do anything decide which visa is suitable for your trip. The options you have are:
Tourist Visa Sri Lanka
The Tourist Visa is valid for a 'short stay' of a maximum of 30 days with a double entry. This means you may leave the country and come back once within those 30 days. It is possible to extend up to 6 months. Apply for your visa online here.
No time to read now?
No worries! Save on Pinterest to read it later.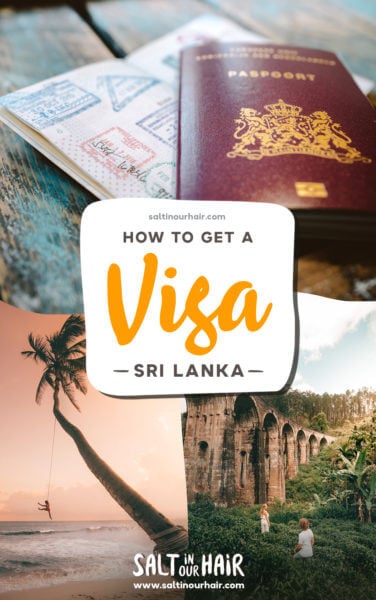 Business Visa
A Business Visa for Sri Lanka valid for 30 days with double entry. Apply for the visa when you have meetings, conferences, workshops, seminars or training programs.
Transit Visa
The Sri Lanka Transit Visa is a visa that is valid for a period of 2 days with a single entry.
For any other purposes, such as media/journalism a visa must be applied for through the right governmental channels.
How to apply for a Visa in Sri Lanka
Applying is as simple as filling out the form with your details (have your passport to hand) and the approval will be sent directly to your email within 24 hours. When filling out the form, make sure you have your flight details and the address of your first night of accommodation. You will receive your application within a few days.
Price of visa in Sri Lanka
Depending on your country of residence the prices of a visa change. On average the price for a Sri Lankan Visa is:
Tourist Visa – 35 USD
Business Visa – 40 USD
Transit Visa – Free

* Please note: Due to COVID-19 Visa prices may be temporarily changed.
How to get a visa extension
There is a strong chance you may fall in love with Sri Lanka on your 30-day visa and want to extend to a maximum extension of 6 months. If this is the case follow these steps BEFORE your ETA is due to expire:
Fill in this form and take it to the Head Office of the Department of Immigration and Emigration in Colombo.
Take with you:

Passport photo
Passport
Evidence of return air ticket (or onward travel)
The address and the telephone number of the place of accommodation.
Cash/credit card to pay the extension fees (fees are dependant on varying factors such as nationality and/or additional services you may need. You can contact the department for more information on this here.
Good to know: Alternatively, fill in the form when you are at the Department of Immigration.
Our experience when applying for a visa in Sri Lanka
We have been lucky enough to travel to Sri Lanka several times and in every case, we applied for the ETA online via the form and got approved within a few days.
Always follow the guidelines, double or triple check your details when you're filling out the forms, and make sure your passport is up to date and valid for at least 6 months upon entering Sri Lanka.
Enjoy this beautiful country and everything it has to offer!
Disclaimer: This article is updated regularly but the visa situation might change. Please always double-check with the local authorities.
Did you know that …
When you purchase something through our links we earn a small fee. However, you still pay the same. Win-win!
Salt in our Hair
09/12/2022
https://www.saltinourhair.com/sri-lanka/visa-sri-lanka/
Last updated:

December 9, 2022