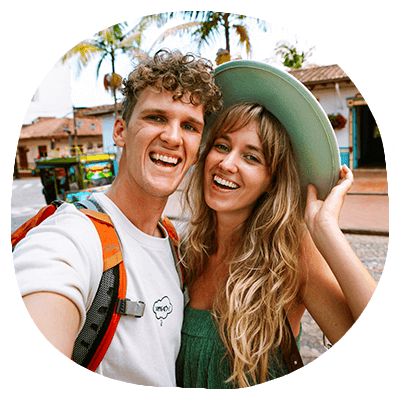 Hi, we're Nick & Hannah!
We hope you're enjoying our free travel guides & tips! If so, please consider supporting our work. 🤗
To the top of Lion Rock!
Prepare yourself for a little challenge and conquer the 1200+ steps to the top of the Lion Rock. Don't get scared, this is an absolute must-do in Sri Lanka! The climb is marked with good paths and stairs. The start at the terrace gardens gives you the most impressive perspective of the rock.
During your way up to a breather at Sigiriya Frescoes (old wall drawings), a mirror wall and at the claws carved out of the rock which is right before the last climb.
No time to read now?
No worries! Save on Pinterest to read it later.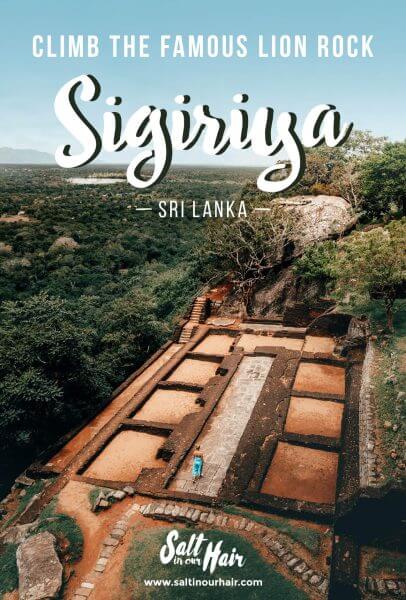 Once arrived at the top of the rock, enjoy the incredible 360 degrees view over the whole area. Every corner has its own unique view. Try to spot some areas you have just visited in Sri Lanka.
Tip: Combine visiting Sigiriya Lion Rock together with Pollonaruwa
Since Lion Rock in Sigiriya is one of, maybe even the, biggest attraction in the country, they made the ticket prices (very) high for Sri Lankan standards. The entrance fee per person is 4500 LKR which is around $30 USD.

Best time to climb Lion Rock in Sigiriya
Lion Rock is recommended to climb from 7 AM to avoid the heat and crowd. The climb to the top will take about 45 minutes. Exploring the whole area around and on top of the rock will take you about 2 – 3 hours.
Tip: Wear good shoes and take drinking water.
Is the hike to Lion Rock difficult?
Getting to the top is quite the climb; however, there is a good and safe stair that leads all the way to the top.
Bees and Monkeys
Monkeys are sometimes walking around and try grabbing something hanging out of your bag. Therefore, make sure everything is locked in your bag then nothing will happen.
There are signs that bees can get aggressive if fly a drone, for example. That is the reason it is not allowed to fly a drone!
Pidurangala Rock, an alternative to Lion Rock
If you like to see a different view of Lion Rock and save a lot of money, then climb up Pidurangala Rock. The entrance is just 5 USD instead of 30 USD for the big Lion Rock. Both rocks are very impressive, so try to climb both if you have the time.
Did you know that …
When you purchase something through our links we earn a small fee. However, you still pay the same. Win-win!
Salt in our Hair
03/04/2023
https://www.saltinourhair.com/sri-lanka/sigiriya-lion-rock/
Last updated:

April 3, 2023