Stone bridge Ella
The stone train bridge, built by the British, with its nine beautiful arches, is located between Ella and Demodara station. The train ride in the highlands with the Kandy to Ella train is named as one of the most beautiful train rides in the world.
How to get to the Nine Arch Bridge
You have multiple options and ways to reach the train bridge. Follow the road towards Little Adam's Peak and turn left at the small colored temple. Follow Lake Front Cottage on Google Maps.
No time to read now?
No worries! Save on Pinterest to read it later.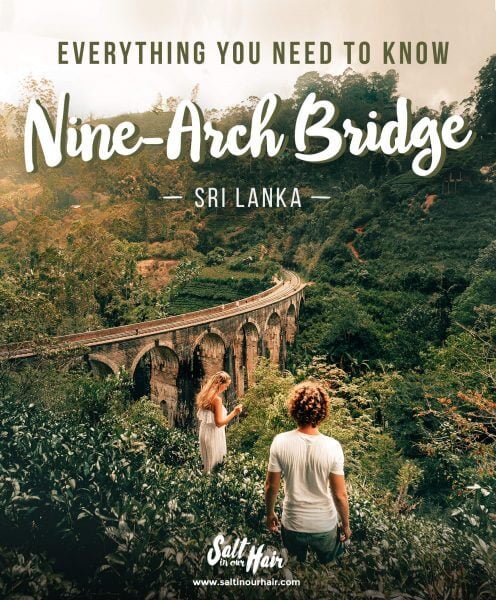 For a more quiet walk in between the jungle, turn left into the jungle at the parking spots after Art Cafe Umbrella. From here, you have to follow the path for about 10 minutes which gives you a unique view over the bridge. We highly recommend this path.
The quickest way is to walk along the track from Ella town until you reach a tunnel. After passing the tunnel, you immediately reach the Nine Arch Bridge.

The easiest way to get to the Nine Arch Bridge is by a 300 LKR (2 USD) tuk-tuk ride from Ella. To save time, ask them to drop you off near the tunnel and walk to the bridge the last piece.
This drone photo is taken during our first visit to Sri Lanka. Please note that drones in Sri Lanka are officially not allowed anymore.
Train times at the Nine Arch Bridge
Trains pass the bridge about 6 times a day. The exact times change all the time in Sri Lanka but there should be one every hour. Don't worry that you have to wait that long. It's a great place to photograph and there are small cafes where you can buy drinks and food. We recommend you to get there in the morning, around 9 AM.
Do ask your guesthouse or hotel about the current train times.
Best time to visit the Nine Arch Bridge
Sunrise is the best time to visit the Bridge. The light is stunning and you avoid the crowds. By 10 AM, it is getting more busy with tourists since it is the start of their day trip tour.
Staying at Nine Arch Bridge in Ella
Over the last few years, more and more guesthouses have been opened or are still being built. It's a little bit out of Ella town, so you need transportation to go to the popular restaurants. Nevertheless, waking up with a view of the Nine Arch Bridge is, without a doubt, a fantastic experience. These are the recommended hotels near the Nine Arch Bridge.
Salt in our Hair
25/10/2021
https://www.saltinourhair.com/sri-lanka/nine-arch-bridge-ella/
Last updated:

13 August 2018