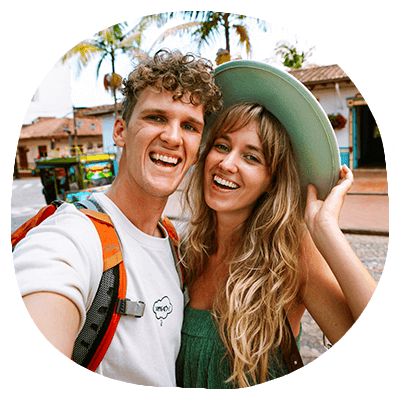 Hi, we're Nick & Hannah!
We hope you're enjoying our free travel guides & tips! If so, please consider supporting our work. 🤗
National Parks in Sri Lanka
There are over 20 national parks in Sri Lanka, with various landscapes, from open plains, beautiful lakes, bushland, grasslands, and even beaches! Where you go on safari is totally dependant on your personal preference. For example, are you keen to spot the elusive leopard, or do you prefer to see herds of elephants? This will be a factor in deciding which national park to choose from.
Best Time to go on Safari
There are two monsoon seasons in Sri Lanka: The northeast monsoon season which takes place from October to January and the southwest monsoon season which takes place from May to July. It's best to avoid these times, as animals will take shelter and be harder to spot during the heavy rains. The dry seasons are an excellent time to visit national parks in Sri Lanka, as the animals come out of cover to search for water.
Morning or afternoon Safari in Sri Lanka?
Factor in the time of day you go on safari. This is best done in the morning or in the evening, as in the midday sun the animals will also take shelter. Going in the morning or the evening also means you have the opportunity to see a beautiful sunrise/sunset over the magical landscapes of Sri Lanka.
Tip: Find other people to join you on the safari, so you can split the cost of the jeep hire, which can really reduce the price of visiting a national park in Sri Lanka
Where to spot Sri Lankan wildlife?
Yala National Park in Sri Lanka
Yala is the most popular national park in Sri Lanka and for good reason! It is famous for its high leopard population (40-50 within Yala), which is actually the highest leopard density in the world! Despite this, it's not guaranteed to see a leopard, as they are very elusive. However, your chances of a leopard sighting are much higher at Yala than in any of the other parks in Sri Lanka.
The lagoons, bushlands, and grasslands, also make it a breeding ground for tonnes of other wildlife, including herds of beautiful elephants, and the unique sloth bear!
Downsides: Because of Yala's popularity, it can be very crowded. The park is doing their very best to preserve nature and wildlife, so only a few parts of the area are open to the public. Please act responsibly and do your best to be a sustainable traveler at all times.
No time to read now?
No worries! Save on Pinterest to read it later.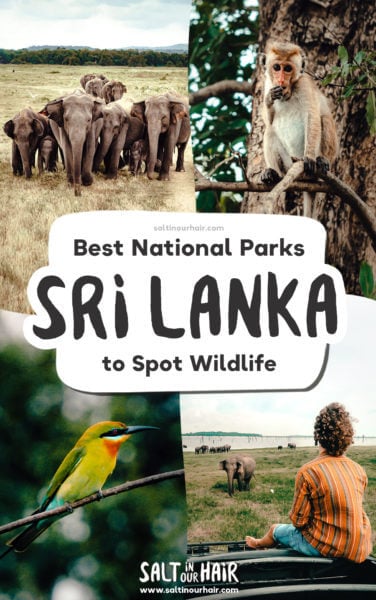 Yala Summary
Location: On the southeast coast of Sri Lanka.
Season: February to September (dry season). The best time to see leopards is between February to March. *Note: The park closes during the month of September.
Animals: Best for seeing leopards. There are also 44 varieties of mammal and 215 species of bird.
Price: $65 USD for a guided tour (entry to the park, jeep, and guide). For a private tour, you could pay upwards of $100 USD. The price is higher than in other parks in Sri Lanka because of the higher chance of seeing leopards.
Where to stay: Stay in a jungle chalet at Cinnamon Wild! This was an awesome experience that allowed us to get up close and personal with nature. You can even dine under the stars in the back of a jeep right next to crocodiles in the water.
Udawalawe
Udawalawe is Yala's slightly lesser-known neighbor. Although it is less popular, it is still an amazing place to see animals, because of its small size and open views. It is particularly good for seeing elephants as there are approximately 400-500 in the park; an incredibly high density in such a small area! It is also excellent for birdwatching too; thought to be one of the best birdwatching sites in the whole country!
For a personal encounter with elephants Udawalawe is the best national park in Sri Lanka! This is because the elephants here are quite confident and can get very close to vehicles. The other plus of Udawalawe is that the park is mainly open grassland (not many trees or bushes). Because of this, it is much easier to spot the animals and see beautiful views across the plains of Sri Lanka.
Downsides: It's difficult to see leopards (there is about half the number of leopards that Yala has) and outside of the excellent bird and elephant watching there aren't many other animals to see.
Udawalawe Summary
Location: Just inland, to the west of Yala, surrounding the huge Udawalawe reservoir.
Season: Feb to October (dry season). If you're visiting to see migratory birds then visit between October and April. October to January is the best time to see baby elephants, during the rainy season.
Animals: Best for elephants and bird watching.
Price: From 35 USD for a shared jeep to 75 USD for a private tour.
Where to stay: The park is only 1.5 hours drive from Dikwella, a beautiful coastal town in the south of Sri Lanka. Stay at Verse Collective: a trendy collaborative space, popular with digital nomads.
Minerriya
Minnerriya is most famous for the spectacular 'elephant gathering'. During September/October, the lake dries out, and the elephants gather together around the lake and feed on the grassland. Seeing hundreds of elephants all congregated together in one area is one of the most breathtaking experiences. The lake also attracts an amazing array of birdlife, so it's excellent for bird lovers too.
Downsides: Apart from elephants and birdlife, visitors are unlikely to see the variety of wildlife you would see in other national parks in Sri Lanka.
Minerriya Summary
Location: North/Central Sri Lanka. Best to visit from Sigiriya.
Season: July to October (dry season). Visit in September/October to see the great elephant gathering.
Animals: Best for elephants. However, it is also possible to see two unique species of monkey, the Purple Faced Langur, and Toque Macaque.
Price: Varies. However, it's usually around 40-60 USD for a private tour, including pick up, drop off, and entrance fee.
Kaudulla
Although Minerriya is much more popular, Kaudulla sits right next door and has amazing wildlife too. Because the elephants move around between the areas, it is also possible to witness large herds of elephants here. Because the park isn't as big, or as popular, as some others, there are not too many jeeps around which makes it a much more peaceful experience. It's even been known, in rare cases, for tourists to spot a leopard!
Downsides: Not a huge variety of animals, aside from elephants.
Kaudulla Summary
Location: Between Dambulla and Trincomalee. It's possible to make a day trip from either place but Dambulla is a bit closer.
Season: July to October. The elephant gathering takes place during the months September/October.
Animals: Best for elephants (gathering). It's also possible to see peacocks, bears, and crocodiles.
Price: Approximately 40-60 USD per person for a private safari.
Where to stay: See the best hotels in Dambulla.
Willpatu
Willpatu is the hidden gem of all the national parks in Sri Lanka; famous for sightings of the reclusive sloth bear. It was the first national park created in the country (along with Yala) in 1938 and is the largest national park in Sri Lanka. Although it is relatively unknown, the park is teeming with wildlife, with leopard sightings a close second behind Yala.
It perhaps even exceeds Yala in terms of it's incredible beauty, and peaceful nature. You won't see many other jeeps here, so it's easy to feel as if you're the only one in the park! It also has the best infrastructure, so if you want a comfortable jeep ride than Willpatu is definitely your best option.
Downsides: Not as many elephants as in some of the other national parks.
Wilpattu Summary
Location: Northwest of Sri Lanka, close to Anuradhapura
Season: Feb to October (dry season) or in the summer months May-July, when the sloth bears come out to find fruits on the trees.
Animals: Best for sightings of the sloth bear.
Price: 30-40 USD for a half-day, 80-100 USD for a full day.
Where to stay: See all hotels in Anuradhapura.
Which National Park in Sri Lanka is the Best?
Verdict: Willpatu! The beauty of this park is absolutely breathtaking, made even more special by being relatively unknown and, therefore, peaceful. Because it's so quiet, it is an excellent place to spot wildlife, and there is a high chance of seeing a multitude of wild animals. The price is reasonable considering all these factors, and with similar chances of seeing leopards as Yala, it is a great deal!
Things to Remember for Your Safari
Non-bright clothing, that is loose and comfortable. Bring layers in case the weather changes
Shoes you don't mind getting dirty, because you might get out of the vehicle
Hat
Bug spray
Suncream
Binoculars
Camera + zoom lens
Sri Lanka Visa
In order to visit Sri Lanka, you must purchase an electronic visa online (ETA) before traveling.
Did you know that …
When you purchase something through our links we earn a small fee. However, you still pay the same. Win-win!
Salt in our Hair
02/12/2022
https://www.saltinourhair.com/sri-lanka/national-parks-sri-lanka/
Last updated:

December 2, 2022