Sintra's Castles and Palaces
The small Sintra town is where you arrive by train and has accommodation, restaurants, and transport to the castles and palaces. First, read about the things you can see inside the park followed by planning your visit.
Tip: Remember the places you want to visit and buy tickets in advance as the ticket booths will get busy. Get your tickets online
Pena Palace Sintra (Palacio da Pena)
Palacio de Pena in Sintra is a red and yellow fairy-tale castle located at the highest point overlooking the entire region. It was once designed in 1854 by the king who released all of his creative imagination his castle and park to become his summer house. (Yes, a summer house!)
Is our article helpful to you?
Help us keep making these articles for you by supporting us with a cup of coffee. ☕️
Pena Palace has become a beautiful mix of architectural styles; trees from all over the world had been imported, making it an exotic garden.
Pena Palace castle has become the icon of the Sintra region and therefore also the busiest. Entrance tickets for the park and palace cost 13,30 EUR (15 USD), which can be bought at the door but best to buy in advance.
Quinta da Regaleira
The gardens of Quinta da Regaleira were designed to hide a network of tunnels, passageways, and even towers. The inverted towers (Initiation Well) looks like a well but is accessible by a spiral stair that goes down to one of the tunnels. Quinta da Regaleira makes this UNESCO region so diverse in the kind of sites that you can visit. Entrance tickets to Quinta de Regaleira are 8 EUR (9 USD) can be bought online or at the door.
Moorish Castle
Castle of the Moors was once a military fort. Nowadays, visiting this "Lord of the rings" castle are possible. Take the stairs up for an impressive view and walk along the walls of a centuries-old castle. An entrance ticket to Moorish Castle cost 7,60 EUR. (8 USD)
Sintra National Palace (Palacio Nacional de Sintra)
In the heart of Sintra town is the royal Sintra National Palace. The two huge chimneys have become the iconic view of the town. Get an entrance ticket of 9,50 EUR (11 USD) to visit the decorative rooms inside the palace.
Monserrate Palace (Palácio de Monserrate)
The Monserrate Palace is an incredible gothic, Arabic, and Indian designed palace with an exotic garden that once won a European Garden Award. It is often skipped as it is slightly off the route but many do not know that this probably is the most beautiful palace of Sintra.
How to get to Sintra, Portugal?
A day trip to Sintra from Lisbon a great way to visit the UNESCO site. From Rossio Station in Lisbon, take the train that departs every 20 minutes. Within 40 minutes you arrive in Sintra Town. Please note that on Sundays, the train departs only once every hour. A one-way ticket costs 2.25 EUR (2.5 USD) and can be bought at the ticket counter or machine.
Train to Sintra – 2.50 USD – 40 minutes
How to travel around Sintra, Portugal?
Once arrived in the town, there are two main bus routes that pass the palaces and castles of Sintra: line 434 and 435. Decide beforehand what sights you want to visit so you know which bus to take. 

Line 434 – Train Station – National Palace – Moorish Castle – Natural History Museum – Pena Palace

Line 435 – Train Station – National Palace – Quinta Da Regaleira – Seteais Palace – Monserrate Palace
Bus tickets are available at the bus or train station and run every 15 to 20 minutes starting at 9:15 AM. A return hop-on hop-off ticket costs 6.90 EUR. (~ 7.50 USD)
How long do I need in Sintra, Portugal?
Sintra-Cascais Natural Park is an enormous park of 142 square kilometers that stretches all the way to the coastline. Ideally, two or three days would be good to see all aspects of the park. But for a Sintra day trip from Lisbon, it is recommended to at least take half a day.
Tip: Think about which sights you would like to see and buy the tickets in advance as the ticket booths will get busy. Get your tickets online
Best time to visit Sintra, Portugal
Sintra has its own microclimate and it always a little cooler than Lisbon. The best time to visit Sintra is from April to June and September to November. As it is one of the best places to visit in Portugal, it will be quite crowded, therefore it's recommended to plan your visit as early as possible.
Where to stay?
Are you planning to spend multiple days in the park? Sleep in either Sintra town or in Lisbon. If you are on a budget, Lisbon is the best option to go with.
Hotels in Sintra
Hotels in Lisbon
No time to read now?
No worries! Save on Pinterest to read it later.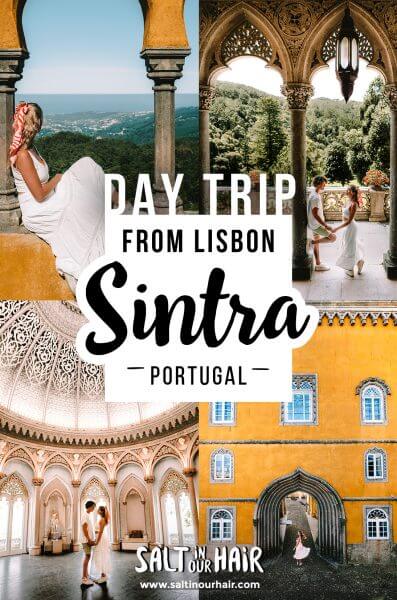 Salt in our Hair
21/10/2021
https://www.saltinourhair.com/portugal/sintra-portugal/