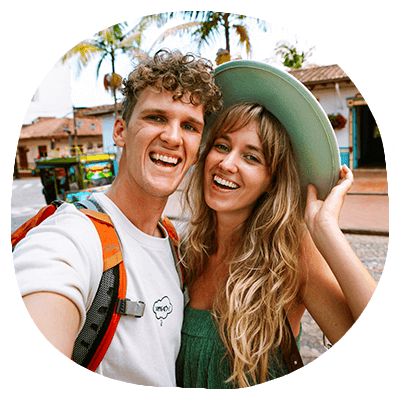 Hi, we're Nick & Hannah!
We hope you're enjoying our free travel guides & tips! If so, please consider supporting our work. 🤗
6 Things to do in Obidos
1. Explore the Streets of Obidos
The number one thing to do in Obidos is to get lost in the labyrinth of narrow white-painted cobbled streets. The city is stunning, with each street filled with small white houses, traditionally painted with blue and yellow edges.
You'll find beautiful doorways, red-tiled roofs and balconies, and endless colorful flowers growing up the walls. Spend an hour or two simply wandering and taking pictures in this photographer's heaven.
2. Shop on Rua Direita
The main street of Rua Direita is home to many shops selling handicrafts, art, and souvenirs, as well as plenty of great restaurants & bars. The main thing you'll see on sale is Ginjinha, a sour cherry liquor typical of the town.
3. Climb the Castle Walls
At the end of Rua Direita is the magnificent Castle of Obidos! The Moorish castle, and its walls, are so impressive that it was chosen as one of 'The Seven Wonders of Portugal'.
The walls are 13 meters high and an incredible 1.6 km in length. You can actually climb on top of the walls and walk the length around the castle. Because of the height, the views are incredible (especially during sunset) across the surrounding countryside and vineyards.
Good to know: Be aware that there are no barriers or fences, so be careful when walking.
The inside of the castle is not open for visitors, as it has been converted into a Pousada (a government-run luxury hotel). So if you're keen to experience Obidos as a castle resident, make sure to book your room online.
No time to read now?
No worries! Save on Pinterest to read it later.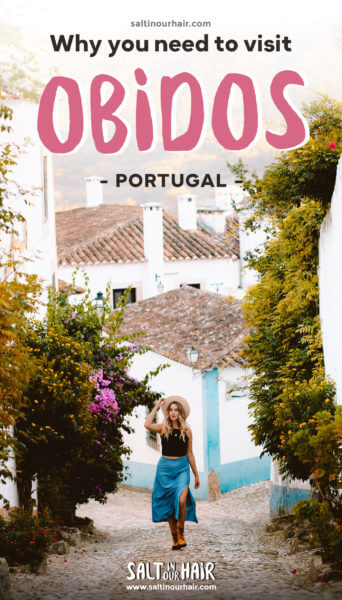 4. The Churches of Obidos
Despite its small size, Obidos is home to 14 churches! You could spend a whole day exploring each one. Our favorite options for your day trip to Obidos would be:
Igreja de Santa Maria
The most famous to visit is the Igreja de Santa Maria, known for its stunning interior of azulejos blue tiles.
Senhor Jesus da Pedra
The baroque church of Senhor Jesus da Pedra is unique and easily visible from the town walls. The church its main feature is its unusual hexagonal shape. 
Our Portugal tips in your Google Maps?
We made it easier for you! All our tips: favourite to do's, restaurants, hikes, secret spots & more in Google Maps!
Porta da Vila
Porta da Vila is most commonly known as the town gate; however, it is also a chapel. On the second story of the building, you can see the famous azulejos tiles that make this town gate one of the most beautiful in Europe!
Tip: Pass through the gate directly onto Rua Direita or take the stairs up to the castle walls leading towards this chapel.
Igreja de Sao Tiago
This small church lies right next to the castle entrance. It is no longer in use as a church, but it's a charming bookstore instead!
5. Aqueduct of Obidos
One of the most eye-catching features of the town is the huge aqueduct that lies on the edge of Obidos. This 6 km-long stone structure served as the town's main water supply and even survived the great earthquake of 1755!
6. Municipal Museum Obidos
Even though Obidos is like an open-air museum itself, to discover more history, you can visit the Municipal Museum. It is located on the main street (Rua Direita) and showcases some historical pieces like weapons of war and Roman artifacts. However, it's most popular for its incredible collection of art, including work from the famous resident artist of Obidos: Josefa de Obidos.
Opening times: Tuesday-Sunday 10 AM-1 PM / 2 PM-6 PM. Closed on Mondays.
How to visit Obidos
Obidos is just a 1.5-hour drive from Lisbon, so it's the perfect option for a day trip while you're on a Lisbon city trip. Alternatively, stay overnight to see a different side of the town, when it's peaceful and sleepy in the evenings.
Driving is the best way to visit Obidos as it also allows you to visit spots outside the city too, for example, the lagoon or various other beaches north of Lisbon like Nazare.
If you want to take public transport, the best option is via bus from Lisbon. There are trains to Obidos, but they have a limited schedule and take over 2 hours (stopping off at lots of small towns en route).
Getting Around Obidos
The town is small, and one of the best things to do is walk around the town. If you're driving, please note that the entire center is pedestrianized, so you have to park outside the old town before passing through the town gate.
Best Cafes and Restaurants in Obidos
Aside from Obidos' cherry liqueur and dark chocolate, the town also has lots of beautiful restaurants serving traditional Portuguese dishes. You can even book to eat inside the castle's hotel restaurant! Here are some nice places to have lunch/dinner in Obidos:
Avocado (great coffee & healthy food)
Pontinha (European)
Jamon Jamon (Portuguese)
Vila Infanta (Mediterranean)
Where to Stay in Obidos
If you choose to stay overnight in Obidos, there are a range of accommodations to choose from, such as the luxurious hotel inside the castle. There are also lots of mid-range guesthouses/hotels inside the old walls of the town. 
Best Time to Visit Obidos
The summers are hot and busy in Obidos. Because of its small size and popularity for day trips from Lisbon, the streets can get very busy at this time. A good alternative is to visit during the springtime or the early fall. Spend the night at Obidos to have the town completely tourist-free.
Did you know that …
When you purchase something through our links we earn a small fee. However, you still pay the same. Win-win!
Salt in our Hair
03/05/2023
https://www.saltinourhair.com/portugal/obidos-portugal/
Last updated:

May 3, 2023