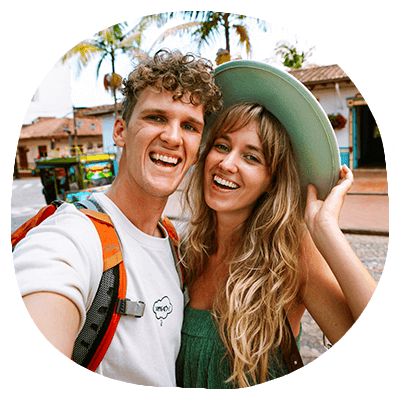 Hi, we're Nick & Hannah!
We hope you're enjoying our free travel guides & tips! If so, please consider supporting our work. 🤗
Things to See in the Sacred Valley
The high altitude in Cusco and the Sacred Valley will require more time to properly explore the things to do in the Sacred Valley. Plan to stay in Cusco by using this day-to-day Cusco itinerary. The best way to explore the valley is by car, train, and walking and visit the following sites. 
Pisac, Sacred Valley
Pisac is a village in the Sacred Valley known for its large traditional market, therefore, attracting many visitors a few times per week. This is the place you need to be for food, souvenirs, and local experiences.
No time to read now?
No worries! Save on Pinterest to read it later.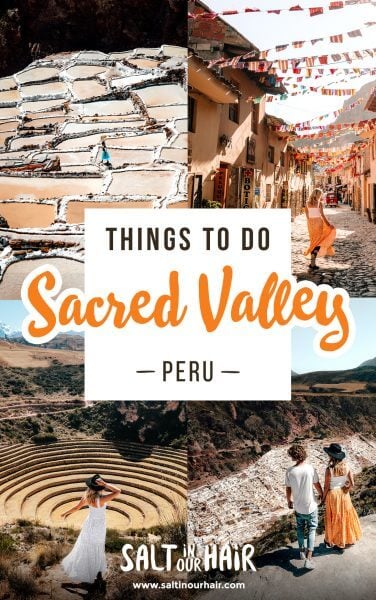 The highlight of Pisac is the incredible Inca ruins overlooking the town. The ruins are ancient houses, ceremonial places, water canals, and vegetation terraces. Get there from Pisac town by hiking or taking a taxi. However, hiking to the top will take you at least 3 hours with the high altitude.
Moray Terraces
Close to the Maras Salt Mines is Moray. One of the most phenomenal, and somewhat mind-blowing, things to see in Sacred Valley. These circular terraces, also named 'The Laboratory', offer changing light and temperature conditions at each level. For that reason, they could experiment with many different kinds of crops and which is the reason why Peru, nowadays, has over 2000 species of potatoes!
Ollantaytambo
Ollantaytambo town is the last part of the Sacred Valley that's accessible by car. It is the starting point for many walking trails to Machu Picchu and the world-famous train ride to Aguas Calientes (Machu Picchu town). 
Ollantaytambo itself is a tiny cobblestone village offering accommodation for Machu Picchu day trips. Even more impressive is one of the best-preserved ruins in Peru that are located behind this town. An Inca temple and terraced city built against the steep slopes.
Machu Picchu
The absolute highlight of the Sacred Valley is Machu Picchu. A once-lost city built on a mountain-top, an archeological masterpiece that samples how clever the Inca people were. Visiting Machu Picchu including the train ride will take you a full day.
Sacred Valley Cusco Ticket
The ticket options are wide therefore making visiting Sacred Valley a bit confusing. The 'Boleto Turistico' is the main ticket which gives access to almost all of the archaeological sites, museums, and Sacred Valley. This tourist ticket is valid for 10 days starting from the first site you will visit, giving entrance to 16 different sites. The ''Boleto Turistico' Sacred Valley ticket costs 130 SOL (38.5 USD) and gives access to the following three ticket options:
First ticket: Sacsayhuaman, Qenqo, Pukapukara, and Tambomachay.

Second ticket: Museo de Arte Popular, Museo de Sitio del Qoricancha, Museo Historico Regional, Museo de Arte Contemporaneo, Monumento a Pachacuteq Centro Qosqo de Arte Nativo, Pikillacta, and Tipon.

Third ticket: Pisac, Ollantaytambo, Chinchero, and Moray.
You cannot buy separate tickets for these individual sites but if you're on a budget you can buy a ticket for only one part of the valley. We would say ticket 3 is the more impressive but if you're more into museums ticket 2 might be better for you.
What's not included in the Sacred Valley Cusco ticket?
Unfortunately, Machu Picchu, Huayna Picchu, the Maras Salt Mines, and the Rainbow Mountain all require buying a separate ticket.
Machu Picchu is popular, therefore buying tickets in advance is highly recommended. Furthermore, if you plan on hiking Huayna Picchu, you will need to buy your tickets a few months ahead.

Huayna Picchu is the mountain in front of the famous Machu Picchu viewpoint, the path is narrow and for that reason, they only allow a limited amount of people per day.
Do I need a Cusco Sacred Valley ticket?
No, you do not need to buy the Cusco tourist ticket, 'Boleto Turistico'. However, it has a great value for the number of entrances compared to buying separate tickets.
Alternatively, a partial ticket (Boleto Parcial) might be a good solution when you are not planning to visit more than half of the attractions or your time is limited. This provides access to only a selection of the sites and costs around 25 USD.
Where to buy a Cusco Sacred Valley ticket?
The Boleto Turistico ticket office is in the heart of Cusco at the COSITUC. It is located on 103 Avenida del Sol and opens from 8 AM until 6 PM. The easiest option, however, might be to start at one of the included sites and directly buy your Boleto Turistico ticket there. Make sure to have cash with you
Did you know that …
When you purchase something through our links we earn a small fee. However, you still pay the same. Win-win!
Salt in our Hair
17/12/2022
https://www.saltinourhair.com/peru/sacred-valley-peru/
Last updated:

December 17, 2022