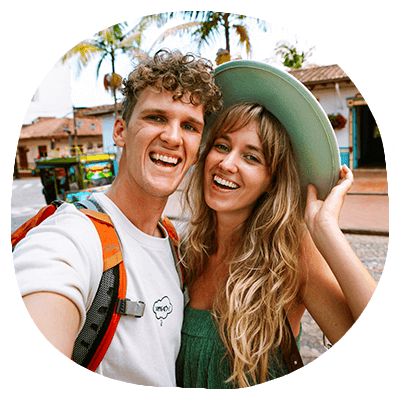 Hi, we're Nick & Hannah!
We hope you're enjoying our free travel guides & tips! If so, please consider supporting our work. 🤗
Peru Rainbow Mountain Tour
A tour to the Rainbow Mountains in Peru starts at 3 – 4 AM with a 3-hour to arrive at sunrise time. Both Vinicunca Mountain and Palccoyo Mountain can be visited on a Rainbow Mountain day tour from Cusco.
The sad truth behind this all is that less than 10 years ago, snow covers the mountain tops year-round. But due to climate change, the snow melts in summer and reveals these incredible colors.
Vinicunca or Palccoyo Mountain?
Peru is fortunate to have two rainbow mountain locations. Both have their pros and cons, so it depends on personal preference which mountain you choose.

No time to read now?
No worries! Save on Pinterest to read it later.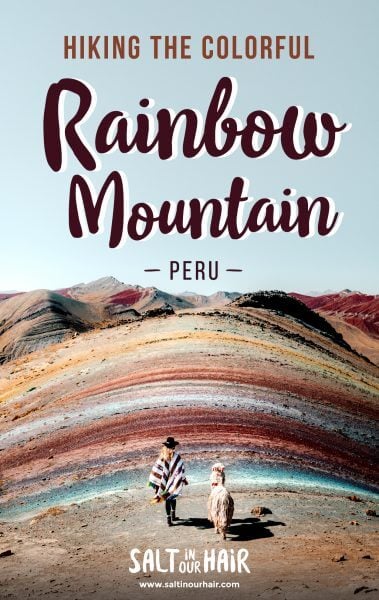 Vinicunca is popular, somedays crowded, the heights of both located at 5,200 meters, a 3-hour steep, somewhat difficult hike and offers multiple rainbow mountain tops.
Palccoyo, on the other hand, is located lower at 5,000 meters, a mostly flat and easy 1.5-hour walk up, just a handful of tourists per day but has fewer colored mountain tops. To avoid standing at a busy mountain top visiting Palccoyo is the best choice.
Rainbow Mountain Altitude Sickness
Both require you to have a good condition, and both will cause altitude sickness as this usually starts to get worse at 4,000 meters. Your guide will take perfect care of you and carries coca leaves, candy, and other items that will help against altitude sickness.
Hike the Palccoyo Rainbow Mountain in Peru
To get to Palccoyo, you have to drive through an incredible valley over a dirt road for one hour. High snow-top mountains, water streaming down the valley that's surrounded by Alpacas.
The locals in this area suffer from the cold weather in the winter as it is remote and hard to reach during that time of the year. Elderly, babies and a lot of Alpacas, unfortunately, die every winter.
Please take: warm clothing or blankets and donate them to the villages to help them get through the winter.
Hiking the Palccoyo Mountain in Peru
After 3 hours of driving from Cusco, you will arrive at the start of the hiking path. If you look around, you can already spot the first colors. Yes, the colors are real. Red, yellow, blue, orange, and a few more are covering the mountains, therefore: Rainbow Mountain.
Together with your guide, take the walk to the different viewpoints and finish at the Stone Forest at 5,000 meters. It will be a hike of 90 minutes where only the last 15 minutes are steep uphill. Take a lot of water; you need to drink 3 liters per day at this height.
Tip: Take small coins with you that you can use to walk with an Alpaca or to wear traditional clothing.
What to wear at the Rainbow Mountain?
Expect freezing weather during your morning hike. The weather can be very unpredictable. For this reason, wear layers that you can remove or add during the hike. Here's what to wear:
Sunblock – The sun is intense at this height!
Hiking shoes or sport shoes
One or two pair of long socks
Long trousers
Tank top and t-shirt
Sweater
Jacket
Gloves
Did you know that …
When you purchase something through our links we earn a small fee. However, you still pay the same. Win-win!
Salt in our Hair
16/11/2022
https://www.saltinourhair.com/peru/rainbow-mountain-peru-palccoyo/
Last updated:

November 16, 2022