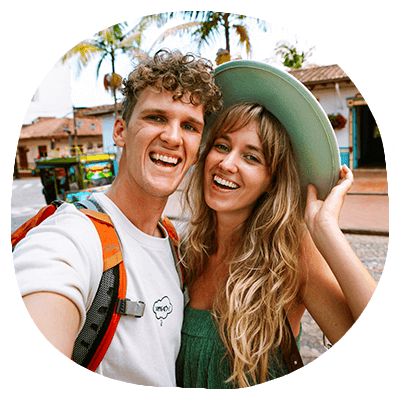 Hi, we're Nick & Hannah!
We hope you're enjoying our free travel guides & tips! If so, please consider supporting our work. 🤗
Things to do in Paracas
Imagine pelicans walking down the quiet boulevard with the colorful fishing boats in the background. Paracas and it's relaxing vibe is a perfect stop for every kind of traveler. It is a year-round sunny destination so using a good sunscreen is a must.
Boat trip around the Isla Ballestas
The Isla Ballestas, a group of rocky islands, is the main reason to visit Paracas. These 'Poor Man's Galapagos' are home to animals like dolphins, penguins, sea lions, pelicans, red smelly crabs, and many other species.
Similar to Galapagos but much more budget-friendly. Join a 2-hour morning boat trip as this will give you an option to see a million birds hunting for fish by diving into the water. This event has been featured in 'Our Planet' on Netflix.
Good to know: You cannot access the islands, nor swim near them as it is a protected area.
Paracas National Reserve
The sea meets the desert inside the protected Paracas National reserve. High cliffs, a Catedral arch, and red and yellow beaches are the main reason to visit this but sunbathing at one of the sand beaches is also an option. Explore the sandy landscape by bike or bus tour.
Looking for restaurants? Restaurant Paracas, Chalana or Fruzion are the best in town.
Huacachina Sand Dunes
Paracas is 30 minutes away from the highest sand dunes in the whole of South America. Huacachina is a tiny desert oasis town surrounded by these sand dunes and offers a fantastic sunset experience.
Kitesurfing in Paracas, Peru
Flat and shallow waters and a steady wind between pretty much every single day. Paracas is popular with kitesurfing because the wind is super reliable. There are a hand full of kitesurf schools ready to teach you how to kite.
Pisco Wine tasting
In between Paracas and Huacachina, the area is well-known for its vineyards and national wine named: Pisco. Get a sneak-peak inside the winery and learn how these processes work and finish your tour with a delicious tasting experience.
How to get to Paracas
Paracas is a great stop to include in a Peru route as it is located between Lima and Arequipa. Visit Paracas via a public bus or a transport company like PeruHop. The best option is to book a ticket online with a reliable bus company.
Where to stay in Paracas
By spending one or two nights in Paracas, it will allow you to do all the things to do in Paracas and relax at the hotel's pool. Many travelers end up staying longer because it's so relaxed. It is a great stop on your way to Arequipa or Nazca.
Did you know that …
When you purchase something through our links we earn a small fee. However, you still pay the same. Win-win!
Salt in our Hair
23/12/2022
https://www.saltinourhair.com/peru/paracas-peru/
Last updated:

December 23, 2022