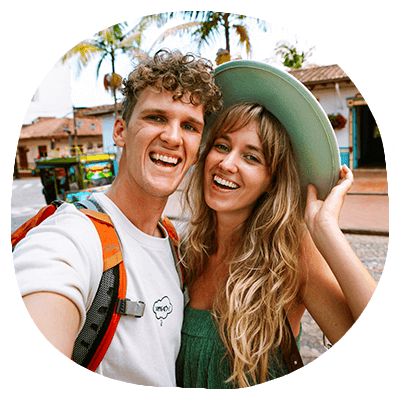 Hi, we're Nick & Hannah!
We hope you're enjoying our free travel guides & tips! If so, please consider supporting our work. 🤗
Marrakech Sahara Tour
Our tour started in Fes because we came from Chefchaouen, the Blue City. The tour is also available from Marrakech as a return. Be prepared for a lot of driving, though the sceneries and sights you will visit are so worth it!
Once you have arrived in Merzouga, you will change the car to a four-wheel-drive vehicle that takes you to your camp just in time to see the sunset. Seeing the epic, red sand dunes of the Sahara for the first time is unforgettable! We decided to go glamping, which is sleeping in a tent but far more luxurious. KamKamDunes was the camp we booked in advance, and it was excellent. These tents are super comfortable and come with proper beds and even a private bathroom!
No time to read now?
No worries! Save on Pinterest to read it later.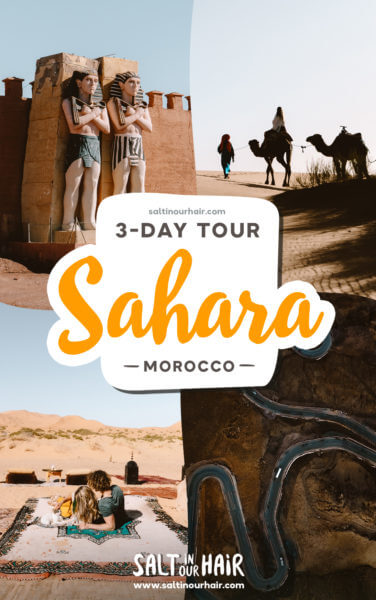 That night we had a great dinner, played music together, and looked at the millions of stars from the dunes. Stargazing in the desert has to be one of the most extraordinary experiences while in Morocco – true magic!
Sahara Desert Tour – Day 2
The next morning you will be woken up very early to get up and walk to the top of a dune. Once on the top of the dune, the sun will rise from the horizon, and all the dunes will get a beautifully soft orange color. Temperatures rise quickly as soon as the sun is up, so get ready to experience the famous heat of the desert!
After breakfast, you will leave in the direction of Marrakech. You will pass and stop at several sites like Tenhir, Tinjdad, Jorf, and Erfoud. These are all incredible Saharan towns and cities with wonderful earthen houses.
Once the sun begins to set, you will stop in Boumalne Dades (or a nearby village), where you will spend the night in a traditional Kasbah. A kasbah is a house/palace under the control of a family where multiple families live.
Sahara Desert Tour – Day 3
From Dades to Marrakech was the most beautiful part of the route. You will drive through the Atlas Mountains along steep cliffs that can be snowy, depending on the time of year.
Additionally, visit Aït-Ben-Haddou, a famous place where a lot of movies are made. It's easy to see why the moment you see this amazing scenery! Drink a delicious mint tea here, or buy a traditional Moroccan rug. Just before sunset, you will arrive in Marrakech.
What's a good price for a Sahara Desert Tour?
The price really depends on the tour you pick. We had a 3-day private Sahara Desert tour from Fes to Marrakech, which cost around 700 USD. This included two nights, one at the tent and one in a kasbah, food, gas, etc. Of course, you can also share a minivan with other travelers, which makes the tour a lot cheaper.
Most of the tours of four or more days will take you far into the Sahara Desert. A two or three-day tour will take you to the Erg-Chebbi area. This is at the foot of the Sahara and is also very beautiful. However, if you have the time, we really recommend going into the Sahara. It is an experience unlike any other to feel the remoteness of the desert and see how locals live their lives here.
Sahara Desert Tour Discount!
We've arranged a 5% to 10% discount for you with the guys from Desert Days Tours. The discount depends on the length of your trip. We had an unforgettable time with them during our Sahara desert tour. For security reasons, we will email it to you. Fill in your email address right here.
Get your discount code!
Simply by leaving your email address.
Where to Stay
Whether you're starting your journey to the stunning Sahara Desert from Fes or the bustling Marrakech, there are plenty of beautiful accommodation options to choose from in either city. Relax in the pool after having spent 3 days in the desert and fully recharge from all the incredible sights you've seen.
Best time to visit Sahara in Morocco
The best time to visit the Moroccan Sahara Desert in Merzouga is during the cooler months of October to April when temperatures are more comfortable. Avoid the extreme summer heat, especially in July and August.
Sahara Desert Vlog
Did you know that …
When you purchase something through our links we earn a small fee. However, you still pay the same. Win-win!
Salt in our Hair
15/05/2023
https://www.saltinourhair.com/morocco/sahara-desert-tour/
Last updated:

May 15, 2023