How to rent a car in Morocco
If you're planning on seeing more of Morocco than just one city, renting a car will be the most convenient and flexible way to get around. The country is large and very diverse. Having your own vehicle gives you the freedom to see different areas at your own pace.
From Marrakech to deep into the dunes of the Sahara desert, a road trip through Morocco will be an amazing experience. While it may seem intimidating at first, driving through Morocco by yourself is much easier than it looks. In this guide, you'll find exactly how to rent and drive a car in Morocco.
Looking for some inspiration for a route in Morocco? Check out our 10-day Morocco travel route.

What do you need to rent a car in Morocco?
When you rent a car in Morocco, there are a few documents that you need to bring.
Your driver's license from your home country
Your passport
Credit Card
The legal driving age in Morocco is 18 years old. However, most car rental companies will ask you to be over 21 years old and to have had your license for at least one year. All drivers must provide a valid driver's license, a passport as proof of identity, and a credit card to make the payment. It is important to know that the photos of your driver's license and passport have to match.
Good to know: You don't need an International Driver's Permit (IDP) to rent a car in Morocco. However, if you have a driver's license with no photo of you on it, it might be a good idea to get the IDP, just in case. Make sure you have a French translation for it.

Keep your documents close to you
The car rental company will give you a document that includes your car insurance, proof of rental, as well as the contract. Keep these in your car together with your passport. There are many police checks in Morocco. Although they generally wave foreigners through, you never know when they'll ask you to see these papers.
Note: Your passport should never be held until you return the car. If the rental car company asks this of you, look for another company, as this isn't legal, and you'll need to carry it to identify yourself.

Rental car insurance in Morocco
Much like in Europe, many car rentals in Morocco provide a basic Collision Damage Waiver (CDW) covering liability, damage, and theft. However, most suppliers will also ask for a big deductible of 10,000 dirhams (~ 1000 USD). This deductible will be taken or held off your credit card when you arrive to pick up the car.
Travel Insurance
Don't forget a travel insurance for your Morocco trip! Heymondo covers medical emergencies, theft, delays, cancellations, lost luggage, and more, with 24/7 worldwide assistance and medical chat. As a Salt in our Hair reader, we've got you 5% off! Check Heymondo here
Make sure to check if your credit card can hold a deductible and if you have a credit limit before proceeding with the rental process. It is also recommended to check with your credit card company if car rental insurance is possibly included in your plan. After payment, it is important that you keep the receipt.
No time to read now?
No worries! Save on Pinterest to read it later.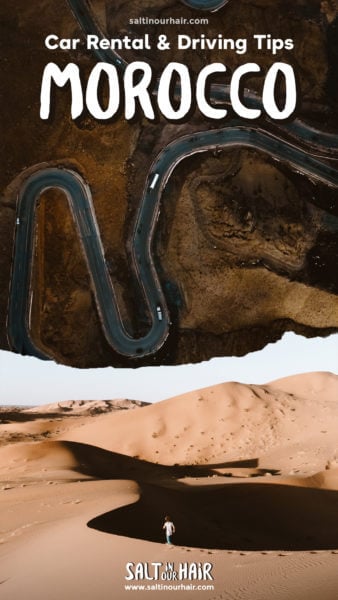 Is it easy to drive in Morocco?
With busy cities, different landscapes, and roads where it can sometimes take hours before you see another car pass by – it's important to understand some of the road rules and customs of the country before you rent a car in Morocco.
The Roads
Most main roads in Morocco are generally good and well maintained, except in the southern part of the country near Merzouga and in the high Atlas Mountains. A 4×4 is not necessary. Driving through bigger cities such as Marrakech can be a bit more challenging. You will definitely notice the difference between driving in the countryside and in busy cities. Expect a lot of traffic with scooters, donkeys, buses, camels, packed carts, and pedestrians.
Good to know: In Morocco, using the car horn is a form of communication. It can mean all sorts of things, from signaling to get out of the way to thanking someone for letting you pass. Don't be afraid to use it!

There are some toll roads in Morocco, usually between cities or on major motorways. The toll prices are inexpensive when compared to Europe, ranging from 5 to 60 MAD. You get a ticket when entering the road and pay once you exit. Next to that, you will probably also come across roundabouts on your route. There are two types of roundabouts in Morocco:
Without traffic lights: if you are on it, you have priority until you exit. If you are about to enter it, do it when it's possible or when no one comes your way.
With traffic lights: if you are on it, stop to let traffic that has a green light on your right go first. If you enter it during the green light, you have priority.

Speed limit & Signs
There are fixed speed limits in Morocco that you need to stick to when driving. On highways (autoroutes), the speed limit is generally 120km/h. In urban areas, it's 60km/h, and on the roads outside the towns and cities (voies express), it's 100km/h. You'll notice that some drivers will exceed this limit, and others will take their time instead. Always make sure to pay attention and follow the traffic rules. You'll find the traffic lights and signs mostly on the far right of the road.
Note: Police checks do happen. You'll usually be waved through, however, if you're stopped by the police for a violation, you will be required to pay the fine on the spot in cash. Make sure to carry at least 1000 MAD in cash for instances like this, and always watch your speed.

Parking
Next to driving, parking can sometimes be quite hectic too. Be prepared for haphazard parking that isn't always clearly marked. In most parking situations, however, there will be a guardian who will guide you to park your car. This is often incredibly helpful, and you're expected to pay for this service. Keep a few dirhams on hand for the guide.
Gas
Many gas stations are widely available in Morocco, even in remote areas. However, it is recommended to always keep at least half a tank full while driving around the country. Gas prices are relatively affordable and are always quoted in liters, not gallons.
Make sure you have cash on you, as some gas stations don't take credit cards. When you get to the pump, there will always be an attendant to fill up the car for you. You simply have to tell him how much you want to spend on fuel and the type you need.
Not sure which type of fuel your car needs? Check this with your rental company in Morocco when picking up the car. Otherwise, there'll sometimes be a sticker in the car indicating what fuel it needs. The car key, dashboard, or fuel door is where you usually find this.
Tip: Some roads in Morocco can take much longer than Google Maps tells you. If you're traveling with someone else or a group, take turns driving to save some of your energy.

Is it safe to drive in Morocco?
Renting a car and driving in Morocco is safe. Most roads are well-maintained and if you follow the traffic rules and the tips mentioned in this article, you'll be good to go. Like in any other country, it's important to do your research beforehand and to pay attention when you're there. Moroccan car scams are not unheard of, though. Always have a proper look at the rental companies you want to rent from to make sure you don't become a victim of scammers.

Top tips for renting a car in Morocco
1. Read reviews and inspect your car and contract
The car rental business in Morocco is very competitive. There are many car companies competing with one another, which makes it essential that you look into the reviews of previous renters. When you've made your decision, make sure to check what is included in the contract. Something to look out for when renting a car in Morocco is additional cleaning fees. If these are not in your contract, you don't have to pay for them.
Travel Insurance
Don't forget a travel insurance for your Morocco trip! Heymondo covers medical emergencies, theft, delays, cancellations, lost luggage, and more, with 24/7 worldwide assistance and medical chat. As a Salt in our Hair reader, we've got you 5% off! Check Heymondo here
When picking up the car, inspect your rental car thoroughly before starting on your journey. Do a walk around and try to log all the existing damages on a video. Many rental cars in Morocco have got at least a few scratches. To make sure that you don't get charged for any of these when returning your rental car, it is important that you have some 'proof'. Do the same with the inside of the car and check whether you've got a full tank of gas.

2. English is not widely spoken
If anything happens on the road, or you have any questions that you need to contact the rental car company for, expect limited English to be spoken. It'll be easier to get by if you speak a bit of French or Arabic. Communication isn't impossible, but try to be patient.
Most road signs are almost identical to those in Europe, and despite most of them being written in Arabic and French, an English translation will always be available for the important markers. Otherwise, you'll usually be able to understand the meaning of the signs through the images.
Tip: You'll find that the road police in Morocco are very helpful to foreign tourists. If you ever need assistance don't be afraid to approach them.

3. Avoid driving at night when renting a car in Morocco
Driving at night in Morocco is not recommended, regardless of how experienced a driver you are. There are typically no street lights and limited road markings, and there can be potholes in the road. There are also different kinds of obstacles that might appear on the road at night, such as dogs, pedestrians, donkeys, and carts. Lastly, it is even legal for cars traveling under 20km/h to drive without lights. If you can, avoid driving your rental car at night in Morocco.
4. Driving through the desert
When you decide to drive to Merzouga on your own, you may wonder where you can leave your car before heading to your tent in the middle of the sand dunes. It is important to inform your camp that you're driving by yourself and they'll arrange a place for you to park. Merzouga, even though a small village with very little to see, is safe. You can leave your vehicle on the street overnight if that's where they tell you to park it. Do, however, always hide your valuables.
If you're planning on driving through the sand dunes, this is typically done with an arranged tour. Park your car where your camp tells you to park it and discover the beautiful orange and red sands with an experienced guide who knows the area.

How much does a car rental cost?
Rental cars in Morocco are usually quite affordable, especially if you're traveling with someone else or a group and split the price. You can expect the rental car to cost between 25 and 50 USD a day. The price will depend on the company you decide to rent from and the model of the car. If you decide to rent an automatic car, which is an option in Morocco, be prepared to pay a bit more. A manual car is typically the most affordable option.
The price online should be fairly similar to the price on location, which gives you the option to decide whether to get it in advance or upon arrival. What ultimately will temporarily cost you the most is the high deductible hold on your credit card. It is, therefore, recommended to opt for extra full coverage when renting a car in Morocco.

Where do I rent a car in Morocco?
You can arrange a rental car in Morocco with agencies or with individual bigger or smaller car rental companies. All major international car rental agencies can be found in the main cities and airports, such as Tangier or Marrakech. If you decide to go for a local agency that offers lower rates, be prepared to speak some Arabic and bargain.
Regardless if you book your rental car online or in the office, make sure to do your research to see what company has the best rates. You can use a comparison site or an agency online to find yourself the best deal.

Do you need a 4×4 in Morocco?
You do not need a 4×4 car to drive in Morocco. Most of the roads are well maintained. However, if you're planning on going off-road or high up into the mountainous areas of the country, it is recommended.
Do you want to drop the car off at a different location than where you picked it up? For most of the bigger rental companies in Morocco, that'll be no issue and should cost you no more than 700 MAD. Always make sure to check this with the rental company you go with before starting your journey.
Did you know that …
When you purchase something through our links we earn a small fee. However, you still pay the same. Win-win!
Salt in our Hair
20/07/2023
https://www.saltinourhair.com/morocco/rent-car-morocco/
Last updated:

July 20, 2023