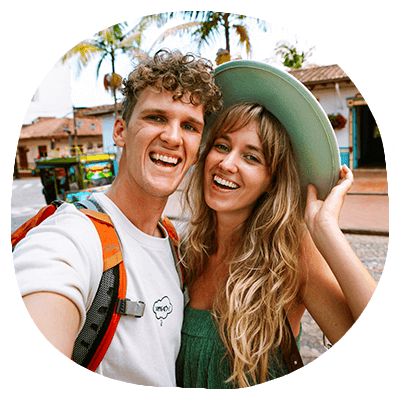 Hi, we're Nick & Hannah!
We hope you're enjoying our free travel guides & tips! If so, please consider supporting our work. 🤗
Malta Things to do
The landscapes of Malta are wild and rugged, so it's no surprise it's been used as the setting for famous movies like Gladiator, Game of Thrones, and Troy. It's also a melting pot of culture (between Italy and Tunisia and a former British Colony). You can see the influences of this in the food and the architecture; you can even find the red English telephone boxes on the streets of Valletta! Here are the best things to do in Malta.
6. Rabat, Malta
The name Rabat literally translates as 'suburb'. It was given this name as it used to be a suburb of Mdina (the old capital city). Now it's a small village located in the southwest of Malta that sits above the city of Mdina with beautiful views below.
Must-sees in Rabat, Malta
The history of Rabat is fascinating, known in the past for defending against pirate attacks. Visit:
The Catacombs: an underground cemetery that is the earliest sign of Christianity in Malta. (5 EUR to enter)
Casa Benard Palace: you can take a tour to see how Maltese nobility once lived. In fact, the same family still live there now!
Howard Gardens: a beautiful public garden that divides Rabat and Mdina. It's one of the largest gardens in all of Malta.
Salt in our Hair
04/04/2023
https://www.saltinourhair.com/malta/things-to-do-malta/
Last updated:

April 4, 2023