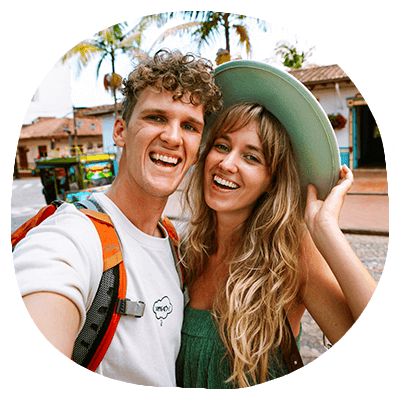 Hi, we're Nick & Hannah!
We hope you're enjoying our free travel guides & tips! If so, please consider supporting our work. 🤗
9 Things to do in Gozo
Gozo is the second biggest island in the archipelago, sitting the farthest north. Despite being more remote, there is still plenty to do in Gozo, particularly for those who love beach hopping; some of Gozo's beaches are the best in the whole area!
2. Ramla Bay, Gozo
Ramla Bay (Ir Ramla il Hamla) is known as the best beach on the island and is famous for its cliffs and red sand beach. It is one of the only sandy beaches on the island, so it's very popular for those looking to swim in the calm shallows and snorkel in the clear, turquoise water. Those interested in Greek mythology should head to the eastern side of the bay to one of the most famous caves on the island. Legend has it that this cave is the famous cave from the ancient Greek literature, Homer's Odyssey.
9. Beaches in Gozo
Gozo's beaches are some of the best in the entire archipelago, famous for its diving and snorkeling with extraordinary cliffs, archways, and amazing marine life that lives within its network of caves. Some great beaches to visit in Gozo, Malta, are:
Mgarr Ix-Xini
Mgarr Ix-Xini is a tiny, pebbly beach surrounded by sheer cliffs which protect the cove making the water calm for swimming. Its crystal clear water and extraordinary marine life make it particularly popular with snorkelers.
Dwerja Bay
Dwerja Bay was most famous for being home to the Azure window arch: an arch created naturally by the elements and the sea. It was used as a film location for Game of Thrones, and it was very sacred to the people of Malta, who saw it as a spiritual place to connect with nature. Sadly, it collapsed in 2017. However, the rocks in the water have now created a very diverse diving site.
At Dwerja Bay, you can also discover the Blue Hole: a 10-meter wide pool where amazing marine life lives like octopus and parrotfish. Pass through some mesmerizing archways and tunnels to reach the pool.
Other nice beaches on Gozo:
Hondoq ir-Rummien
Xwejni Bay Beach

Salt in our Hair
02/12/2022
https://www.saltinourhair.com/malta/gozo-malta/
Last updated:

December 2, 2022